Lessons from the streets
Living Streets champions schemes that get children to walk and cycle to school
16 January 2020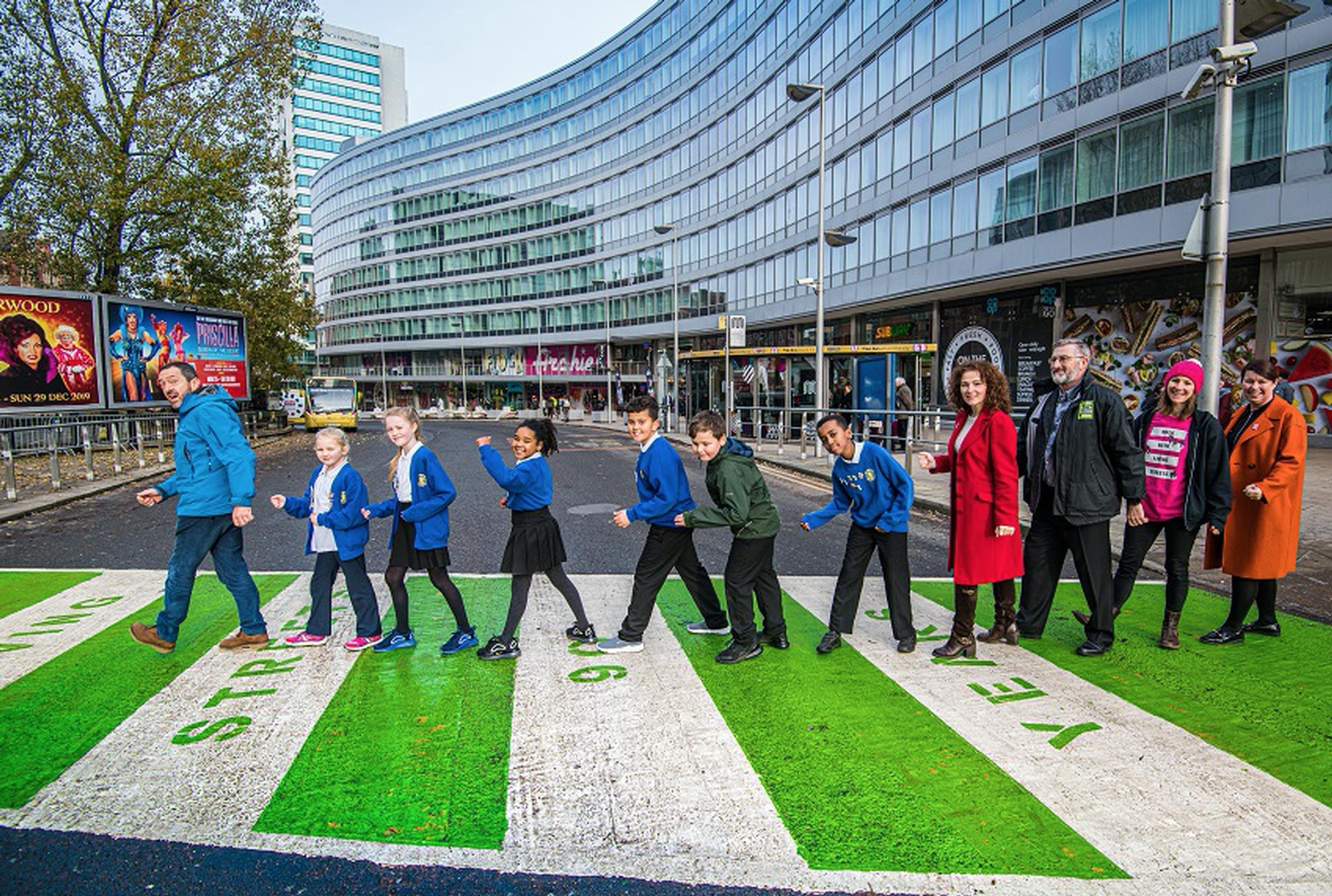 Living Streets is the charity for everyday walking. Our focus is on making walking the natural travel choice for those local, everyday journeys. We are not about climbing mountains – we will leave that to the ramblers – but we are about helping people get easily and safely to school, to work, to the shops, to the doctors, without having to jump in a car.
Living Streets started off as the Pedestrians' Association 90 years ago, and we were initially formed as a campaigning organisation to tackle challenges around road safety caused by the introduction of the motor vehicle. We were instrumental in introducing the first zebra crossings, hence our logo, and over the years we have campaigned to reduce traffic speeds and improve safety for pedestrians.
Nowadays we have a much broader remit. We are undertaking projects with communities, with local people, to inspire and enable them to walk more. In particular, we have done a lot of work with schools. When we think around the challenges around traffic and parking, schools are some of the most contentious places. At Living Streets, we are doing a lot of work with our partner authorities to try and tackle that.
For example, in Greater Manchester we are working across the 10 local authorities and with Transport for Greater Manchester to deliver a big project as part of a national programme where combined authorities are working specifically with primary schools. This work is funded by the Department for Transport.
In Greater Manchester we now have over 100 hundred schools taking part in what is the third year of the project. We run our WOW incentive scheme with all those schools and we also work more intensively with some of the schools.
What we have seen in Greater Manchester is a 35% increase in active journeys – that's a mixture of people walking all the way, cycling and also 'park & stride'. Crucially, in terms of parking and challenges around traffic, we also saw 30% fewer vehicles at the school gate.

The WOW factor
WOW is our flagship scheme for primary schools. It is a year-round walk to school challenge, and it operates at thousands of schools across the UK.
WOW is a pupil-led scheme where children self-report how they get to school every day. If they travel sustainably (walk, cycle or scoot) once a week for a month, they get rewarded with a badge. The badges are made from yoghurt pot cut-outs that were otherwise destined for landfill. They feature designs drawn by pupils around the UK. There are 11 different themed badges that pupils can collect over the school year.
A key development with WOW is that, instead of having wallcharts where children tick off when they have walked to school, we have an interactive travel tracker where teachers use the white-board and children tap in to say how they travelled to school that day, so we get really enriched data. We have already recorded millions of journeys for children since September 2019. This is a fantastic dataset that we can share with schools, with local authorities and with the DfT as well.

Intensive working
We have also been undertaking more intensive work with schools in Greater Manchester to help overcome barriers to walking and active travel. A case in point is Beaver Road Primary School in Didsbury, which is set to be the biggest primary school in Manchester, having combined two sites in the village. We worked with the junior school, which has moved to a brand new building.
The new school has a good street environment, but still faces a lot of challenges in terms of cars at the school gate – lots of parents, lots of congestion, lots of air pollution and air quality issues. We worked with the school intensively to address this. We did a school route audit, where we went out with the pupils, teachers and some local stakeholders and looked at the local picture and worked out how we could help more children to walk. Because the actual walking environment was not too bad, it was more around behaviour changing and getting that message out to parents.
So the children, perhaps inspired by the teenage Swedish environmental activist Greta Thunberg, decided to do a protest outside the school. They asked their parents to park away from the school and to park more safely. The pupils created banners, made cars out of boxes, made up a song, had instruments and got the message about the impact that their driving habits were having out to parents.
Andy Burnham, the elected mayor of Greater Manchester, got wind of this and the pupils were invited to the GM Moving conference on active travel. The mayor then visited the school to congratulate them on all the work they were doing.
When we work with a school more intensively we do see a boost in walking rates. At the Beaumont Primary School and English Martyrs RC Primary schools in Bolton we saw a big increase from 30% to 84% active travel to school as the result of setting up a park & stride. Both these schools were facing lots of congestion issues outside the school gate. Because a lot of the children travel longer distances to school we agree with the local community centre to set up a parking arrangement with parents that allowed children to be dropped off and walk the rest of the way. This solved a lot of the problems at the school gate and got some physical exercise into journeys.

School Streets
We are seeing more school street closures nationally, with schools finding different ways of incentivising parents to park away from the school, but there is more that still needs to be done. There are a lot of challenges, so actually closing the street outside the school at the beginning and end of the school day is perhaps the best solution. Living Streets is working with local authorities and partner charities and organisations to support this kind of activity.
It is not just Greater London that is creating school streets. Edinburgh was one of the first places. A lot of these schools were already using WOW to encourage active travel, so school streets is the natural next step to complete that transformation.
Hackney Council has produced an excellent guidance document for local authorities. The Hackney toolkit is useful for local authorities wanting to know the different options that are open to them and how they can be implemented. Living Street has also produced a toolkit for parents, so if you are a parent and want to encourage local schools to do this, I urge you to look at that too.
Living Streets has been doing a lot campaign work in the area of reducing idling by cars when they are parked, and we are now producing a guide on tackling this issue.
Greater Manchester
Living Streets has been working with Greater Manchester's cycling and walking commissioner Chris Boardman, who has been doing some fantastic transformational work across the 10 local authorities. I worked with him during the first year of his role in developing the Made to Move strategy. We managed to get lots of walking into the strategy.
Lots of exciting things are planned in Greater Manchester, particularly around low traffic neighbourhoods, closing streets to main traffic, taking away parking spaces from cars and turning them into parklets for local people and communities to use.
Jenny Wiles is Living Streets' regional director (North)
She leads a Living Streets team delivering projects in schools, workplaces and communities across the north of England, develops strategic partnerships and influences policy and investment in the walking agenda.
www.livingstreets.org.uk
Jenny Wiles spoke at Traffic + Parking 2019