Meet the station master
HS1's commercial manager for parking Naveed Khalique took Mark Moran on a whistle-stop tour of his stations
12 November 2019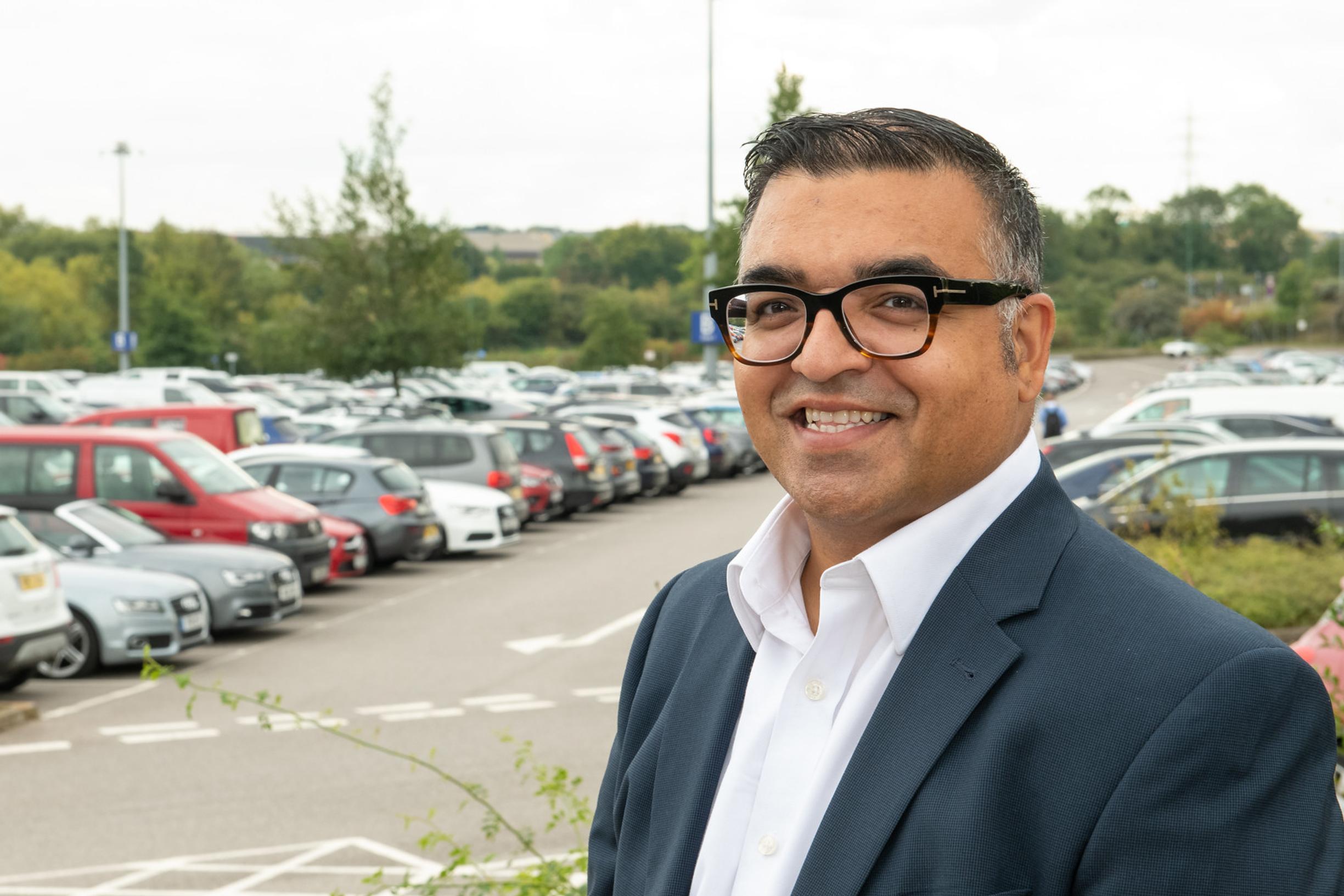 High Speed 1 (HS1) is the railway that runs between central London (St Pancras International) and the Channel Tunnel, enabling Eurostar services to reach destinations such as Paris, Brussels, Lille, Marseilles and Disneyland, with Southeastern High Speed running domestic services to Kent.
The line has four major stations, each served by car parks. However, HS1's parking areas are not your standard rail park & ride sites, says Naveed Khalique, HS1 Ltd's commercial manager, car parks. He is responsible for parking at two London sites – St Pancras International and Stratford International – and two sites in Kent – Ashford International and Ebbsfleet International.
"HS1 has its own style," says Khalique. "HS1 parking is not quite like that at an airport, but also not your typical P&R. Each car park has its own uniqueness because each destination is different."
The four stations have very different user profiles, which are continually evolving, he explains. For many years, the dominant users of car parks were international travellers and holidaymakers heading to the Continent, but the opening of high-speed services between Kent and the capital means some stations are now primarily used by commuters.
The opening of major retail centres and entertainment venues along the route means some stations are also becoming hubs of the leisure economy. This, too, is changing the profile of who is using the car parks, in sometimes unexpected ways.
A quick guide to HS1
High Speed 1 is a 67-mile (108km) high-speed railway linking London with the Channel Tunnel. The line, legally the Channel Tunnel Rail Link (CTRL), cost £5.8bn to build and opened on 14 November 2007.
HS1 carries international passenger traffic between the UK and Continental Europe at speeds of up to 186mph (300kmh). International passenger services are provided by Eurostar, with journey times from London St Pancras to Paris Gare du Nord being 2 hours 15 minutes, and St Pancras to Brussels-South in 1 hour 51 minutes.
It also carries domestic passenger traffic to and from stations in Kent and east London, as well as freight traffic. The line crosses the River Medway, and passes under the River Thames, terminating at St Pancras International station on the north side of central London. Intermediate stations are at Stratford International in London, and Ebbsfleet International Station and Ashford International in Kent.
The line was transferred to government ownership in 2009, with a 30-year concession for its operation being put up for sale in June 2010. The concession was awarded to a consortium of Borealis Infrastructure (part of Ontario Municipal Employees Retirement System) and Ontario Teachers' Pension Plan in November 2010 but does not include the freehold or rights to any of the associated land. In July 2017 HS1, was acquired by a consortium of funds advised and managed by InfraRed Capital Partners and Equitix Investment Management.
A new challenge
Naveed Khalique took over the parking portfolio at HS1 Ltd in March 2017. It was his first foray into both parking and the passenger transport sectors after a career that had seen him mostly work in contract and operational management positions in healthcare, hospitality and hotel sectors.
Khalique feels working as a general manager at Whitbread's hotel business and as contract manager for G4S's patient transport department has given him experiences and skillsets that are well suited to looking after HS1 Ltd's parking portfolio.
"I have come from roles where I have been managing care and catering for the public and, in the hotel world, also looking after revenue streams in some form or other. All very relevant to parking."
It was the potential to enhance customer care, develop and deliver revenue streams and to add something different at HS1's car parks that inspired Khalique to apply for the role.
Khalique has elevated HS1 Ltd's car park estate, taking it to a fully driving commercial element. He has converted opportunities worth seven-figure sums across the HS1 Ltd estate, by looking to maximise revenues per available space in station car parks and increasing occupancies.
Performance management
Khalique's primary role is to contract manage the relationship with HS1 Ltd's parking operator, NCP. This means monitoring service level agreements (SLAs) and ensuring key performance indicators (KPIs).
"I make sure that car parks are open, safe and comply with SLAs and KPIs," he says. "But I am also tasked with growing revenue by enhancing usage, developing new services and partnerships. I want to make sure we do not miss out on opportunities. My commercial experience from hotels has stood me in very good stead. I look at car park spaces in the same way as hotel rooms, which are an inventory to be managed in a way to maximise revenue through finding new customers and partners."
To this end, Khalique has moved HS1's car parks over to a new payment system supplier, opting for a pay-on-foot technology supplied by Scheidt & Bachmann. The new pay-on-foot system uses ANPR and contactless payment technology to enable ticketless transactions. "I know when car parks are at full capacity and also have information on usage patterns, revenues and so on," he says.
Besides investing in parking technology, Khalique has also been harnessing the services of virtual parking providers such as JustPark and YourParkingSpace to enable online bookings and top-up payments.
A value added vision
Khalique is working on a number of initiatives to increase the revenue generated by HS1's car parks, which is now around £10m a year. The data and analysis has enabled him to revise parking tariffs to generate additional income without increasing parking capacity. He is also modelling charges for pick-ups and drop-offs in a way similar to airports.
Khalique is also focussing on building up revenues by attracting contract users and increasing the footprint allocated to fleet operators such as car rental companies.
However, decisions on parking charges and the range of services on offer are ultimately informed by an ambition to provide a quality service, he says. "I have a value added vision," he says. "This places customer experience at the centre of how we run our car parks. We are looking at ideas such as offering valet parking services and creating premium parking bays that are currently available in Ebbsfleet.
"We are always seeking to make parking at our stations a more attractive proposition, and by extension that means making taking the train the main mode for the onward journey."
Driving new business in London
Khalique has also diversified the usage of the four car parks to create new revenue streams. St Pancras International's 325-space car park is a two-level facility located beneath the northern end of the station. The core users are rail travellers using Eurostar, as well as chauffeurs parked up while awaiting clients arriving in London. There are also blocks of parking used by car rental companies.
The car park is also increasingly being used by people working in the new offices being built around King's Cross. In particular, there has been an increase in awareness of the car park's location among tradespeople working in the area, who like using the spacious, secure site to park their vans.
Besides more contract parking, Khalique has increased the footprint dedicated to car rental companies, delivering more guaranteed income. "There were four car hire companies, now there are six," he says. "To appeal to car rental companies we have created new reception areas, which are more professional and customer-friendly. St Pancras International and Stratford International car parks are developing into travel hubs."
Stratford International car park is equipped with charging points for electric vehicles, which are becoming ever more common as London's Ultra Low Emission Zone beds in. "We are negotiating with the Mayor of London and building a relationship with Transport for London with a view to making this site and the multi-storey at Stratford International key to evolving our stations into rapid EV charging hubs. We expect to roll out EV chargepoints across the estate very soon."
Besides being good for business and the environment, Khalique believes catering for new modes of travel will provide a better customer journey and will subsequently encourage more rail travel. For example, Khalique has created a free cycle hub by re-using lockers from a now defunct business. As well as cycling, he has partnered with the likes of Drivenow. "We are using a facility that was there to encourage greener travel that adds positive activity into the car park," he says.
HS1 Ltd is also investing in ways of making its car parks more environmentally and customer friendly, including installing brighter but efficient LED lighting across all of their car parks through Goodlight and Neuxpark and investing in ride-on scrubbing machines, which enable the on-site parking team keep the site clean and appealing.
Evolving the offer
The HS1 stations in Kent were originally designed to cater for international travellers, offering ample long-stay parking for business people and holiday-makers joining Eurostar services at Ashford and, later, Ebbsfleet.
The introduction of Southeastern's Javelin train services in 2009 has seen both of these stations develop as commuter hubs. The 140mph Javelins can complete the journey to St Pancras from Ashford International in 37 minutes and from Ebbsfleet in around 20 minutes.
The growing importance of commuter custom is most evident at Ashford International, which was the first of the Kent stations to open. "While Ebbsfleet is now the primary international station, passenger numbers at Ashford have grown as it has evolved into a commuter station drawing in people living on new local housing estates."
Ashford has a distinctive multi-storey car park adjacent to the station, as well as surface car parks. "The core users are rail passengers, but I have been exploring ways of enhancing revenues by finding ways of using spare capacity."
An example of this is the rental of under-used parking areas to car dealers who like having a secure location to store vehicles. Khalique is also exploring ideas such as hosting car showrooms themselves in the car park or offering owners of upmarket cars use of a storage cage. Likewise, HS1 Ltd provides overflow parking spaces in the surface car parks closest to the nearby McArthur Glen Retail Outlet during peak trading periods. The success of McArthur Glen and the Javelin rail services have seen Ashford itself become a destination, with the Curious Brewery adjacent to the station becoming a popular visitor experience.
"My aim is to find sources of guaranteed rental income to complement the usual turn-up and contract traffic," says Khalique.