Ford, Uber and Lyft join SharedStreets data platform
Car-maker and ride-share companies will work with Bloomberg's 'open transport partnership'
29 September 2018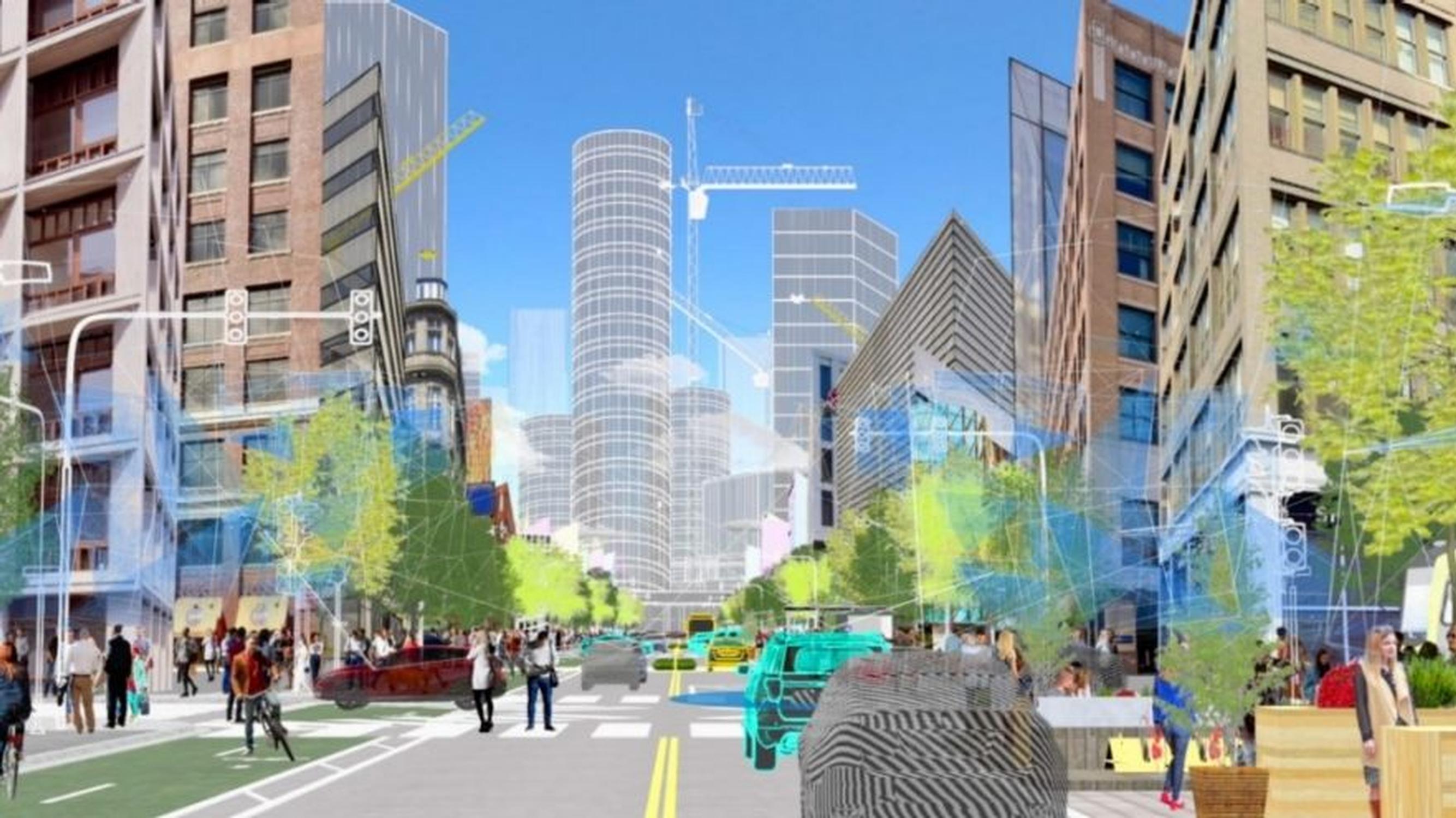 Ford, Uber and Lyft will work together to develop a universal data standard for real-time kerb demand and availability. The car-maker and ride-share companies will work with SharedStreets, Bloomberg's 'open transport partnership', to develop a data platform that will make it easier for the private sector to work with cities around the world and leverage data to improve urban mobility.
The agreement seeks to provide a common standard for sharing data across all cities, where local requirements currently vary widely. The data sets pledged by the companies will: provide the public and private sectors with new tools to manage kerbspace in order to reduce congestion and emissions that cause climate change; improve the efficiency of city streets by making it easier for everyone to get around; and save lives by preventing traffic crashes.
The public-private partnership is the result of collaboration with the National Association of City Transportation Officials (NACTO), the Open Transport Partnership and Bloomberg Philanthropies, the consortium behind the innovative SharedStreets data platform.
Launched earlier this year with funding from Bloomberg Philanthropies, SharedStreets is a universal data language for sharing information about city streets and a launching pad for public-private collaboration to manage streets, reduce traffic deaths, and prepare cities for the unprecedented technological advancement emerging in cities.
The SharedStreets platform is already operating in over 30 cities around the world: Paris and Melbourne are among those to have formally endorsed the data sharing policies of SharedStreets
The collaborative effort was announced at the second annual Bloomberg Global Business Forum in New York City.
Janette Sadik-Khan, principal at Bloomberg Associates, said: "Code is the new concrete for 21st century cities and we need a digital infrastructure to share data and create safer and more sustainable streets. The SharedStreets platform offers cities and private sector players a powerful new data sharing tool to make that future possible." Sadik-Khan is also chair of NACTO, which represents 74 cities and transit agencies across North America."
Michael R Bloomberg, founder of Bloomberg Philanthropies and a former Mayor of New York City, said: "Ride-share and auto companies have been gathering an enormous amount of data on transportation and traffic. Now, cities will be able use it to find new ways to manage congestion, reduce carbon emissions, prevent traffic crashes, and prepare for the arrival of autonomous vehicles. It's a great example of how governments and businesses can work together to solve tough problems and build a better world."
Mapping the street
The agreement between will see:
Ford working in SharedStreets to develop a universal data standard for real-time curb demand and availability. With this tool, cities will be able to responsibly price and manage kerbspace in real-time. Shared Streets hopes this project will lay the ground for a global roadway pricing mechanism that cities and companies can use to encourage sustainable transportation choices, reallocate road space and reduce carbon emissions.
SharedStreets will work with Uber to produce a freely available global data set of vehicle driving speeds. Building on one of the first features developed by SharedStreets, Uber will release vehicle speed data from cities around the world. SharedStreets hopes this data will let cities identify where people are speeding or driving dangerously. Uber will include this speed data in an update of its open-source Kepler.gl tool, providing new tools for data visualization and information sharing. Lyft will follow with a release its own city speed data set.
Lyft will join SharedStreets and Uber to produce a universal framework for sharing kerbside pick-up/drop-off counts. Building on an early SharedStreets feature first announced with Uber, Lyft will collaborate on a model for providing anonymised, aggregated kerb usage data to cities. SharedStreets hopes city leaders will be able to better understand where for-hire vehicle trips are in the greatest demand so that they can reduce congestion, make kerbsides more efficient, thus better serving people travelling on foot, on a bike or behind the wheel.
Jim Hackett, president and chief executive of Ford Motor Company, said: "This is a once in a lifetime opportunity for business and government to work together to rethink transportation. Collaborating through initiatives such as SharedStreets will enable us to use vehicles, road systems and data together to create a new roadmap for mobility. We are working toward a future where all cities are smart and kerbspace is actively managed, increasing efficiency and safety, while reducing driver stress and pollution."
Dara Khosrowshahi, chief executive of Uber, said: "The private and public sectors need to come together and collaborate on ways to create smarter, safer and more efficient transportation systems. It's the responsibility of companies like ours to step up and support cities in every way we can, whether that's through data sharing, urban planning research, funding for non-profit organisations, or even through the introduction of new and more efficient forms of transportation like electric bicycles."
John Zimmer, president and co-founder of Lyft, added: "We are committed to partnering with cities and data-driven decision making to design streets that provide safe and accessible transportation for everyone. We look forward to collaborating with regulators to expand affordable mobility options, taking cars off the road and reducing congestion, and ultimately reshaping cities around people, not cars."