Devon wins Best Overall Report award at PATROL PARC Awards
30 July 2018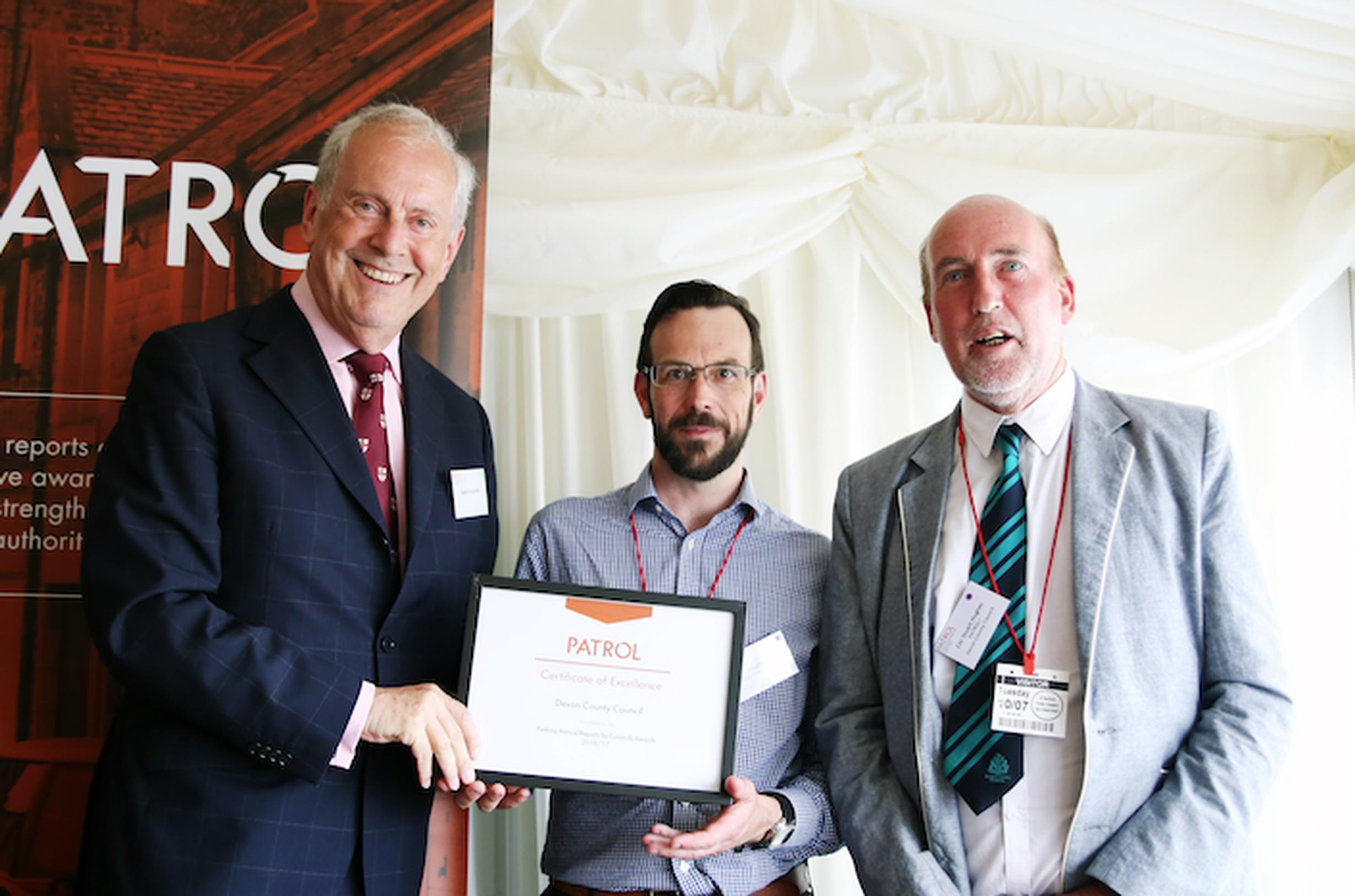 Devon County Council was named overall winner of the PARC (Parking Annual Reports by Councils) Awards at a ceremony held the Houses of Parliament. The awards, launched by Parking and Traffic Regulation Outside London (PATROL) in 2009, promote and share best practice among councils in the production of parking annual reports.
The competition recognises local authorities that have "articulated and communicated on parking enforcement in their area in a compelling, well-structured way" through the production of an annual report. Councillor Jamie Macrae, chair of the PATROL Joint Committee, said: "Annual reports increase the accessibility of parking information, bringing it together in one place. They provide an opportunity to communicate the whole landscape of parking, from objectives that support the local community and economy, to policies, services and the impact of parking education and enforcement on compliance."
The ceremony was hosted by Huw Merriman, MP for Bexhill & Battle, who is a member of the Transport Select Committee. He told the shortlisted councils: "You are all in this amazing space where you have marched on doing what's right for your community. For those of you being awarded for your innovation, your sharing of data, your sharing of good practices, I salute you."
The trophies were presented by TV presenter and former MP Giles Brandreth, who revealed that his father Charles was a lawyer who wrote the "definitive" guide to British parking law. Brandreth told the gathering: "The quality of a society can be measured by the quality of the environment it creates for its citizens, and what you do is part and parcel of creating civilised, healthy places for people to live."
PATROL Awards 2016-17
Overall Winner
• Devon County Council
Highly Recommended: Innovation & New Services
• Derby City Council
Highly Recommended: Customer Service
• Cumbria County Council
Highly Recommended: Presentation of Finance & Statistics
• Brighton & Hove City Council
Shortlisted reports
• Borough of Broxbourne
• Durham County Council
• Sunderland City Council
• Worcester City Council
PATROL commissioned an independent review group to assess reports. The Best Overall Report Award is judged on the overall presentation, how helpful it is to the local community, the policies, scheme design and the quality of the information provided. The group said of the winning Devon County Council report: "The report is peppered with easy-to-understand statistics to demonstrate the impact of new initiatives. Penalty and finance statistics are well presented, with information on cost breakdowns and year-on-year comparisons, together with the management of the on-street account and use of surplus."
Councillor Stuart Hughes, Devon County Council cabinet member for highway management, and Chris Rook, traffic management team manager, received the award on behalf of the council. Cllr Hughes said: "Devon County Council is delighted to be recognised as overall winner in the PATROL Annual Report Awards. The annual reporting format provides an excellent opportunity to promote our service, allowing the public to understand how we operate, and seeing what is being achieved in managing our network. As a young service, each report has given us the opportunity to reflect on that year's development of our service. We feel that the strength of this year's report comes from reflecting the overall contribution to parking and traffic management in Devon from all the traffic management team, and the operations, processing, and traffic engineering."
Caroline Sheppard, chief adjudicator of the Traffic Penalty Tribunal, praised the winners and set the scene for the next round of the competition. "Many congratulations to all the winners and these fantastic initiatives that you've published," she said." You've shown today in your reports and these awards, that it is still something to be proud of. Lots of things have moved on, you've all kept pace, you've all introduced new ways of doing things. We all look foward to next year and the next round of awards... just keep those reports coming in please."
PATROL works to support its local authority members and raise awareness of the objectives of civil enforcement. I launched the PARC Awards to reward, share and promote best practice in local authority annual reporting, nationwide.
Councillor Jamie Macrae said: "Articulating and communicating regularly on civil enforcement in a compelling, clear and transparent way, set against the broader context of strategic traffic management objectives that benefit individuals and the local community as a whole, is an important element in your stakeholder engagement strategy. A successfully compiled report can also play a vital role in your ongoing engagement with the press.
"Once articulated in a coherent, well-structured format, the messages you create can be reiterated in other media and will help you ensure that the connections between your initiatives and the expressed views and needs of your community members will not be missed by key media stakeholders."
Louise Hutchinson, director of PATROL, said: "Civil parking enforcement involves managing limited parking resources on behalf of the community. Having an informative and well-designed parking report can simplify the process for local authorities to demonstrate their benefit and value to the community, and help to change public attitudes towards civil parking enforcement."
PATROL has updated its toolkit for annual reports, a guide that contains practical examples and suggestions drawn from previous best practice gathered from reports from recent years, as well as feedback from a number of dedicated workshops held in England and Wales last year. A new series of PATROL workshops will be taking place in the coming months.
Looking to the future, PATROL says it will also be presenting an award for Outstanding Digital Format to recognise those local authorities that harness digital formats to improve the accessibility and availability of parking information.
The winners
Devon County Council: Overall Winner
Devon has adopted a clean design in terms of page layout and font, in a two-column format. The contents list is concise, the headings are clear and there is plenty of white space with simple graphics. The scale of the county council, its assets and challenges is clearly presented. The report continues the narrative begun in previous reports about the development of the service since it was taken over by Devon County Council. A follow-up piece on the challenge of pavement parking provides more evidence of the problem for communities. The report is peppered with easy-to-understand statistics to demonstrate the impact of new initiatives.
Penalty and finance statistics are well presented, with information on cost breakdowns and year-on-year comparisons, together with the management of the on-street account and use of surplus.
Cumbria County Council: Customer Service
Cumbria County Council is responsible for the enforcement of on-street parking across the county and selected off-street parking places. The report highlights improvements brought to the customer experience through the council's website. On-street, Cumbria has introduced 'contact cards' to signpost customers if they have parking queries. Mention is also made to working with the wider council customer service staff to improve awareness of parking services.
Derby City Council: Innovation and New Services
Derby City Council introduced its first footway parking ban in the city centre in August 2015, with the aim of improving pedestrian safety. Derby's report highlights the impact of this scheme in terms of compliance and feedback from key stakeholders. The report points to the additional benefits of reduced parking adjacent to bus stop clearways and controlled areas of zigzags. Images of the suite of signs were included.
Brighton & Hove City Council: Presentation of Finance and Statistics
Brighton & Hove City Council provide comprehensive income and expenditure information within their report, but the judges were particularly impressed with the full account of how the parking surplus is invested, with comparisons over a four-year period. A full list of local transport and highways projects benefiting from the parking surplus is provided. This level of transparency helps to promote public confidence in the integrity of the parking service.
The review group
To consider submissions, PATROL commissioned an independent review group comprising members with experience in traffic management, transport operations and communications.
Chair: Peter Bayless, head of traffic and safety, Hampshire County Council (retired)
Jo Abbott, communication manager, RAC Foundation (retired)
David Leibling, RAC Foundation
Natasha Moore, marketing and brand manager, Four Colman Getty
Kelvin Reynolds, director of policy and public affairs, British Parking Association