British Parking Awards 2018 winners revealed
12 March 2018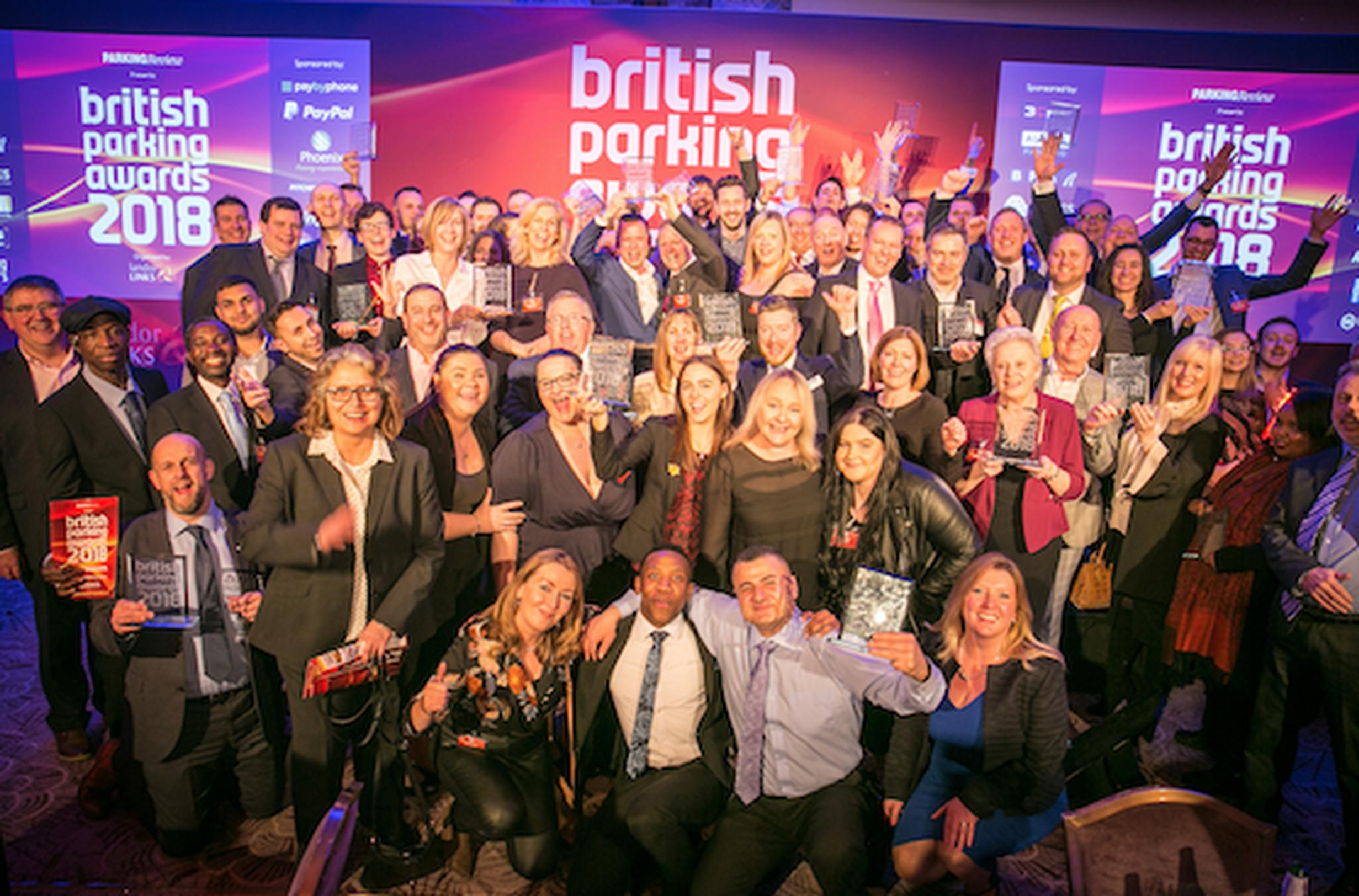 Youth and experience were both honoured at the British Parking Awards 2018, which were held in London on Friday 9 March.
The awards ceremony saw a group of six people recognised as the Young Parking Professionals of the Year. The recipients carry out a wide variety of roles, including traffic consultancy, structural engineering, project management within local government, financial control, customer and client relationships.
One of the group, structural engineer Andrea Piniella from Stripe Consulting, went on to receive the day's final accolade, The Inspiration Award.
Besides encouraging the next generation of parking professionals, the event honoured two people who have had long and influential careers in parking, with Lifetime Achievement Awards: Helen Crozier, who has recently retired as head of civil enforcement at Oxfordshire County Council; and Manny Rasores de Toro, director of MR Parking Consultancy, a leading expert on parking technology.
The Parking Person of the Year was Darren Stoneman of Plymouth City Council, who was recognised for creating a professional and well trained parking service that works for the whole community, ensuring access for residents, visitors, business and people with health and mobility issues.
The positive role of parking was evident in a number of categories. The winners of the Parking in the Community Award were Bromley and Bexley Parking Services for their crackdown on abuse of the Blue Badge scheme, and Croydon Parking Services' pilot of a school parking scheme that keeps streets safe for pupils by banning moving traffic at the start and end of the school day.
Croydon Council picked up a second trophy, the Front Line Award, which was presented to Youssef El Khouri, a civil enforcement officer who has also embraced a parallel role as a school crossing patrol officer.
Action to deter Blue Badge fraud also secured the London Borough of Hammersmith and Fulham an award for its work with fraud investigator BBFI and the Metrpolitan Police. A Parking Partnership Award also went to Thurrock Council and civil enforcement agency Penham Excel for their work to end illegal and anti-social parking by HGVs in residential areas across the Essex borough.
The London Borough of Southwark's development of a strategy that creates a more balanced and beneficial hierarchy of access to the kerbside was recognised with an Intelligent Parking Award.
Innovative technology was recognised with awards going to Appy Parking for its Signs to Lines Traffic Regulation Order mapping system and JustPark for its work on an app that predict the availability of parking.
The British Parking Awards recognised the international nature of parking, especially in the field of technical standards. Dutch cashless payment company CCV was presented with the special Parking Matters Prize in recognition of its work with the European Parking Association on developing the International Parking Industry Payment Standards (IPIPS).
The Communication Award was presented to the British Parking Association (BPA), for its 'Know Your Parking Rights' campaign, which uses videos and a dedicated website to help drivers understand where and when they can park, and what to do if they receive a parking penalty.
Dealing with motorists who have incurred parking debts in a polite and helpful manner saw the customer services personnel at ZZPS named Parking Team of the Year.
Providing a stress-free, even pleasant, parking experience helped Birmingham's B4 Car Park win the Exceptional Parking Experience Award.
There were major awards for parking infrastructure, with two new car parks being recognised as being exceptional designs: Hammerson's Victoria Leeds shopping centre car park; and Q-Park's Deansgate North in Manchester.
The Best Car Park Refurbishment Award, meanwhile, was presented to the team who redesigned the Ruskin Square multi-storey in Croydon, saving a 1960s Brutalist structure that now looks and functions as a totally modern car park.
The British Parking Awards were launched by Parking Review magazine in 2002 and the awards ceremony at the Royal Lancaster London is widely regarded as the social highlight of the sector's calendar.
Around 100 entries were received this year. These were whittled down to a shortlist by a jury made up parking sector professionals, transport consultants and representatives from the motoring and freight transport sectors.
www.britishparkingawards.co.uk
British Parking Awards 2018: The winners
The Inspiration Award
Andrea Piniella, Structural Engineer, Stripe Consulting
Parking Person of the Year
Darren Stoneman, senior community protection officer, Plymouth City Council
Lifetime Achievement Award
Helen Crozier
Manny Rasores de Toro
Young Parking Professionals of the Year
Aasha Abdi, customer happiness executive, YourParkingSpace
Daniel Hanshaw, principal parking consultant, Project Centre
Andrea Piniella, structural engineer, Stripe Consulting
Jo Redshaw, project manager, London Borough of Southwark
Stevie Steel, client services manager, Marston Holdings
Michael Wiktorko, debt recovery and finance team leader, Hackney Council
The Front Line Award
Youssef El Khouri, civil enforcement officer, Croydon Parking Services
Exceptional Parking Experience
B4 Car Park, Birmingham
Parking Partnerships Award
London Borough of Hammersmith and Fulham with BBFI and the Metropolitan Police
Thurrock Council and Penham Excel
Best Car Park Refurbishment
Ruskin Square, Croydon
The Intelligent Parking Award
London Borough of Southwark – Draft Kerbside Parking Strategy
Parking in the Community
Bromley & Bexley Shared Parking Service – Blue Badge misuse campaign
Croydon Parking Services – School parking pilot
Communication Award
British Parking Association - 'Know Your Parking Rights'
The Parking Innovation Award
AppyParking – Signs to Lines TRO mapping
JustPark – Predictive availability
Parking Team of the Year
Customer service team, ZZPS
Best New Car Park
Victoria Leeds
Q-Park Deansgate North, Manchester
Parking Matters Prize
CCV