Cycle-rail champions lauded at awards ceremony
24 November 2017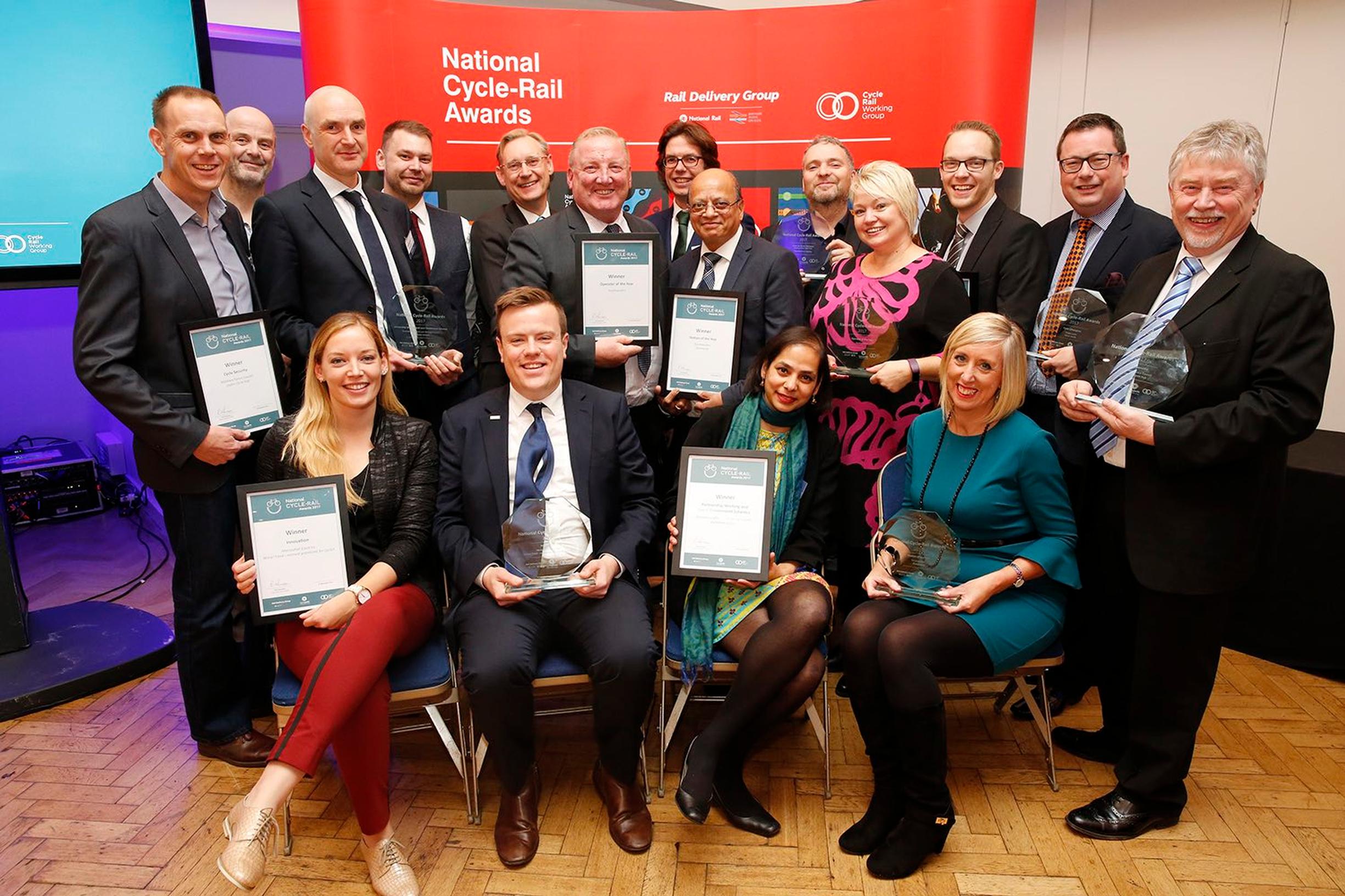 Train operator Southeastern bagged two trophies at the National Cycle-Rail awards presented at Methodist Central Hall, Westminster yesterday. Southeastern took the coveted Operator of the Year award as well as Best Station of the Year for its work in improving bike parking facilities at Gravesend Station.
The awards, hosted by the Rail Delivery Group (RDG), celebrate the work done by the rail industry and associated organisations to encourage integrated cycle-rail travel.
Station of the Year Gravesend provides secure parking for 220 bikes at its Cycle Hub, developed in partnership with Kent County Council, Gravesham Borough Council, Network Rail, Sustrans and local charity Cyclopark Trust.
Levels of cycle parking have increased by around 48% since the hub opened, reports Southeastern. It added that 85% of passengers are now satisfied with the station's cycling facilities.
Southeastern took the Operator of the Year prize for its "great commitment" to customers and "brilliant attitude towards cycling", said the awards judges. They noted that Southeastern provides: a 220-space secure decked cycle hub at Ashford; a secure hub for 40 cycles, 65 cycle pods and 20 two-tier racks at Dartford; and a secure cycle hub for 262 bikes at Tonbridge. Southeastern reports it has put £4.6m of funding into creating 1,246 cycle spaces from 2015 to 2017.
Meanwhile, Transpennine Express took the award for Door to Door Journeys, Including Station Travel Plans. TPE has set out a "clear and actionable" plan for better integration between trains services and local transport services, said the judges. The operator has produced nine Station Travel Plans in the past year and is due to complete a further 10 in the next nine months.
The Partnership Working and Local Government Schemes award went to Dunblane Station, Sustrans Scotland and Stirling Council. The judges were impressed by the "ambitious redesign" of the station forecourt and street linked to Dunblane station. The changes resulted in a more "user-friendly, inclusive and welcoming environment to encourage people to walk and cycle to and from the station".
The Innovation award was presented to MerseyRail for its work in supporting cyclists during track replacements in the tunnel under the Mersey that connects the Wirral to the city centre. MerseyRail worked with Arriva North West to provide a "bike bus" service; a bus fitted with eight bike holders ran an hourly service between stations during the track renewal project.
The London Borough of Waltham Forest took the Cycle Security award for Leyton Cycle Hub. The hub, designed and built by Cyclepods, is part of the council's wide-ranging Mini Holland programme to encourage walking and cycling. It is the only hub to hold 'secured by design' (SBD) accreditation, a crime prevention initiative operated by the UK police services. The SBD's requirements include laminated and toughened glass and a secure, automated door system.
CrossCountry Trains clinched the Best Customer Service award for a new system that allows passengers to reserve bike spaces on board services through social media channels. Previously, customers had to call an 0844 number of visit a ticket office to reserve a space. They are now encouraged to make reservations on Twitter, Facebook or via an online portal.
Steve Smith of Stagecoach was named Cycle Champion. As station development manager at South Western Railway (SWR), he headed a team that delivered cycle facility improvements at 36 stations across the network during 2016 and 2017. This has included an extra 1,400 spaces and eight new cycle hubs. A cycle survey of SWR customers revealed a large rise in cycle usage at stations including a 105% increase at Brookwood, Surrey since 2016.
RDG chief executive Paul Plummer said the awards recognise excellence, inspire better facilities, improve communication and spread best practice across the rail industry. "Cycle-rail continues to be a great rail industry success. Since 2010, the number of rail journeys with a bike has increased by 42%, and there are now 77,000 cycle parking spaces across the network."
The DfT recently granted the RDG a further £5m to manage cycle-rail infrastructure, he pointed out. "This will implement additional cycle parking spaces, cycle facilities and security features to keep customers and their cycles safe and secure at stations."
National Cycle-Rail Awards 2017 - the judges
Martyn Brunt, national cycling network development manager, Sustrans
Sarah Burr, senior strategy & planning manager, cycling surface transport, Transport for London
Ruth Cappell, deputy chief executive, Campaign for Better Transport
Charlotte de Brito, head of crime reduction, British Transport Police
Sharon Goodsell, head of cycling and walking policy, Active Accessible Travel
Crispin Humm, head of customer journey, Rail Delivery Group
Sandra Illes, policy adviser, Department for Transport