Transport 'celebs' unveil six intriguing concepts
A proposal to improve on-bus accessibility won 'virtual funding' of £250,000 at a lively session held during Smarter Travel LIVE!
07 April 2016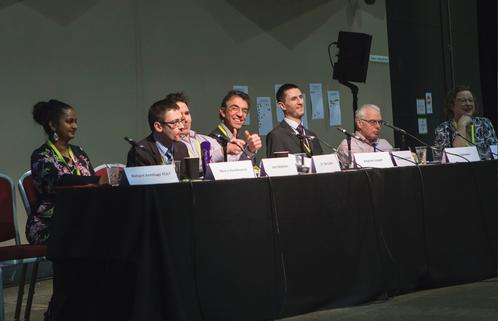 Six well-known figures from the world of transport took part in a contest to secure 'virtual funding' at Smarter Travel LIVE! held at ArenaMK last month. More than 700 delegates attended the two-day event, organised by Landor LINKS and hosted by Milton Keynes Council. Hosted by the TAS Partnership, the I'm a Transport Celebrity – Get Me Out of Here! session proved popular with delegates.
The six transport 'celebrities' competed for the virtual £250,000 'Totally Smarter Transport Fund of the Department for TASport'. Their brief was to make the case for a transport idea, improvement or measure, which is innovative, and enhances customer experience and sustainability.
After the presentations delegates cast their votes. The winner was John Bickerton, chief engineer at Reading Buses, with his 'More Wheels, More Space' bid. This managed engineering project promised a more spacious, attractive and accessible bus interior, made possible through radical redesign of the conventional bus and - crucially - smaller wheels. The overarching idea was to improve accessibility for all - including people in wheelchairs and with pushchairs.
Just one point behind was a smart city logistics/last mile deliveries plan from Stephen Joseph, Campaign for Better Transport's CEO. His Smart Freight Town Competition - combining smarter travel with freight - drew on initiatives already in progress, such as quiet delivery trucks, cargo bikes for last mile transport, electric vehicles and even cargo trams.
Below are summaries of the six presentations:

1 - More Wheels, More Space
John Bickerton, chief engineer for Reading Buses

The problem Bickerton sought to tackle was on-bus accessibility and his answer was to improve space for all users but particularly those in a wheelchair or with a pushchair. The idea also aimed for a safer, cheaper to operate option, with greater operational resilience.
His bid was to contribute 50% of cost trialing the development prototype in double-deck form to prove the concept, ahead of series production, with a leading operator and getting a local authority to evaluate road damage. The prototype vehicle would challenge the norm and restrictions of existing space: narrow area for feet, hips, shoulders, staircases intruding on the forward view; big wheels meaning big wheelboxes and creating a visual obstruction forward from lower saloon.
Bickerton's solution – or "space the final frontier" – was a radical redesign of the conventional bus to tackle these restrictions – crucially, through the addition of two smaller wheels to replace the one big one, or in technical terms, two steering axle specification.
The on-cost at build, said Bickerton, should be negligible and the operating costs equivalent to or lower than a conventional bus. The concept was applicable to single and double deck vehicles, and this one vehicle will be sufficient to influence the design of production vehicles within 12 months.

2 - Smart Freight Town Competition
Stephen Joseph, chief executive Officer of Campaign for Better Transport

A smart city logistics/last mile plan, with measures such as quiet, friendly trucks, cargo bikes, even trams & electric vehicles was the brainchild of Stephen Joseph.
Also taking up the Star Trek theme, he argued that freight was a new frontier for smarter travel and it should boldly go where no-one has gone before - tackling freight would make cycling and walking more attractive and help other smarter travel objectives.
Joseph said that there are already a lot of schemes and ideas around for making urban freight cleaner and smarter, but a smart freight town competition would help places bring the disparate ideas together and let them feed off and complement each other. He said we should aim to emulate the best European cities that have managed their freight and logistics so as to cut congestion and pollution and promote rather than discourage active travel.
?
3 - Smart Youth – Retail Dream
Dominic Lund-Conlon, passenger transport manager (smart ticketing), Essex County Council

Retailers and bus drivers have a common problem – when is someone going to be the age they claim to be? Asking for a passport or driving licence ID is not always forthcoming either, as many young people either won't have a driving licence or parents don't want them to carry around a passport.
Dominic Lund-Conlon's Smart Youth concept is a proof-of-age card offering smart access to on-bus concessions using ITSO as well as offers in the retail arena - in the cinema for films, newsagents to not buy cigarettes, cafes to buy cheap coffee and soft drinks – through the PASS hologram, which is already accredited to Essex County Council's Be Identified Throughout Essex – BITE – card.
The premise is simple and already has been done elsewhere. Make the plastic card 'smart' by inserting a contactless chip, agree with operators when the youth concession is valid to for a young person (day before 20th birthday, say), then program an expiry date and youth discount concession product during the personalisation process. Because it is a PASS accredited scheme, the process of validating someone's identity is rigorous in order to give confidence to retailers and licensed premises as well as bus operators.
"Half the £250,000 prize money would have to go on consultants setting the scheme up with operators on behalf of the authority, as we don't have the staff resources to spare," said Lund-Conlon. "The rest could be spent on an amount of promotion and some free cards. New cards would cost £8-£10, making the scheme sustainable and self-funding for the future."

4 – Smart app for Tailored Needs
Claire Walters, chief executive of Bus Users UK

Claire Walters proposed a bid to develop an app allowing any passenger to tailor the message that comes up on the ticket reader of a bus (and any other mode of transport) to their own needs.
She said that this would be a 21st Century version of the various safer journey/journey assistance schemes and allow a discreet message to pop up on the reader so that their communication/disability or mental health needs can be understood.
As with anything that assists disabled people, she said, it could also benefit people with temporary needs ('I have broken my foot', 'I am pregnant', 'I am recovering from an operation and need to sit down') or with sporadic conditions that are sometimes very difficult and at other times much more manageable – 'My arthritis is very painful today', 'My anxiety is high today'.
This could even assist people using the bus for the first time alone – 'This is my first bus journey alone/in years' – young people and those who haven't set foot on a bus in many years for a wide range of reasons.
The app would be compatible with all existing near-field communication systems and multimodal and downloadable for all kinds of mobiles and devices, Walters pointed out. This also means that it would not be dependent on mobile signal nor on the passenger having credit on the phone.
"The technology is there if the political will is there to make it work," she said. "This will not fall prey to the problems of incompatible payment schemes as the ownership of the information is not in question and is not held remotely or retained or recorded."
However, bus operators could certainly tailor this to note which routes have this technology triggered and potentially build on this to collect data on the types of conditions notified in order to use this in their planning. "If they wished to seek permission to collect information, they could also use the passenger information to understand their customers better and provide further, more bespoke support."
Walters believes that financially the project need not be complex or hugely expensive while socially it would be a huge step forward. Also, it is a simple platform that's completely updateable and therefore sustainable. "With competition on all sides for the passenger transport market, the ability of a potential passenger, or those who have concerns about somebody travelling unaccompanied, to feel confident that their invisible needs can be recognised and supported, could give a lot more people the boost they need to travel on public transport."

5 - Plasticine Street – a living street laboratory
Dr Tom Cohen, deputy director of UCL Transport Institute?

Plasticine Street was the concept of a 'living street laboratory' floated by Dr Tom Cohen. He prefaced his description of Plasticine Street by contrasting the Home Zone Challenge with the City of London's 'Ring of Plastic'.
The former had proved prohibitively expensive and time-consuming whereas the latter had been both quick and cheap. In fact, it had obtained its nickname precisely because the originally titled 'ring of steel' had been delivered to a great extent using plastic cones and barriers.
Cohen also cited more formal testing facilities: TRL's test track in Crowthorne and UCL's own PAMELA laboratory, both excellent in their way. But all tests conducted at TRL's site were open to the question of what would happen in the real world. PAMELA, meanwhile, is highly flexible and allows a host of different environments to be simulated but it does not yet allow pedestrians, cyclists and motor vehicles to interact.
The solution? Plasticine Street, named in honour of everyone's favourite modelling clay. Plasticine Street would be a stretch of real, actual public highway, along which people walked, cycled and drove, which would be used as a testbed for novel configurations, said Cohen. "Want to see what happens if you put the footway in the middle of the highway with running lanes either side? Try it out on Plasticine Street. Want to see how drivers respond to a new variant of horizontal deflection? Try it out on Plasticine Street."
New arrangements would be set up as cheaply and as quickly as possible and then studied in detail through video footage gathered from a forest of cameras, augmented by other data collected as appropriate, he told delegates.
Vehicle speeds on the section of road would be kept very low by design – humps, junction tables and the like – and the experimental status of the area would be extensively advertised.
"We have an active travel crisis. We have an obesity epidemic. Meanwhile, it takes ages for new measures that promote walking or cycling (or both) to reach the streets. The solution? Plasticine Street."

6 - Getting the Message Out on Loulou, the LocoBus
Dr Paul Salveson, group advisor on community rail for Arriva UK Trains

An eye-catching bus that looks like a train to introduce, acclimatise and educate people on public transport was proposed by Dr Paul Salveson.
Loulou the LocoBus is a simple idea based on a marketing initiative by developed by Arriva in Denmark where a bus was converted into a mobile advertising base going out to different local communities.
This is slightly different, explained Salveson. Loulou the LocoBus would go out to communities not on the rail network but can access it by bus and would aim to reach out to socially marginalised communities possibly with a large proportion of people for whom English is not their first language. Many may be unfamiliar and wary of using public transport - especially trains.
The LocoBus would be much more than an advertisement, he said. "It would be staffed by marketing professionals and people skilled community development workers whose job is to go into diverse communities and visit schools and community organisations and engage in discussions about how to use public transport. It would have an additional function in promoting the rail industry as a potential employer."
Within the vehicle there would be performance space, room to show information films or just sit and chat over a cup of tea. "The project would work in partnership with local community groups and community rail partnerships rather than 'parachuting' into neighbourhoods," said Salveson.