A watertight solution from Emseal
Failed expansion joints lead to leaky car parks, so specifying the right systems is vital
25 October 2013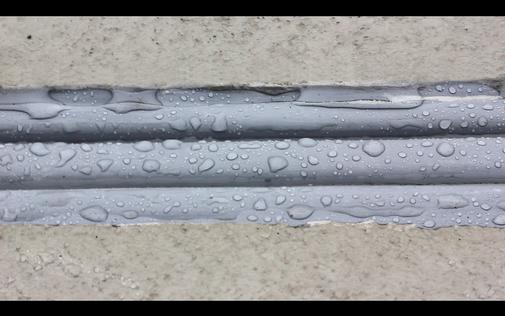 The Meadowhall Centre in Sheffield, South Yorkshire, is a truly massive retail attraction offering 280 stores providing 1.5 million square feet of retail space. The popularity of the centre has seen it increase its parking provision over the years, including the building of new parking decks. It now provides 12,000 free parking spaces, as well as access via rail and Sheffield's Supertram system. The Meadowhall Centre has won many awards for its retail offers and its engineering. But the centre also had a problem. Over a decade of traffic had exposed the reality that the complex's parking structure was leaking. The cause was something quite simple – the failure of rubber used to seal the car park's expansion joints (also known as movement joints).
Failing joints are a problem not unique to Meadowhall. Car parks all over the world are leaking every day, primarily due to the use of outdated sealing technology based on the use of extruded rubber sealing glands. These systems are failing to meet the performance standards necessary to seal the gaps and keep structures watertight. A solution for this common problem comes in the form of pre-compressed coated-foam sealants.
EMSEAL Joint Systems understands that expansion joints in car parks and other structures are necessary to handle thermal and structural expansion shifts. Modern movement joints provide increased performance while greatly reducing installation time. Expansion joints have advanced beyond compression seals and are now available as feature-rich, pre-compressed, coated-foam expansion joints. These watertight primary seals fit the conditions of both new and refurbished car parks. They are designed to be withstand heavy traffic and adapt to varying structural conditions as well as being simpler and, thus, quicker to install.

Removing the weakest link
The primary performance failure of many earlier expansion joint designs is the inability to remain watertight. Given high possibility of rain and snow falling on car parks, the true test of an expansion joint is its ability to prevent water leaks and ensure proper drainage. A movement joint is only as good as its weakest link, in this case anywhere that it allows moisture to pass through a sealed surface. Problems will arise due to the expansion of the structure, material degradation or an aspect of the product's composition.
EMSEAL believes the basic tenet of providing a movement joint is that it should be "watertight by design". This philosophy informed our design of the coated foam DSM System, which has been widely adopted across the UK.
The DSM System product line combines a factory-applied and cured silicone bellows with a microsphere-modified acrylic-impregnated expanding foam sealant backing. These products are an infused cellular foam material coated with a high-grade trafficable silicone coating. This coating is tested for durability under continuous UV, water, and air pressure differential exposures typically experienced in car parks and larger structures. Continuity of seal and continuity thermal insulation throughout changes in plane and direction are two hallmarks of the DSM System. In addition, the product has been designed to maintain watertightness while handling curves and directional changes further sets it apart from extruded rubber seals.

Ease of installation
Two key features of pre-compressed coated-foam movement joints are the non-destructive nature of their installation and the rapidity with which they can be installed.
Because the joint is held in place by the 'back-pressure' of the foam there is no need to either anchor or to hold the joint in place by inserting any fasteners into the substrate walls or surface 'block-outs'. This means integrity of the deck substrates are never compromised.
Back-pressure maintains the seal and ensures that the silicone bellows are never under tension from the effects of joint movement. The back-pressure also allows for the necessary continuous expansion and contraction of the joint, thus avoiding the constrictive problem of compression-set common to extruded rubber seals. In addition, the pliant nature of the foam structure adapts well to inconsistencies in the substrate conditions.
Peter Cowlard, technical director of car park refurbishment contractors Makers Construction, had a positive experience using the pre-compressed coated foam movement joints on the Meadowhall Centre car park refurbishment project in Sheffield. "The structures have expansion joints in them and the finished waterproofing is asphalt," he says.
"The original joints were renewed about eight years ago and they have subsequently failed. These were a compression-type joint, which was glued in place using proprietary system and a nosing of polyurethane. They all subsequently failed. The client was looking to renew all the joints and looked around the marketplace for a suitable jointing system.
"Looking round the world some 15 years ago we came across EMSEAL, and it fits a bill with us as a contractor in that we can rely on the product and our name at the end of the day is attached to it. We find it easy to install and it's getting good acceptance from our client base. Within the range of EMSEAL joints, there's something that fits nearly every application we come across. The ease of application is a real boon."
Makers approached Meadowhall with the EMSEAL system and, after assessment and investigation, the EMSEAL system was adopted for the works. Makers is now metres of the DSM joint to the centre's car parks, meaning the shopping centre's car parks will no longer leak.

Max Valverde is EMSEAL Joint Systems' manager of international sales and engineering