Hackney resident wants to convert parking bays into people places
15 June 2017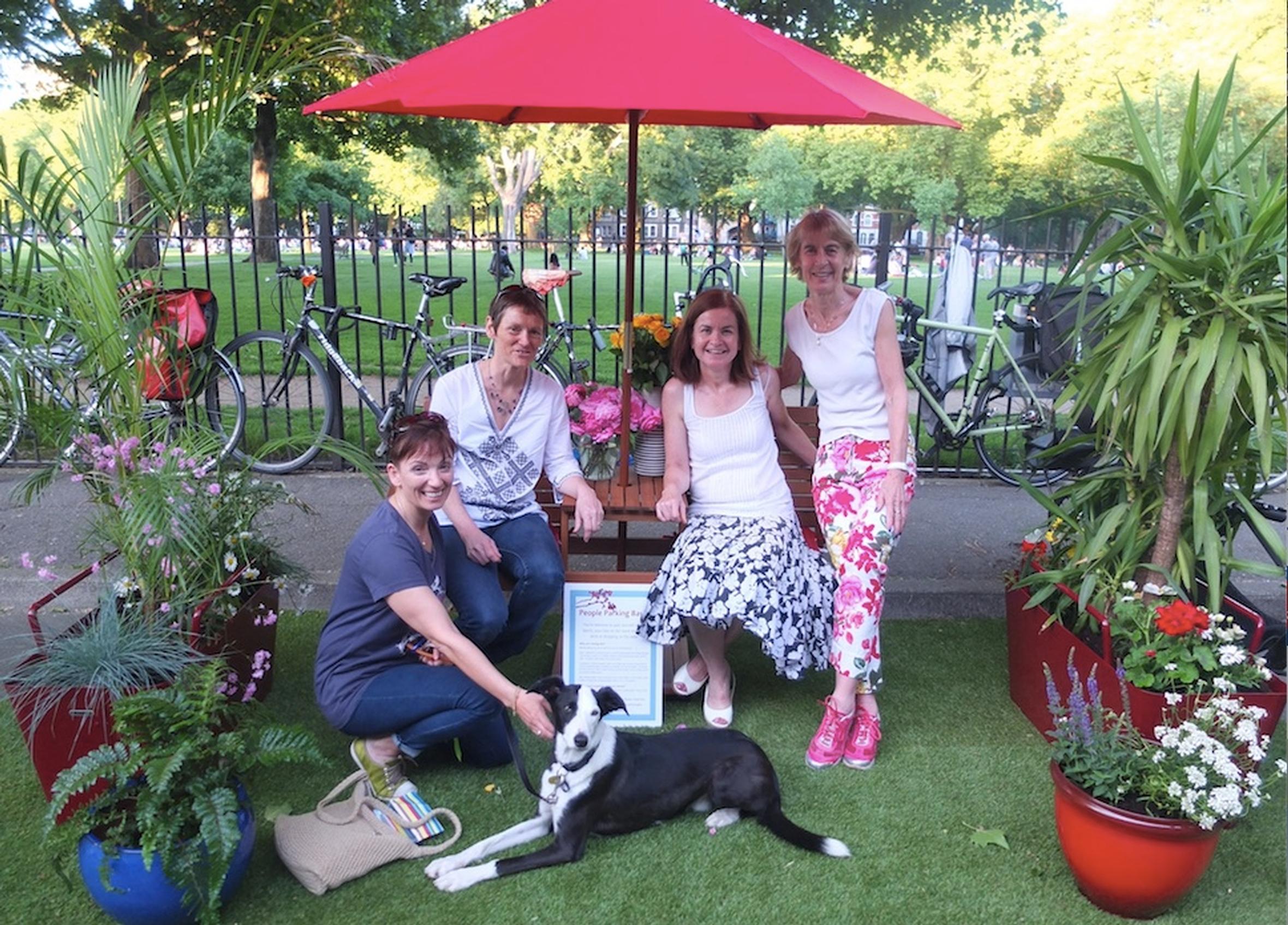 A Hackney resident has launched a campaign to turn surplus on-street parking spaces into car-free 'people parking bays'. Brenda Puech contacted the London Borough of Hackney to request an annual parking permit as she wanted to install a bench, cycle stands and plants in the bay outside her home.
Her request was turned down by the authority, which said the permit could only be used for parking a vehicle.
Undeterred, Puech organised a 'direct action' event on 26 May, transforming the space outside her home into a 'people parking bay'.
The action was supported by London Assembly member Caroline Russell, who said: "I'm delighted to support Brenda Puech's people's parking bay direct action which humorously and gently points out the absurdity of confining the use of precious street space for storing cars.
"With car ownership plummeting it seems extraordinary that residents who don't own cars cannot pay to use road space for small parklets that beautify the street and make streets into less hostile and more sociable places.
"I believe a programme could be developed that harnesses people's creativity and willingness to invest in the street outside their home and that enhances the public realm, without costing the tax-payer any additional money."
Brenda Puech wants to see 'people parking bays' on every street in the borough, where residents and businesses can place something apart from a car for communal use in a bay when they buy a permit.
"This does not have to cost money for local authorities, or even lose them car parking revenue," said Puech. "Parklets are common in San Francisco, New York and many US and European cities."
The number of households in Hackney and other inner London boroughs that do not have a car outnumber car owning homes by two to one, according to Puech. "Yet all our kerbside space is given over to car parking. What is worse, cars in London are parked on average 96% of the time. This is a waste of valuable street space. A public resource - the street - is being allocated very inefficiently.
"With a decrease in car ownership and car use in cities, are we allocating too much space for cars and not enough for other uses? Walking is the most common way for people to get around and yet car parking dominates kerbside space. There is little or no provision for walkers to rest. Many people, including older and disabled people, and people with kids need regular rest stops while walking, and many pavements are too narrow for walking, let alone for benches."
She added: "We could use these spaces for seating, cycle parking or lanes, gardens, play areas or art - the possibilities are limited only by our imagination and our willingness to confront the cars.
"Car parking is an underpriced private use of what should be public space. Some of us are asking for part of this space to be given back to the public - especially when the public is willing to pay the same price for it as car owners."