Time for tougher sentences and bans for dangerous drivers, say MPs
13 September 2023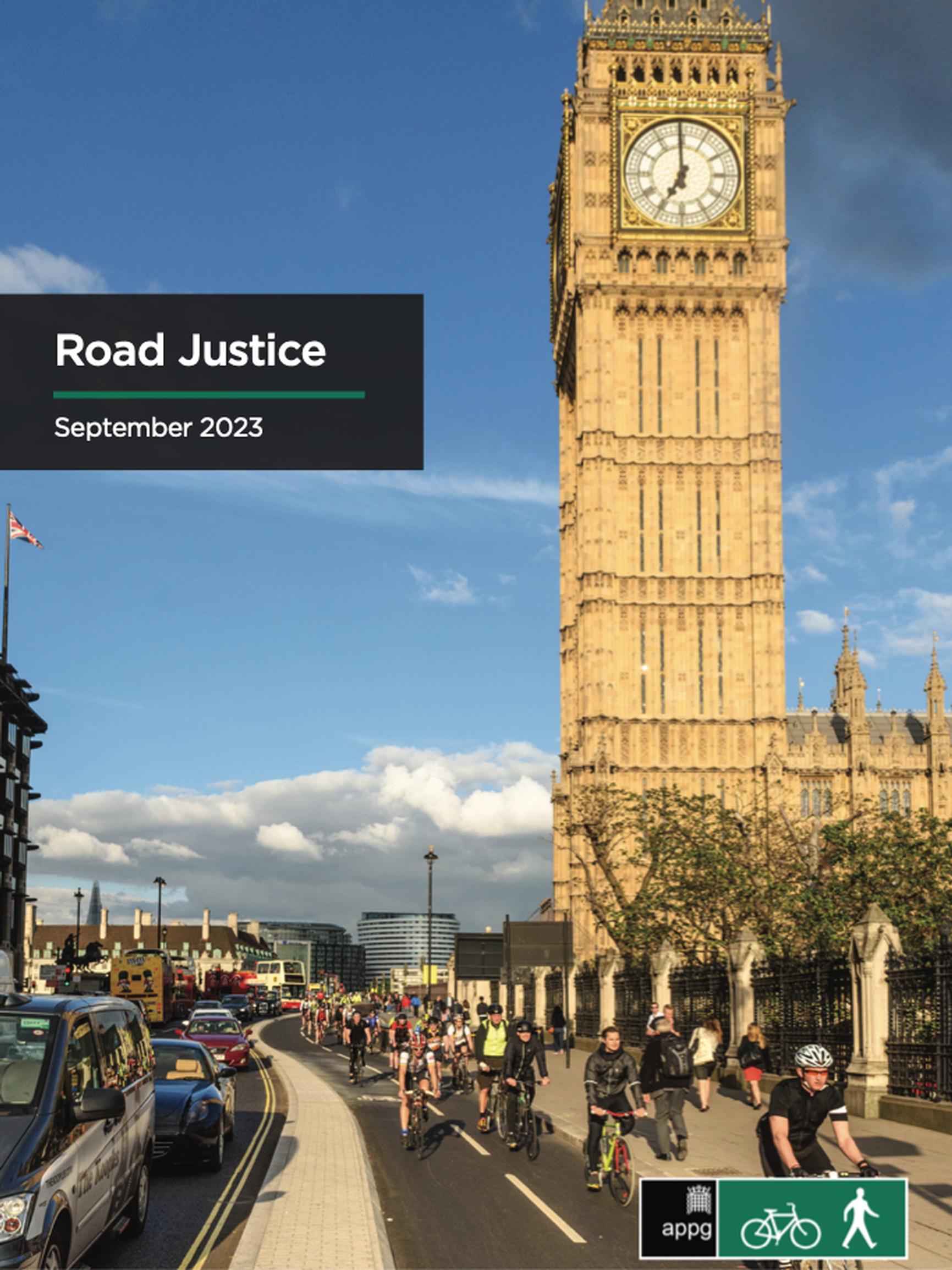 Dangerous drivers should face tougher penalties, including longer custodial sentences and bans, to prevent "road violence" against people on foot and on bikes, states a new report from the All-Party Parliamentary Cycling Group (APPCG).
It also recommends that all those causing serious injury due to careless or inconsiderate actions should be required to re-take their driving test.
The report updates an inquiry looking at cycling and the justice system carried out by the group of MPs in 2017.
Longer custodial sentences
Since the previous inquiry, a new offence has been introduced for causing serious injury by careless driving. However, although this fills "a significant gap in traffic law" courts are limited to a two-year sentence, says the APPCG. It argues that this should increase to a maximum sentence of four years. This would require an Act of Parliament led by the Ministry of Justice.
"In addition to being a very useful tool, a car has the potential to be a lethal weapon," says the report. "And those who drive dangerously (as defined by the offence) are effectively wielding a lethal weapon. The maximum sentence for having an offensive weapon (or bladed article) in a public place without good reason or lawful excuse is currently four years."
There are several traffic offences that some individuals commit repeatedly, says the new report. "For example, analysis of Police data from 2014-17 revealed that 47% of those convicted for driving whilst disqualified had at least one previous conviction for the offence; 30% had two or more."
This is comparable with serial contempt of court, "something for which the justice system ordinarily shows little tolerance", says the APPCG.
"These offenders are clearly not deterred by the penalties they face and they continue to pose a danger to other road users. Whilst sentencing guidelines for most traffic offences include relevant previous convictions as an aggravating factor, there is not currently a means for penalties to increase in steps."
Instead, the magistrate or judge is limited to the same maximum penalty that applies to a first offence, the report notes. "The roads would be made safer if serial offenders were less able repeatedly to contravene the law. We therefore recommend the Government consider the introduction of escalating penalties for repeat traffic offences."
These penalties should include driving bans, vehicle confiscation, fines and community and custodial sentences. But this would require the Ministry of Justice to make legislative changes. "We note in passing that the idea of escalating penalties is not new: for example, the 'three strikes' rule applies to drug dealing and domestic burglary in England and Wales."
Re-testing incompetent drivers
Many traffic offences are committed by people who are not competent to drive, the APPCG observes. "A generous explanation is that it is some time since they passed their test and certain crucial lessons have been forgotten. If so, re-testing is a suitable response, as it will enable those lessons to be re-learnt and establish whether the individual is fit to continue driving."
In the case of those who habitually drive badly, re-testing could prove a "highly effective way of keeping them off the roads, protecting other road users in the process".
Currently, re-testing is compulsory for those convicted of dangerous driving and more serious offences, if they wish to start driving again after their ban. But this does not extend to anyone causing serious injury by careless or inconsiderate driving or for driving or attempting to drive with a specified drug above the specified limit. "It is not clear why this is the case," says the APPCG.
"We therefore recommend that the Government seek consistency by requiring re-testing for anyone wishing to drive following any period of disqualification."
An extended re-test should be used in the more serious offences and after longer bans while a standard re-test may be sufficient in other cases, the group suggests.
It also expresses frustration that, though dangerous driving carries an automatic ban of at least a year, drivers are typically able to retain their licence until convicted. "There are numerous associated examples of drivers causing harm at the wheel whilst awaiting trial for serious traffic offences. Both the courts and the Police have the power to require a suspect to stop driving but we understand it is very rarely exercised."
The National Police Chiefs' Council (NPCC) should instruct police forces to bail drivers whom they arrest for dangerous driving with a condition not to drive, except where there is clear evidence to the contrary, the report recommends. "Given that drink and drug-driving pose a similar danger to other road users, it would make sense for the NPCC's guidance to extend to these offences."
But the group acknowledges that safeguards to stop people from wrongfully losing the right to drive.
Driving ban exemptions
The number of driving ban exemptions is currently alarmingly high, according to the report. About 23% of those who reach 12 penalty points successfully argue against disqualification on grounds of exceptional hardship, the APPCG points out. "Despite revised guidance, magistrates and judges continue to treat sympathetically defendants' claims of reliance on driving. This is clearly a paradox – if nearly one quarter of any group is treated as exceptional, there is something wrong with either the definition of the term or its application."
As a result, many drivers who should be serving a ban are instead allowed to continue driving, argues the APPCG. "This is unacceptable, first because they may pose a threat to other road users and, second, because it sends a signal that the totting-up disqualification can be circumvented."
The group urges the Sentencing Council to revisit its 2020 guidance on the "totting-up disqualification", to reinforce that exceptional hardship should only be granted in truly exceptional circumstances.
Remove speeding 'tolerances'
Another recommendation is that "tolerances" currently built into speed enforcement should be removed. "As things stand, a driver will not ordinarily be charged with speeding in a 30mph zone unless travelling at 35mph or more," the report says. "If drivers exceed posted speed limits, their capacity to avoid collisions reduces and the gravity of any collision increases. Moreover, if the working assumption is that one can speed (to an extent) with impunity, this fosters a belief that traffic law does not need to be taken seriously."
The APPCG's Co-Chairs Ruth Cadbury, Labour MP for Brentford and Isleworth, and Selaine Saxby, Conservative MP for North Devon, said: "We owe it to the victims of road violence and their families to do everything we can to ensure that the system that allowed those tragic events to happen is improved and updated, to prevent them from happening in the future. Following the publication of this report, we will be doing just that: meeting with Ministers, lobbying for a Parliamentary debate, and identifying opportunities to highlight this issue wherever we can."
Road Justice Inquiry
The APPCG held a hearing on 22 May 2023 at the House of Commons, where it received evidence from eight experts: Callum Coleman, Public Affairs Coordinator, Living Streets; Duncan Dollimore, Head of Campaigns, Cycling UK; Nick Chamberlin, Policy Manager, British Cycling (now at Active Travel England); Rory McCarron, Senior Associate Solicitor, Leigh Day; Victoria Lebrec, Collision Investigation Campaign Co-ordinator, Action Vision Zero; Daniel Sawyer, Barrister and Recorder; Chief Superintendent Andy Cox, OCU Commander - Strategy & Transformation, Metropolitan Police Service; and Professor Sally Kyd, Head of Leicester Law School.
The group also conducted informal interviews with relevant stakeholders and sought contributions from others, including the Magistrates' Association and the Crown Prosecution Service.