Hammersmith Bridge should stay closed to cars, says climate charity
24 May 2023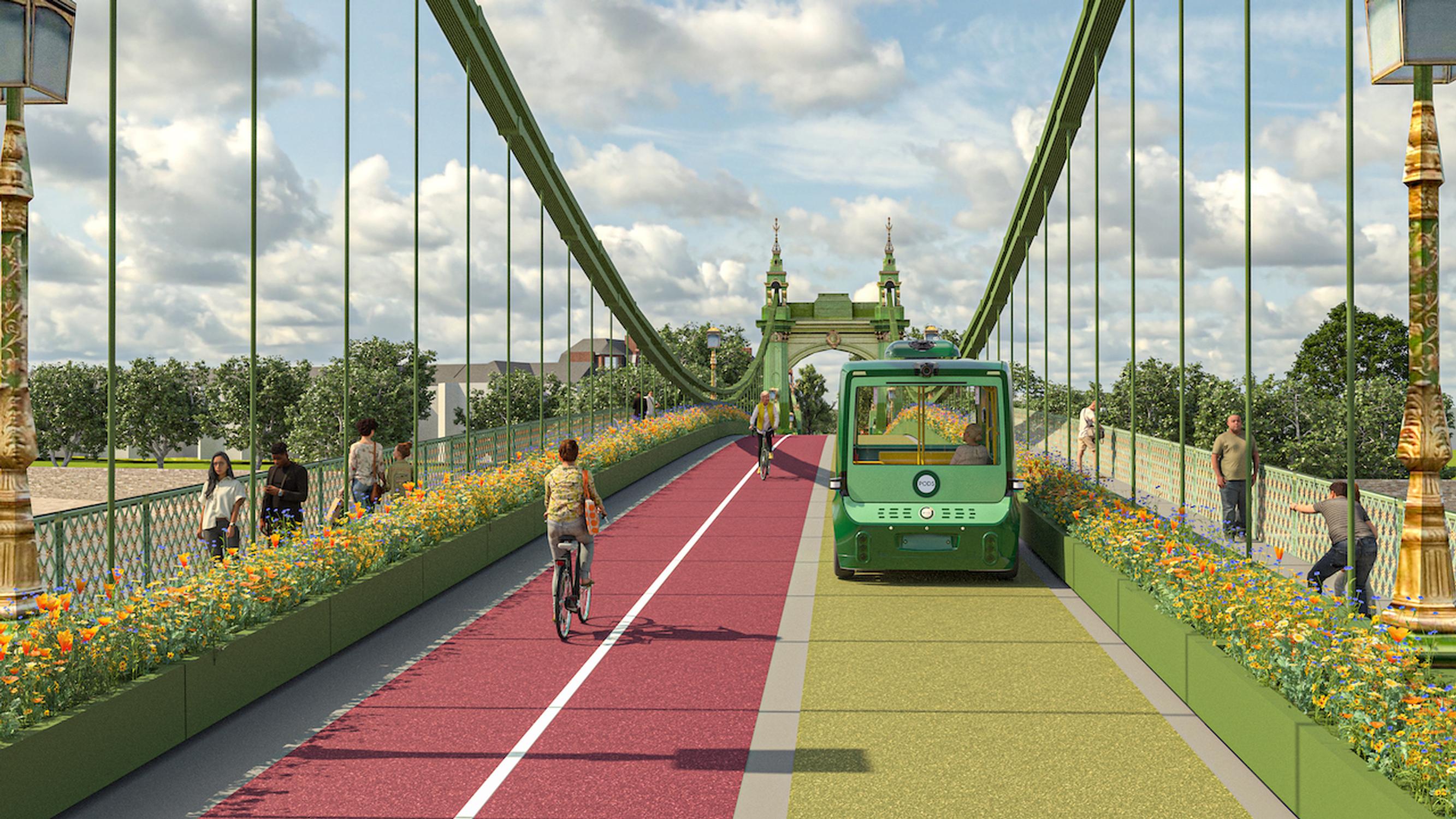 Climate charity Possible has urged Hammersmith & Fulham Council to allow it to conduct a full feasibility study for its car-free alternative to reopening Hammersmith Bridge to motor traffic.
The Grade II-listed bridge was fully closed in 2020 on public safety grounds, after identification of micro-fractures in the tructure, which was built in 1887. It was reopened in 2021 to pedestrians, cyclists and river traffic while stabilisation works were undertaken.
Hammersmith & Fulham has commissioned engineering firm Foster + Partners and consultants Cowi to prepare a planning application to install a temporary bridge.
The truss structure and the bridge works would require both planning permission and listed building consent.
The Government has told the council it must pay 33% of the estimated £163m repair bill which, it said, would normally have been paid "in large part" by Transport for London (TfL) and DfT. "We have made it clear we can only raise that amount of money via a road user charge or toll," said the council.
Possible argues that this expense can be avoided. It said a fleet of lightweight autonomous electric vehicles could serve to re-establish a public transport link here without the need for further costly engineering works to structure.
The charity's proposals would also see the introduction of a two-way protected cycle lane that would run across the bridge adjacent to the pods and would ensure that people could still walk across the bridge.
Possible said its alternative proposal has been developed with highways engineers and autonomous vehicle manufacturers, and is based on over a year of engagement with local communities and stakeholders on both sides of the river to explore local transport needs. The charity estimates that the total costs of delivering their scheme would be less than has already been spent by authorities on trying and failing to reopen the bridge to cars.
The 10-passenger 'pods' would enable people with mobility difficulties in Barnes and Roehampton who cannot easily walk or cycle over the bridge to access public transport connections and amenities in Hammersmith town centre, said Possible. The proposal would also involve a restructuring of bus routes to ensure that continuous journeys can operate smoothly over the river here.