Ice cream vans cause meltdown on Westminster Bridge
Sigrid the cycling cat may have exposed the limits of enforcement!
10 August 2022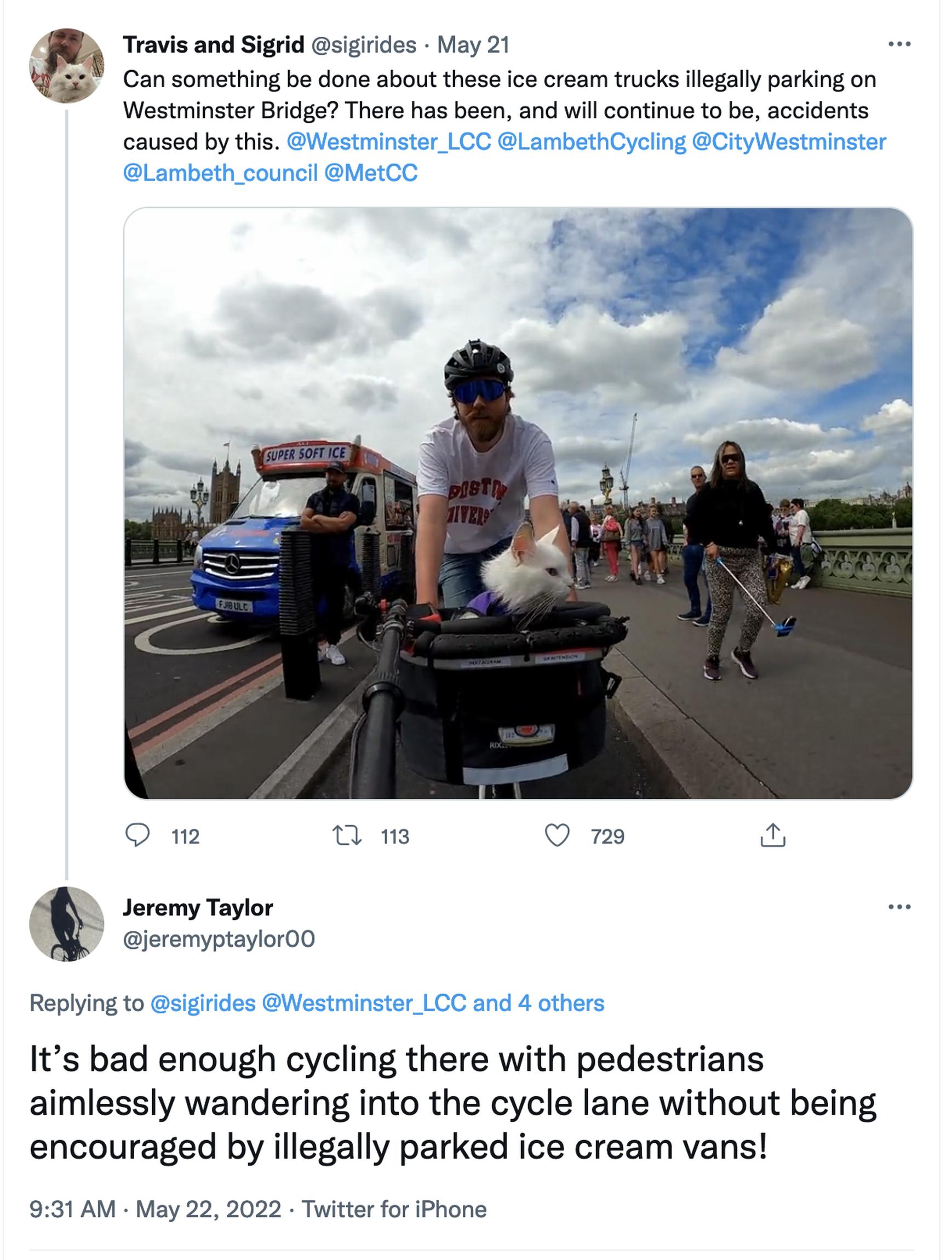 Chimes playing Greensleeves. Parents and children lining up to buy a Fab or a soft cornet, preferably topped with a Flake (well, who can resist a 99?). Ice cream vans are a colourful symbol of summer guaranteed to raise a smile. That is, unless, you are a cyclist trying to cross Westminster Bridge.
Ice cream vans have been illegally parking on the bridge this summer, their customers blocking the dedicated cycle paths. The problem was flagged up by cyclist Travis Nelson, who travels with his deaf cat Sigrid in a front basket. Nelson videoed himself trying to use the cycle path. "Cycling through there is a complete nightmare when the ice cream van is parked up on the double red lines," he said.
Nelson tweeted Lambeth Council and Metropolitan Police asking them to do something, saying that accidents had been caused by the obstructive vans. The Met Police roads and transport account replied: "We are aware of this issue and the vehicles are issued with red route TfL fines. We are working on a longer-term solution as this enforcement clearly does not deter them."
The fact that the ice cream van keeps coming back suggests that enforcement alone no longer works. Transport for London, which shares responsibility for the cycle lane, said the van is fined whenever it is spotted, but was looking at fresh approaches. Lambeth Council said it had been working with partners to tackle unlicensed street trading on Westminster Bridge. A spokesperson said: "In May the council secured fines against two unlicensed street traders at Croydon Magistrates' Court, as well as being awarded costs. We work on this with the police, the South Bank Business Improvement District and Westminster Council."
An interesting observation was made by leading transport economist John Siraut at Landor LINKS's Enforcement Summit 2022. In his keynote talk, reproduced in this issue, Siraut suggested: "The problem recurs because the profits made by the ice cream vans are far higher than the fines. It's just a cost of doing business."
But what does Travis Nelson's feline co-pilot think? "Sigi's pretty indifferent to it," he reports. "She likes people and she's not that interested in ice cream – and most of the customers are considerate and eventually let us through."

Mark Moran is editor of Parking Review