ADEPT's £30m Live Labs 2 scheme open for applications
01 August 2022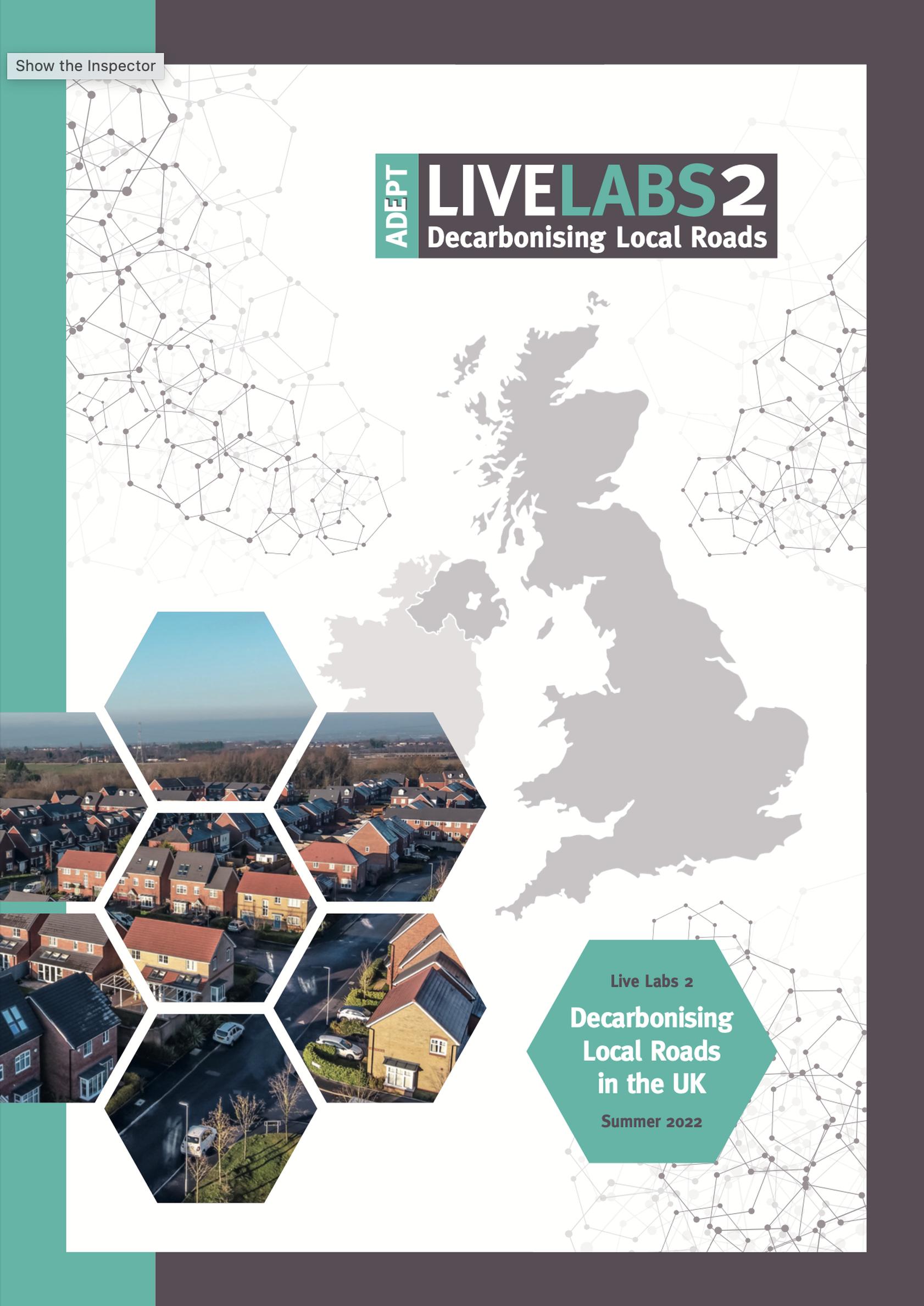 A £30m programme that aims encourage councils decarbonise local roads has been launched by ADEPT (the Association of Directors of Environment, Economy, Planning and Transport).
ADEPT Live Labs 2: Decarbonising Local Roads in the UK is asking applicants to consider decarbonisation in terms of the whole life cycle of local roads; from new construction or modifying assets, their operation and maintenance therein, the plant and machinery used, right through to decommissioning.
Funded by the Department for Transport (DfT), ADEPT's Live Labs 2 prospectus sets out how the three-year programme aims to enable resilient, net zero carbon local road networks.
Successful applicants will be expected to also consider the community environments and how to bake in decarbonised resilience.
The deadline for submission is 30 September 2022. There will be one-to-one support available to prospective teams during this time.
A forum will be established as part of the ADEPT Live Labs 2 website to allow potential bidders to form consortia, share ideas and collaborate during the bid process.
As with the initial Live Labs programme, local authority-led teams providing successful expressions of interest will be invited to present at a Dragons' Den style panel. Once through this stage, entrants will be funded to fully develop and cost their proposals which will include procurement, legal and communications strategies.
The UK's approach to the decarbonisation of transport has concentrated on tackling tailpipe emissions via the introduction of electric/hydrogen vehicles and encouraging the public to adopt active travel. Local authorities have also focused on these important elements, while understanding that they need and could do much more with sufficient resources.
ADEPT says that the lack of a national approach has meant that councils have been held back on addressing the broader issue of decarbonising transport infrastructure – the hidden carbon agenda – and although work has been done, it varies across the UK. A major development for Live Labs 2 is that it will be a UK-wide programme, open to applications from Scotland, Wales and Northern Ireland.
Mark Kemp, ADEPT president said: "Creating net zero highways is a big ask, but local authorities are up to the challenge. Decarbonising local roads is essential if we are to meet net zero targets and improve air quality.
"Live Labs 2 will be a fantastic opportunity to test, innovate and deliver solutions that work at the local level and local authorities can provide real leadership to achieve UK goals."
Neil Gibson, chair of the Live Labs 2 Commissioning Board, consisting of leaders from across the sector, said: "We need to adopt a zero-carbon approach to local roads that will benefit our communities, address climate change and create more resilient networks, and find the right innovations to help us do that.
"Live Labs has always been about far more than an individual technology and Live Labs 2 will be no different. We will be looking for new approaches and partnerships with academia and the public and private sectors, an openness to creating lasting change within our organisations, and a willingness to collaborate and share learning across the transport and highways sector."
Transport minister Karl McCartney said: "I'm thrilled that ADEPT has launched its Live Labs 2 programme, making the most of £30m of government funding to build truly resilient and sustainable road networks that are fit for our Net Zero future."
ADEPT represents local authority, county, unitary and metropolitan directors of place. The Live Labs initiatives are part of ADEPT's SMART Places programme to support the use of innovation and technology in place-based services.
Live Labs 2 is overseen by an independent commissioning board: ADEPT (chair), Colas, Construction LCA, County Surveyors' Society Wales, Department for Infrastructure Northern Ireland, DfT, EY, Innovate UK, Kent County Council, Kier, Leicestershire County Council, Open Data Institute, Ringway, SNC-Lavalin's Atkins business, Society of Chief Officers of Transportation in Scotland (SCOTS), Transport for London and WSP.