Text-to-speech functionality helps bus passengers with sight loss in Leicestershire
02 October 2023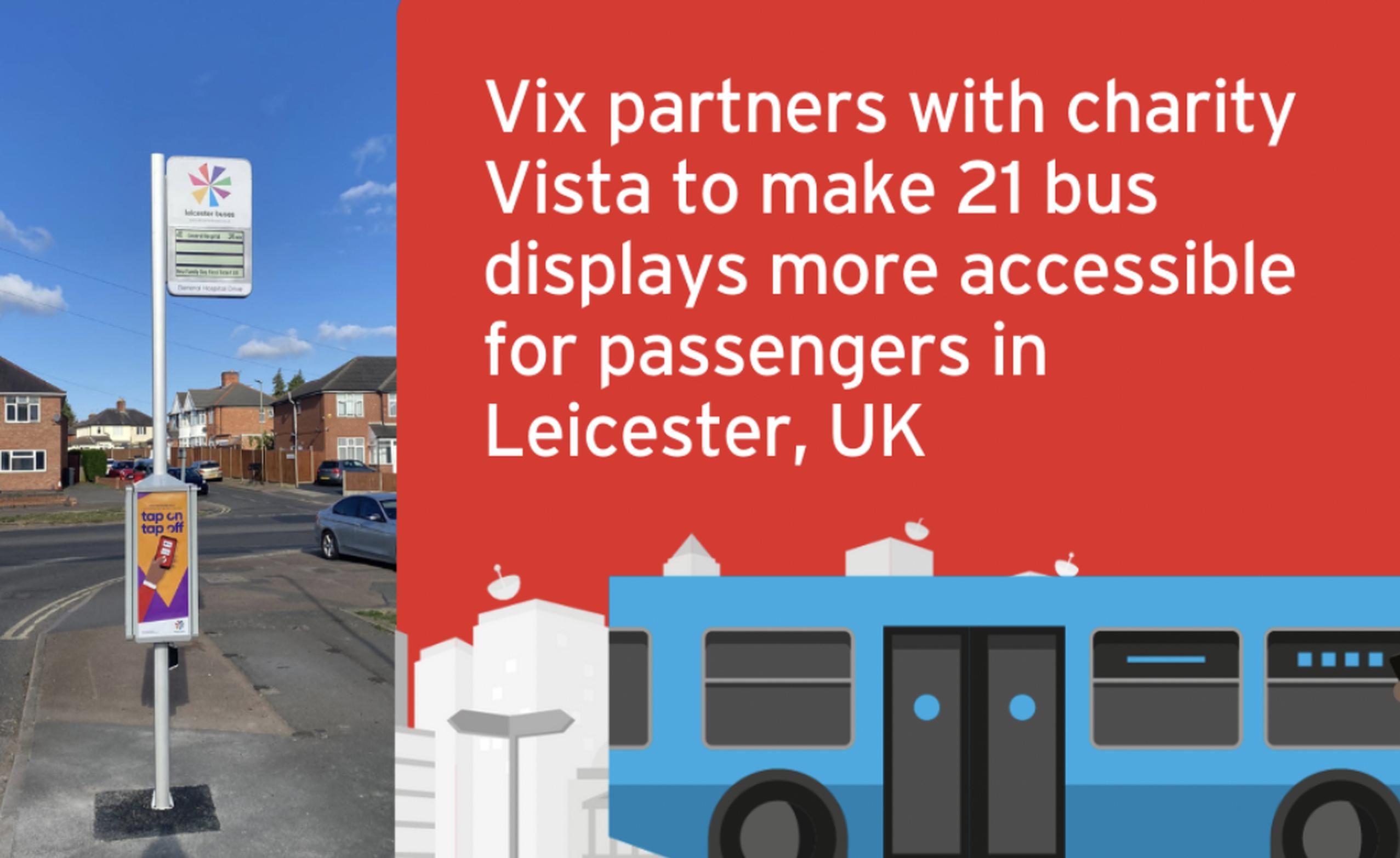 Vix Technology has worked with Leicester Buses and charity Vista to provide a solution aiding and streamlining public transport use for people with disabilities.
Vix Technology, as part of its mission to build greater inclusivity of transit services, has worked directly with a charitable organisation to help make bus services more accessible for passengers with sight loss. This is part of a larger project in which Vix is working with Leicester City Council and Leicestershire County Council to roll out new totem displays.
---
On 6-7 November 2023, Leicester City Council and Bus Centre of Excellence, working with Landor LINKS, will host Quality Bus: supporting generation bus, with site visits & bus tours on 6 Nov and a full conference programme on 7 Nov. Vix will be speaking – reserve your place now!
Please note that event partner Bus Centre of Excellence (BCoE) will be funding a limited number of spaces to attend the Quality Bus event this year on a first-come, first-served basis. They will however be prioritising local authorities and there will be a maximum of two free tickets per organisation. If you would like a space, please reach out to BCoE directly at BCoE@ciht.org.uk
---
Matthew Wilks, Vix Technology, Business Development Manager, said: "Working with Vista and helping to support local people with sight loss in Leicester will help make the public transport network more accessible to all. Through the supply of the Real Time Displays combined with the Text-to-speech functionality, we can support a better and more informed journey.
"Vix are proud to be working with Vista and helping the transit users with sight loss in the region, and we are confident that these additions to the bus stops will have a significant positive impact on their journeys."
The project involved Vista surveying a range of stops to identify those most often used by people with sight loss. From these surveys, Vista selected 21 stops to offer our solution. The solution includes sophisticated text-to-speech functionality to help passengers with sight loss to use bus stops and get the information they need for their journey.
The totem displays provided by Vix Technology use long-life batteries, meaning they can be installed anywhere and they have no reliance on mains or solar power, offering greater flexibility. With the added benefit of text-to-speech, our displays can provide real-time passenger information for everyone, empowering those with disabilities.
Lesia Smaditch, Project Manager at Vista, said: "We are delighted to partner with Vix Technology on a solution that will make it easier for passengers with sight loss to use bus stops and access the information they need for their journey. This is a simple but effective way to empower those with disabilities and ensure they can travel with confidence. We are committed to improving the lives of people with sight loss and this is just one of the ways that we are striving to achieve this."
The new displays will be installed in December 2023 and January 2024.