Solent Transport leads micromobility collaboration agreement with operators Beryl and Voi
Solent Transport initiated the agreement – the first of its kind outside of London - to enhance the benefits of the multi-operator environment, mitigate any potential conflicts and drive forward best practice
13 July 2023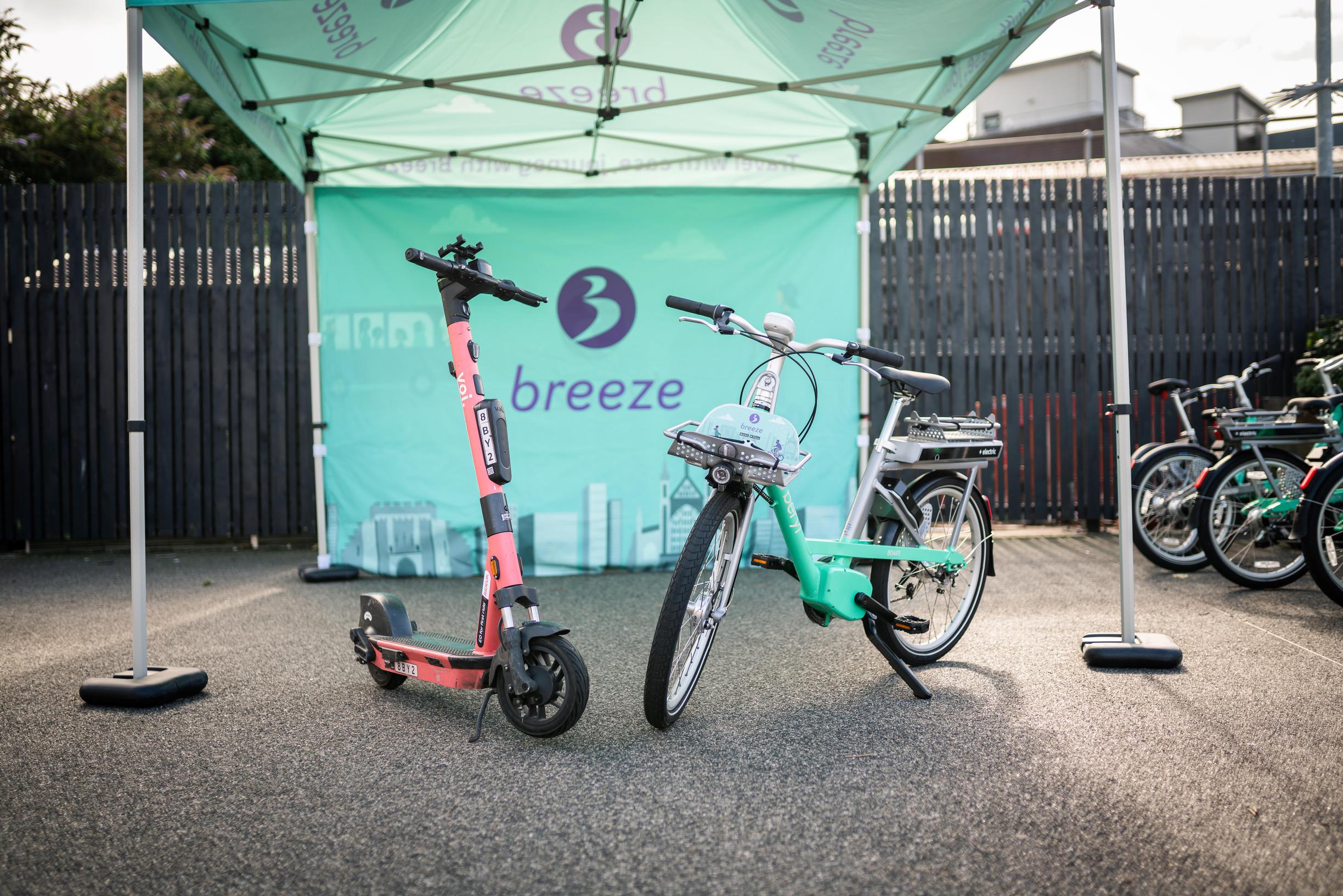 Solent Transport is pleased to announce a landmark collaboration agreement with two of its partners, leading micromobility operators Voi and Beryl.
Both operators run micromobility schemes side-by-side in Portsmouth and Southampton as part of the Solent Future Transport Zone (FTZ).
Whilst all parties have experienced the many benefits that well-planned and executed micromobility schemes bring, the coexistence of two operators presents some complexities.
In response, Solent Transport initiated the co-development of a micromobility collaboration agreement – the first of its kind outside of London - to enhance the benefits of the multi-operator environment, mitigate any potential conflicts and drive forward best practice, ensuring a seamless experience for riders.
The collaboration agreement sets out cooperative practices aimed at further improving the services for customers of both operators in the cities. At its heart is the recognition that success for both parties is fundamental to the overall growth and sustainability of micromobility in the Solent region.
It is true that the schemes have enjoyed many successes to date; in fact, the Solent FTZ e-scooter trial is the fifth largest and well used in the country and the Solent region has witnessed the continued successful expansion of both Voi and Beryl's micromobility fleets. As the first of its kind outside of London, the agreement also offers a template to other local transport authorities seeking to align micromobility operators in their own region and encourage collaboration.
In comparison with other micromobility fleets across the country, the Solent FTZ scheme boasts some of the highest levels of parking compliance and tidiness.
We appreciate, however, the complexity that joint operations can bring, particularly where there are shared and co-located bays. The collaboration agreement is aimed at harmonising operations between Beryl and Voi, considering how bays are installed and co-managed. It is underpinned by six general principles:
1 Operate transparently.
2 Resolve issues rapidly.
3 Always endeavour to cooperate and mutually support bay management, e.g. ensuring bays are left safe for other operating teams.
4 Share best practice as much as possible.
5 Recognise that commercial concerns are fundamental to both parties and will ultimately help underpin the success of micromobility in the region.
6 Ensure adequate distance is maintained between bays when deploying new infrastructure to improve the user experience.
The agreement also provides operating guidelines for local teams to follow and sets out specific requirements for particularly busy or important bays.
This includes briefing staff about both organisations' plans for deployment, a shared Slack channel for real-time issue reporting and collaboration, and establishing a three-way forum to resolve issues rapidly and maintain constructive relationships.
It emphasises the importance of bay management, reporting damaged, faulty or untidy vehicles, addressing anti-social behaviour, ensuring the agreed capacity of bays is maintained, and promptly escalating field issues to relevant stakeholders within each organisation.
By aligning their goals and operational strategies, both companies are better able to deliver for the Solent FTZ and fulfil their respective commercial objectives. This translates into a smoother, safer and more enjoyable scheme for micromobility users and non-users alike.
Cllr Phil Jordan, Deputy Chair of the Solent Transport Joint Committee said: "Co-developing this micromobility agreement with Voi and Beryl has been a very positive experience. It provides a foundation for effective cooperation across Portsmouth and Southampton and we are pleased to see the benefits to our unique multi-city, multi-operator environment. The collaboration agreement exemplifies the spirit of partnership and innovation that is crucial for progressing sustainable, efficient and innovative transport schemes in the Solent region."
Beryl CEO and co-founder, Phil Ellis said: "By contributing towards cutting congestion and carbon emissions and getting more people active, bike, e-bike and e-scooter share schemes have the power to fundamentally improve the health and sustainability of our cities.
"It's therefore vital that we continue to work hard with our local authority partners and other transport operators to ensure we deliver a level of service that enables them to become an even more essential part of integrated urban transport systems."
Jack Samler, general manager for Voi UK, Ireland and France, said: "Providing our shared e-scooter services is best executed through partnership, whether it be with local authorities, police or in this case, Beryl.
"We commend Solent Future Transport for developing this partnership agreement which will make our operations in Southampton and Portsmouth even more efficient to the benefit of our riders and the cities."