Ghent: a city plan that transformed transport and livability
Filip Watteeuw, Ghent's Deputy Mayor for Mobility, Public Space & Urban Planning, implemented the traffic-restraining Circulation Plan in 2017. Mobility is emotion, he says, but the plan worked....
15 June 2023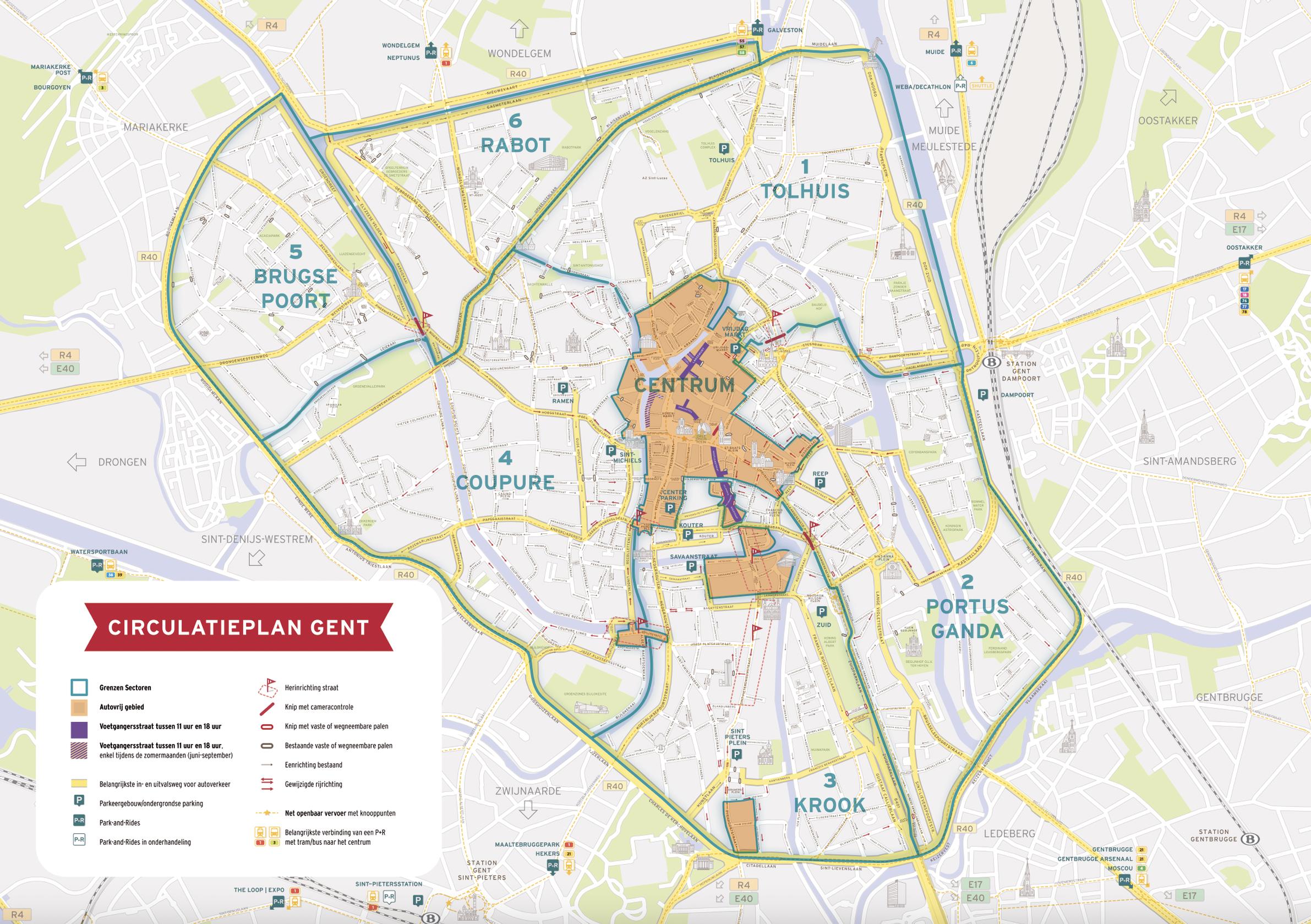 Ghent, the host city of Velo-city 2024, has a long history of cycling and a future with demonstrable commitment to sustainable mobility. A bicycle plan was implemented as early as 1993, a large pedestrian area created in 1997, and the city has the a car-free historic city centre that is the largest in Belgium (70 hectares).
Filip Watteeuw is the Ghent's Deputy Mayor for Mobility, Public Space & Urban Planning. In April 2017, he oversaw the implementation of a new Circulation Plan for the city which "transformed transport and livability" according to the European Cyclists Federation.
By also encouraging shared transport as part of the action plan for a car-free city centre, car journeys in Ghent have reduced from 55% to 27%, creating a more peaceful, people-friendly urban environment, says CoMoUK.
---
Filip Watteeuw, Ghent's Deputy Mayor for Mobility, Public Space & Urban Planning, will be inspiring politicians and practitioners alike at Cycle County Actiove County 2023: reserve your space now
---
The Circulation Plan took two and a half years to plan, one weekend to implement and cost just €5 million, yet has had spectacular results. Cycling is up, car ownership and road injuries are down and, despite a lot of before the scheme went in, public satisfaction is high. Businesses are thriving and Watteeuw's personal vote share has increased.
What is important is that before the circulation plan, we had a parking plan, and that was key preparation for the circulation plan. We started charging for parking, especially visitors
The circulation plan is not an anti-car plan, says Watteeuw, speaking to Juliana O'Rourke of TransportXtra. "Its goal is not to forbid cars. We do have vehicle-restricted zones in the centre of the city, but in all other zones driving is possible."
Emergency services, public transport, refuse collection vehicles, taxis and healthcare providers with permits, electric bikes, cargo bikes and most mopeds are allowed to pass through streets closed for motorised vehicles.
Pedestrian streets are reserved for pedestrians between 11am and 6pm. These streets are completely traffic-free between those hours: no cargo traffic, no car traffic, no taxis and no cyclists.
However, you are allowed to enter the traffic-free zone if you push your bicycle by hand. This way pedestrians can shop and stroll comfortably. Cyclists breaking the rules can be fined 55 euros, as can vehicle with a registration plate. Cameras with automatic registration plate recognition (ANPR) as well as police officers regularly check compliance with these regulations.
Ghent in numbers (CoMoUK)
More than 250,000 citizens

17,000 extra cars in the last 10 years

Almost 96,500 non-residents work in Ghent

67,000 college students

Bike ownership: 2,6 bikes per household

200,000 cycle trips a day

Cyclists have increased from 22% of journeys to 37% post Ciculation Plan

18% reduction in air pollution

20% per cent fewer cars in the centre

10% per cent more cars on the ring road but no traffic jams

Increased use of public transport instead of the car (Flanders region saw a decrease)

Fewer road traffic accidents

6,000 car share users in 2017, then 13,500 in 2019 and aiming for 20,000 by the end of 2020
Referring to the "nasty and noisy opposition", Watteeuw explains that he always focuses on three policy lines."The first line is circulation measures, then infrastructure, and then culture.
"The first one is very important, because with circulation measures, you don't forbid cars, you don't take away the possibility of people reaching any particular destination. The circulation plan created space for cyclists and public transport without forbidding cars.
"What is important is that before the circulation plan, we had a parking plan, and that was key preparation for the circulation plan. We started charging for parking, especially visitors. And we saw that pressure on the streets from cars decreased. So with the parking plan and the circulation plan, we got people to shift modes.
"In the past six years, I scrapped 7,000 parking spots. And as I also always say, mobility is emotion. If we change something, we are changing the habits of people. If people can't do what they are used to, then there is a problem. And people get angry, loud and insulting. But the point is, in Ghent there are more people who are silent than those making noise.
Political will and political dedication
"Moving forward requires political will and political dedication," says Watteeuw. "And stability. I'm a member of the Green Party, which is very important in the city. And we are stable. But our coalition partners in Liberal Party are more uncertain about what we are doing in the domain of mobility. I can feel the pressures across city government. But after the implementation of the Circulation Plan in April 2017, my votes increased by a factor of four in the October 2018 elections.
"Before the implementation of the Circulation Plan, I was yelled and insulted in the streets. I had six weeks of police surveillance. On the day we implemented the circulation plan I had an appointment with a journalist to ride around on a bike through the city to show what had changed.
"And I was a bit afraid, but we went on with it and I was met with thumbs up and congratulations. And I thought: where were you all these years when everyone was insulting me? So that's what I learned: there is always noise, but the silent majority is with you if you really have a clear plan of how to improve the quality of life in the city.
"If you are a politician, you should have a vision and you should believe in something. But you should always know and accept that it may be over any day. In politics, at certain moments, you have power. But it's always a possibility that the next day you may be yesterday's news. If you accept that, it's much easier to do politics, and at the moment I'm enjoying myself."
Key elements of the Circulation Plan: removing through traffic
• The restricted traffic area/pedestrian area was extended
• The city centre was divided into six sections surrounding one large car-free/pedestrian zone
• Transit traffic on important roads will be prevented by closing streets for motorised vehicles
• There was a change of travel direction in various streets
• The inner ring (R40) enables car travel from section to section
• The main ring road (R4) enables car travel from municipality to municipality