How did transport-focused bids fare in the latest Levelling Up round?
What can we learn about the direction of local transport infrastructure from the latest round of successful Levelling Up bids?
13 February 2023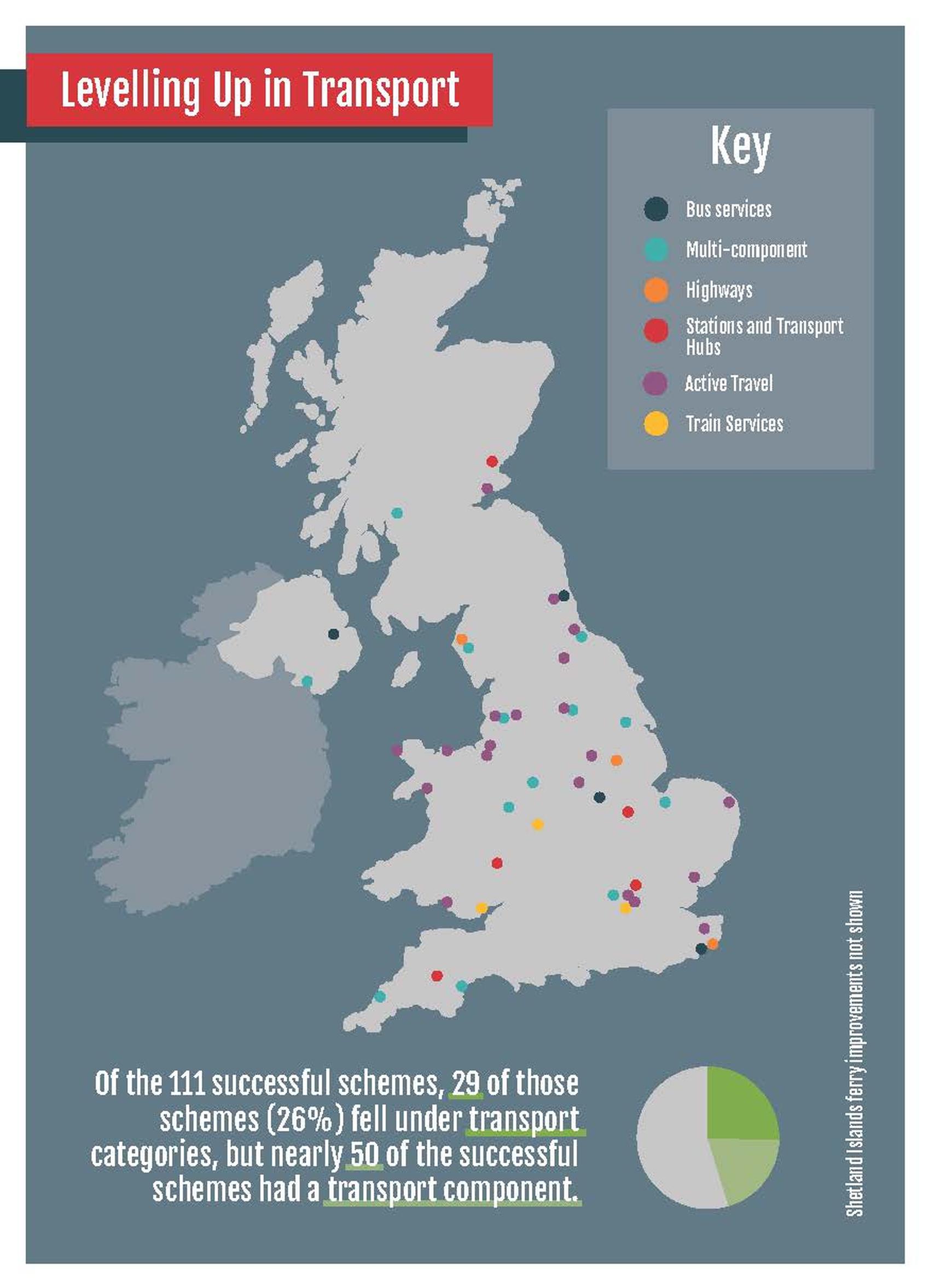 Analysis of the successful second round Levelling Up Fund bid (LUF) submissions on 19th January 2023 gave a strong indication to the current direction of local transport infrastructure and planning in the UK, as the Government invests in local communities via competitive bidding.
The Levelling Up Fund (LUF) forms an integral part of the UK Government's efforts to improve local infrastructure and cultural assets, underpinned by £2.1bn of second round funding for schemes across the UK.
The LUF fund was open to every local authority in the UK, with each authority placed into one of three 'prioritisation' categories according to an index based on socio-economic characteristics.
County councils and combined authorities were also able to submit a transport bid. Overall, £800m of the total LUF fund has been ringfenced for schemes in Scotland, Wales & NI.
To secure funding, local authorities were required to submit bids outlining improvements that would support levelling up priorities within their communities, according to criteria set out by the Department for Levelling Up, Housing and Communities (DLUHC).
The proportion and success of transport-focused bids
When the list of successful bids was released in January, it became clear that of the 111 successful schemes, only 29 of those schemes (26%) fell under either 'Transport'; 'Transport & Regeneration'; or 'Transport & Cultural' categories, according to DLUHC. Analysis by planning consultancy Lichfields suggests that this is consistent with the first round of LUF funding.
Overall, 147 second round LUF bids fell under the three transport-focused categories given above, resulting in a transport bid success rate of 20%. However, the overall LUF bid success rate was 21%, markedly down from the first-round success rate of 34%. There were 529 bids submitted this time, compared to 305 in the first round.
The most recent round's 29 successful transport-related schemes were awarded a total funding amount of £698m (average of £24.1m per scheme), compared to an overall ask amount of £3.005bn for transport-related schemes (average of £20.4m per scheme).
This suggests that transport-focused schemes for larger areas which bid for higher amounts performed better in the bid assessment process, meaning that areas such as Cardiff, Cornwall and Lancashire were each awarded all or very close to the maximum £50m available through the fund.
However, some minor transport-related improvements such as upgrading footways and cycleways in urban centres were incorporated into schemes which were categorised under the 'Regeneration and Town Centre' bid type. Through analysis of the scheme proposals for the successful bids, SYSTRA has concluded that, overall, almost 50 of the successful bids involved a notable transport component, with the majority of these transport improvements concentrated in the North, Midlands and Wales.
The type of transport schemes proposed
A large proportion of the successful schemes which involved a transport improvement component were active travel-related, involving one or more of the following:
The creation of new cycleways and footpaths, including Richmondshire District Council's bid;

The upgrading of existing cycleways and footpaths, including Gwynedd Council's bid; and

The provision of associated infrastructure such as mobility hubs and cycle storage facilities, including Colchester Borough Council and Dundee City Council's bids.
Notably, many of the successful transport LUF bids were tied to cultural or regeneration proposals and involved the creation or upgrading of active travel links to key destinations, as seen in the following successful bids:
Tees Valley Combined Authority: £18m to deliver over 15km of new, high-quality cycling and walking routes across the Tees Valley, better connecting communities to essential community services;

Redcar & Cleveland Borough Council: £20m for the Newham Grange highway scheme and new pedestrian/ cycle tracks connecting Guisborough town centre to Teesworks - the UK's largest freeport - and the North York Moors National Park;

Great Yarmouth Borough Council: Regenerating the North Quay in Great Yarmouth, with investment of £20m to improve pedestrian and cycle links; and

Northumberland County Council: £15m to build new cycling and pedestrian lanes, to give people better, greener routes to work, major transport hubs and tourist attractions between Hexham and Bedlington.
Moreover, several successful bids had a strong public transport improvement dimension, with proposed improvements to public transport infrastructure and the introduction of new services – again, many of these bids also incorporated improvements to active travel infrastructure. Two key examples are:
Cornwall Council: Nearly £50m to create a direct train service linking Newquay, St Austell, Truro, and Falmouth alongside better walking and cycling access to stations; and

West Yorkshire Combined Authority: £41m to deliver improvements to bus services in the region, with safer and more accessible bus stops and bus stations, and improved journey times.
Prevailing policy directions and impacts on LUF
Where once the focus of local transport investment may have been resolving issues with problematic junctions or providing new road links to strategic locations, it appears from the successful LUF schemes that local transport thinking across the UK has shifted towards more sustainable modes of travel, with very few successful bids being exclusively highways-focused.
This is despite Local Authorities being able to bid for funding towards any type of transport schemes, so long as the scheme was considered deliverable by 31st March 2025.
From our experience working with local and regional authorities on highways, public transport and active travel schemes as well as specifically supporting LUF bids, there are clear reasons for the shift towards schemes which place more emphasis on active travel and public transport:
1) Local policymakers and transport planners are mindful of the UK Government's Net Zero target, as well as declarations of climate emergencies and sustainability policies put in place at a local level;
2) Grand plans have been set out for the improvement of local bus travel via Bus Service Improvement Plans (BSIPs), with additional funding secured via LUF to help realise BSIP proposals;
3) Local policymakers and transport planners recognise that active travel schemes are generally more 'shovel-ready' than most highways schemes, and therefore better meet the LUF deliverability cut-off date; and
4) The appraisal of complex highways schemes presents potential issues which may not be commensurate with the tight submission deadlines inherent in competitive bidding processes such as LUF.
Overall, LUF scheme proposals are likely shaped by a combination of national and local factors, rather than a single issue. The UK's prevailing national policy direction appears to exert an influence on the theme of bids and funding pots such as LUF, even without strict stipulations as to the type of schemes proposed.
Competitive bidding and future LUF funding
The relative success of the bids received by DLUHC was dependent on the relatively opaque bid assessment criteria inherent in the competitive bidding process.
With around £1b likely to be distributed via a third LUF round, the Government may well revise the LUF bid criteria ahead of the bid submission window in order to promote certain types of scheme proposals or bids from certain areas, particularly given the political upheaval that has occurred since LUF was originally conceived under Boris Johnson in 2021.
Rishi Sunak has strongly emphasised the potential of locally-focused investment streams, last month he toured the North of England including the Lancashire towns of Morecambe and Accrington, to showcase the areas benefitting from LUF. And, The Chancellor Jeremy Hunt sought to reinforce the perceived importance of local infrastructure investment when he included 'Everywhere' as one of his four 'E's of economic growth as part of his 'state of the economy' speech on the 27th of January.
It is encouraging that Government Ministers have been consistent in their messaging on Levelling Up and even if future Ministers change the Levelling Up terminology, we look forward to assisting local authorities throughout the UK, with developing their third-round proposals for LUF.
Euan Bradley is Assistant Consultant at SYSTRA