Diesel vans '67 times more environmentally damaging' than e-cargo bikes
The hidden environmental and social costs of van deliveries in London amount to nearly £2.5 billion per year, says new research
29 November 2022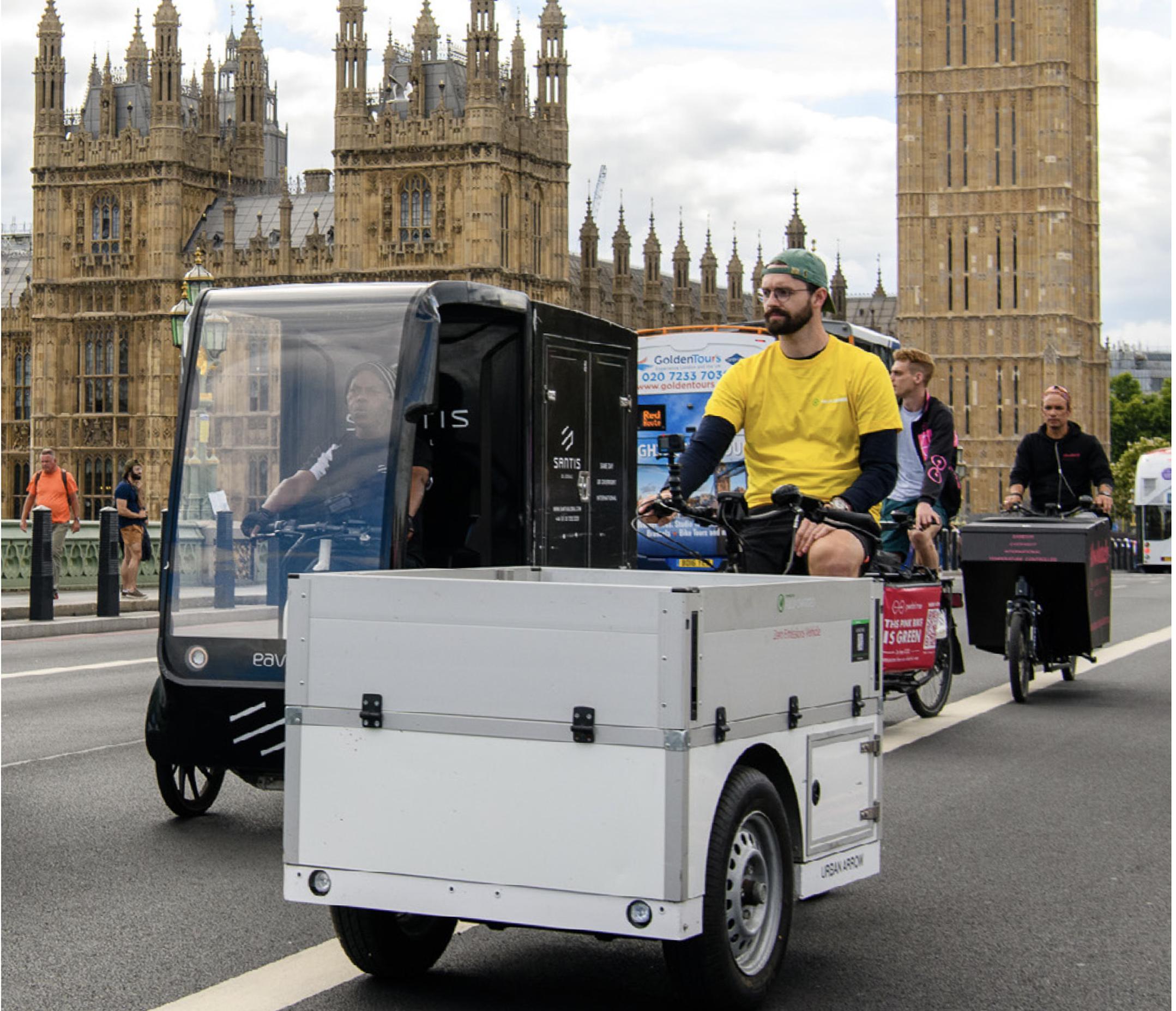 Rapidly decarbonising London's transport system will not just make the city healthier, cleaner, and safer; it will also save Londoners money, says a new report Delievering Value from Just Economics.
---
---
Diesel van deliveries have huge hidden costs, which amount to nearly £2.5 billion per year in London, according to the findings. As well as a significant contributor to climate change, congestion, and noise pollution, diesel vans are a major source of air pollution which disproportionately affects the health of some of the most vulnerable people in the city.
The report calls on the Greater London Authority to incentivise more sustainable, healthier, and cheaper transport alternatives through smart road pricing, investing in new infrastructure, and promoting the use of cargo bikes.
The analysis, which compares the social and environmental impacts of diesel and electric vans with e-cargo bikes, finds that diesel vans are 67 times more damaging when it comes to the health and environmental impacts of emissions.
The hidden social and environmental costs associated with diesel vans in London total £2.46 billion annually
Yet e-cargobikes are more expensive than vans on a like-for-like basis, incentivising consumers and businesses towards the least sustainable option.
The research, commissioned by Team London Bridge and funded by Impact on Urban Health, explores the reasons for this and provides an estimate of fair pricing were a level playing field to exist between e-cargobikes and diesel vans.
Lifetime air pollution cost
The lifetime air pollution cost associated with one diesel van in London is over £10,118. These costs reflect the fact that air pollution causes approximately 4,000 deaths per year in London, and is responsible for poor health leading to lost working days, school absences, and hospital admissions.
As well as the effects on health, climate, and the environment, there is also a social cost to freight. Deliveries and freight contribute to congestion in London, costing a billion pounds every year from lost productivity and reduced quality of life. Congestion also contributes to accidents and fatalities as well as a larger bill for maintaining public infrastructure.
Alternatives to polluting transport
On a per mile basis, the social and environmental costs associated with diesel vans (66p per mile) are more than eight times higher than those associated with e-cargo bikes (7.8p per mile).
E-cargo bikes are a clean solution, particularly for last mile and inner city deliveries, but they are struggling to compete despite having a cheaper upfront purchase price and per mile running cost.
The research found that e-cargo bikes are struggling to compete as an alternative to more polluting vans because most van drivers are independent contractors that lack employee benefits and are expected to cover many operational costs, like purchasing the delivery vehicles and fuel. In contrast e-cargo bike riders are usually employees with all costs being borne by the courier company.
London Assembly Member, Hina Bokhari said: 'London is one of the most congested of Europe's major cities. More than 20% of our roads are taken up by freight, deliveries, and other commercial vehicles. Many of these are diesel vehicles that are worsening London's air quality and contributing to climate change. We urgently need a shift to greener deliveries, such as e-cargo bikes."
Director of e-cargo bike operator Ecofleet, Farah Asemi said: 'It makes no sense that e-cargo bike courier deliveries are more expensive than vans on a like-for-like basis, given their health, wellbeing and climate benefits. We urgently need interventions to create a level playing field for our sector so that the growth in freight does not come at the expense of our health or climate.'
Tom Mockridge, Director of Strategy and Innovation for Recorra, who switched most of their inner London deliveries to cargo bike, said: 'As a business we're committed to reducing our carbon footprint and achieving net zero by 2030. The carbon benefits of using cargo bikes for our office supplies deliveries are therefore obvious, but we have also found that clients are very interested in the other benefits of reduced noise and congestion around their buildings. Partnering with a supplier who uses cargo bikes for deliveries is a good example of how a small change in procurement can drive real environmental impact.'
A healthier and more sustainable future for London's transport system
To scale-up the use of cargo bikes, the Greater London Authority is being urged to:
1. Use smart road pricing to more accurately reflect environmental and social costs of different modes and, therefore, incentivise the use of cleaner vehicles, including e-cargo bikes.
2. Invest in e-cargo bike infrastructure such as storage, consolidation hubs, battery exchanges, cycle lanes and parking bays in order to bring down the cost of doing business for e-cargo bike couriers.
3. Promote e-cargo bikes as a sustainable transport solution among consumers and businesses.
At the national level, it is recommended that government:
1. Introduce a smart vehicle tax that encourages the use of cleaner vehicles, as well as a scrappage scheme targeting those on low incomes to offset any regressive distributional impacts.
2. Strengthen employment protection laws to ensure that contractor status is not able to be used to exploit drivers and facilitate a race to the bottom in labour practices.
Dr Eilis Lawlor, one of the authors of the research, said: 'At the moment, the cheap price of van deliveries means that businesses and customers are being encouraged to choose the most harmful option. We need to make it easier for people to make the right choice. Without intervention, we will not see a shift to more sustainable deliveries at the pace we need to improve air quality and reduce climate emissions.'