Voi and FlixBus partner in UK to boost town and city visits
05 September 2022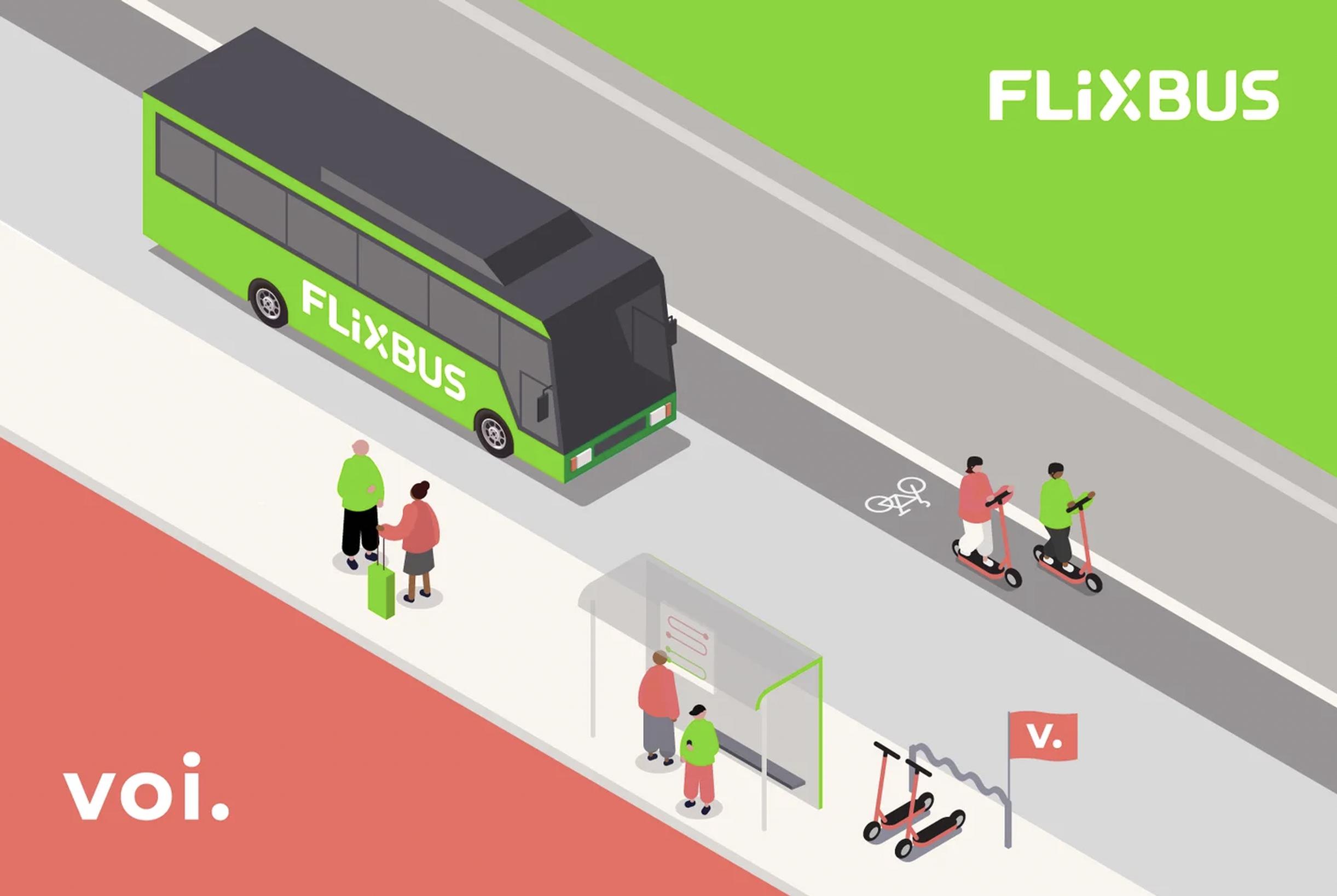 Voi, a leading European micromobility operator, has teamed up with long-distance coach travel, FlixBus, to offer city-hoppers the chance to explore the cities of UK and Germany more affordably and sustainably with special discount codes for riders and passengers. These codes must be redeemded before 15 December 2022.
---
Meet the team from Voi at Future Transport Forum, 14-15 Sep in Portsmouth: book here
---
Voi and FlixBus offer a smart complementary service that allows people to discover 27 towns and cities across the UK and Germany. Whether looking to visit the famed Brandenburg Gate or Reichstag Building in Berlin, trying the perfect German beer or Rouladen, seeing Banksy's street art in Bristol, or visiting Liverpool's waterfront, this new partnership offers an opportunity to explore cities sustainably and on a budget.
With the ease of booking a journey, FlixBus offers city-hoppers high levels of comfort and affordability and an eco-friendly travel experience. The convenience and flexibility of Voi e-scootersmean travellers can safely ride, taste and experience the culture, food, and other hidden gems of each place, without creating pollution or congestion.
For passengers and riders in Germany and the UK, Voi and FlixBus are offering special discounts for new and existing riders and passengers to help save money and reduce their carbon footprint by encouraging more people to hop aboard.
Caroline Hjelm, Head of Markering at Voi, said: "We're delighted to be partnering with Flixbus to offer the complete package of affordable, green travel for that city-hopping in the UK and Germany.
"Flying and personal car usage adversely impact the environment, especially when travelling to new places. Our complimentary service, together with our special discounts, mean people can simply hop on a Flixbus and our e-scooters with the peace of mind knowing they're helping to tackle climate change and creating better cities for living."
Discounts on Voi
When booking a bus or train journey on Flix's website, look out for the banners on the booking confirmation page that gives new riders 15 mins of free rides and existing Voi-agers 15% off a Daily Pass using these codes
Any Voi riders in Germany will receive 10% off their FlixBus and FlixTrain journey, and all Voi riders in the UK will receive 10% off their FlixBus journey. All Voi riders will receive a personalised code, which will be sent to them via email from Voi. These offers will both end on 15 December 2022.