GPs to offer cycling and walking prescriptions in £12.7m pilot scheme
23 August 2022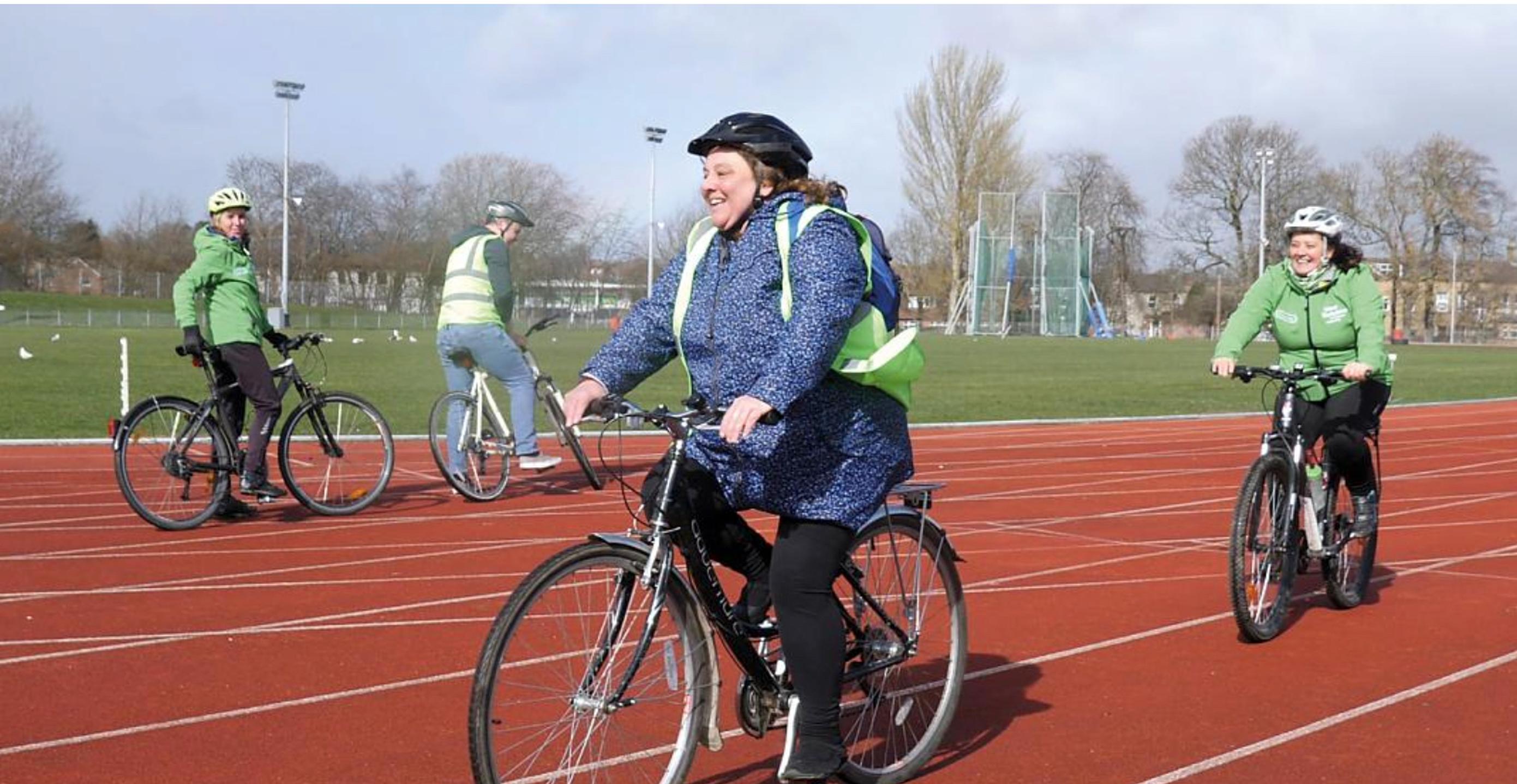 Prescriptions for walking, cycling and wheeling will be offered by GPs in 11 local authority areas in a Government trial. The councils will get a total of £12.7m, which will fund adult cycling training, free bike loans and walking groups.
Funding will also enable all-ability cycling "taster days" and walking and cycling mental health groups where people can connect with their communities as they get active.
The pilots must be delivered alongside improved infrastructure so people feel safe to cycle and walk, the Government said.
The 11 pilot areas are: Bath and North East Somerset; Bradford; Cornwall; Cumbria; Doncaster; Gateshead; Leeds; Nottingham; Plymouth; Suffolk; and Staffordshire.
Over the next three years the pilots – among the pledges in the Government's Gear Change plan published in 2020 – will evaluate the impact of cycling and walking on an individual's health. This will be based on a set of criteria including reduced GP appointments and reliance on medication due to more physical activity.
The project brings together several Government departments and agencies including: NHS England, Office for Health Improvement and Disparities, Sport England, National Academy for Social Prescribing, and Defra.
Transport, active travel and health officials will work together towards a whole systems approach to health improvement and tackling health disparities, said the Govenment.
A DfT spokesperson told LTT that the aim of the pilots is to "undertake intensive interventions within a small geographic area". This may be delivered at GPs within that area, or by alternative means, such as occupational health provider, said the spokesperson.
"Funding has been allocated for monitoring and evaluation to ensure that learning is captured and actioned throughout and at the end of the pilot period. Guidance has been provided to local authorities on the data we want them to provide, for example on the specific interventions they're delivering, the number of participants and how much they're spending. The pilots will help inform longer-term policy and any related future investment."
Walking and cycling minister, Trudy Harrison, said: "Walking and cycling has so many benefits – from improving air quality in our communities to reducing congestion on our busiest streets.
"It also has an enormous positive impact on physical and mental health, which is why we have funded these projects which will get people across the country moving and ease the burden on our NHS."
Minister for health, Maria Caulfield, said: "Getting active is hugely beneficial for both our mental and physical health – helping reduce stress and ward off other illness such as heart disease and obesity.
"The UK is leading the way in embedding social prescribing in our NHS and communities across the country. We've already exceeded our target to ensure over 900,000 people are referred to social prescribing schemes by 2023-24 and this pilot will help us identify further schemes to reduce disparities and boost mental and physical wellbeing across the country."
National active travel commissioner, Chris Boardman, said: "As a nation we need healthier, cheaper and more pleasant ways to get around for everyday trips. Active Travel England's mission is to ensure millions of people nationwide can do just that – so it's easier to leave the car at home and to enjoy the benefits that come with it.
"Moving more will lead to a healthier nation, a reduced burden on the NHS, less cancer, heart disease and diabetes, as well as huge cost savings. This trial aims to build on existing evidence to show how bringing transport, active travel and health together can make a positive impact on communities across England."
The scheme has been welcomed by the shared transport charity, Collaborative Mobility UK (CoMoUK). A study for CoMoUK found that 49% of users said that joining a bike share scheme was a catalyst to them cycling for the first time in at least a year, with 70% of respondents revealing it had contributed to their total physical activity in the last week, and 20% reporting that it was 'all' or a 'major part' of the physical activity they had done.
Antonia Roberts, deputy chief executive of Collaborative Mobility UK (CoMoUK), said: "Cycling improves mental and physical wellbeing, and we have been encouraging GPs to highlight these benefits – so this announcement is welcome.
"Bike share schemes will be well placed to support the pilots, as this saves people money because they do not need to own their own bike and ensures that more users can be reached."
Cycling UK has been running the Cycle for Health Programme in West Yorkshire for the past five years. The charity's chief executive Sarah Mitchell told LTT: "We've seen the difference we can make to people's quality of life through a targeted cycling initiative in a social setting. Our data shows clear increases in people's cycling, and in meeting the recommended levels of physical activity following participation in the scheme.
"We know the cost-of-living crisis is already having a detrimental impact on people's wellbeing and is likely to further burden the NHS. This expansion of a proven and effective initiative is timely and will be a practical way to help ease those pressures."
Rachel White, head of public affairs at walking and cycling charity Sustrans, said: "Car-dependency is a primary cause of inactivity in the UK, which can have hugely negative consequences for our health, our economy, and our NHS."
She told LTT: "Our research found that 89% of users told us that improving their wellbeing is a factor in deciding to use the National Cycle Network and in 2019 it boosted the UK economy by an estimated £2.1bn in health, congestion and environmental benefits.
"Prioritising active travel will benefit our nation's health, so we welcome the introduction of this social prescribing pilot. If social prescribing is to be effective, then UK walking, wheeling and cycling infrastructure must see continued investment and development, so the public feel safe and confident in fulfilling their GP's advice to improve their health.
"Equally, as more people struggle with the cost-of-living crisis and the costs of running a car soar, people must be given a genuine choice to be able to leave the car at home and use cheaper, healthier alternatives for everyday journeys."
Local authorities, pilot locations and budgets
Nottingham City Council (Aspley/Beechdale/Bilborough, St Anns/Sneinton and Bulwell) £1,588,426
Cornwall CC (Bodmin, Penzance and St Austell and Clays) £844,641
Doncaster Council (Balby, Bently and Wheatley)£665,000
Bradford Council (Manningham, Bradford Moor and Barkerend and Central Keighley) £1,340,145
Plymouth Council (Citywide targeting IMD 1-3) £1,241,722
Leeds City Council (Burmantofts, Harehills and Richmond Hill) £1,373,444
Cumbria County Council (Barrow-in-Furness and Carlisle) £1,496,432
Suffolk CC (Ipswich and Lowestoft) £1,490,506
Bath & NE Somerset (Radstock, Midsomer Norton, Westfield and Paulton) £1,578,364
Staffordshire CC (Newcastle under Lyme) £834,458
Gateshead Council (Central and East Gateshead) £274,385