Flash floods strike London streets and rail stations
17 August 2022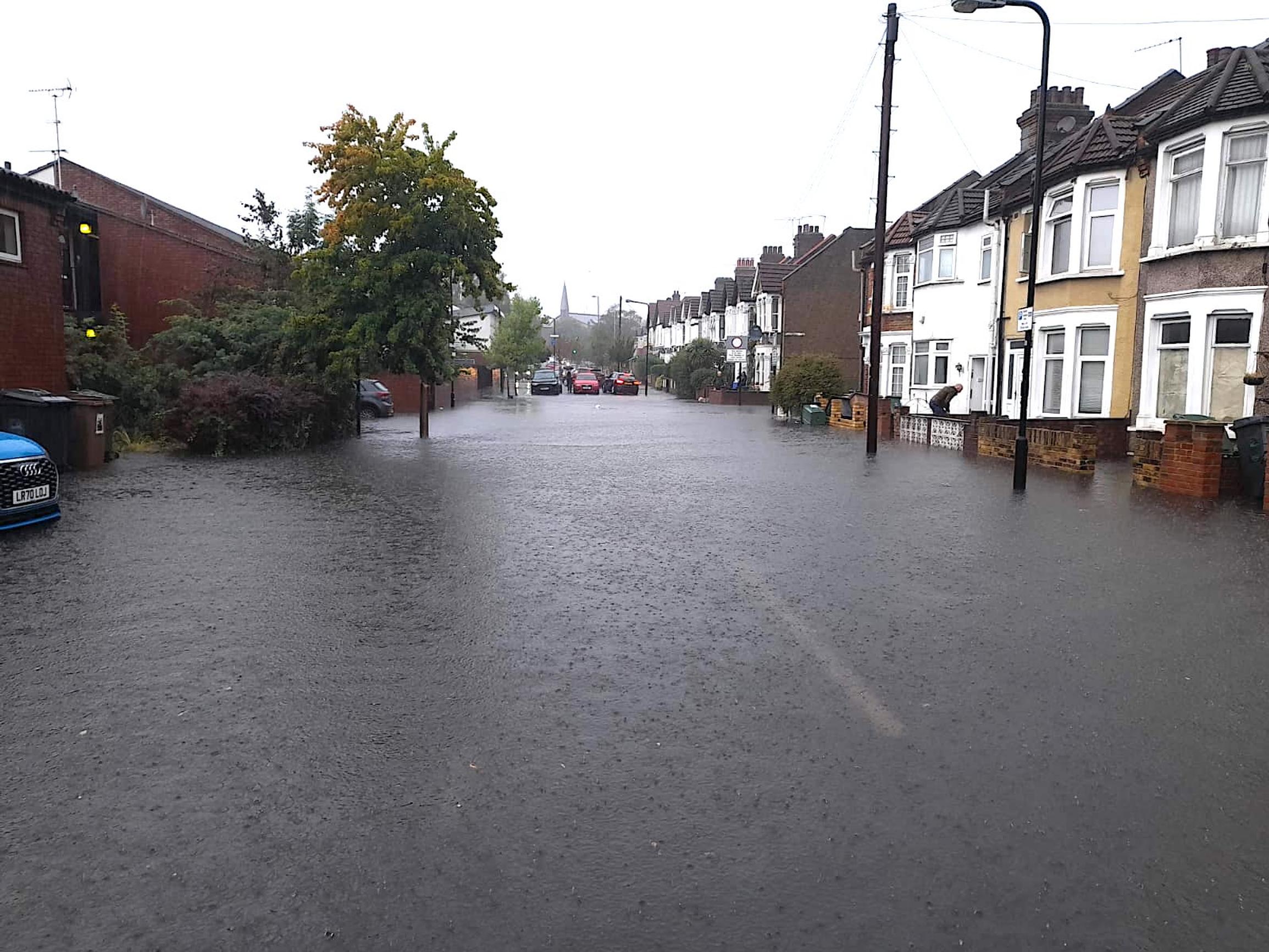 Parts of London were hit by flash floods on Wednesday 17 August, in a repeat of surface flooding incidents across the capital last summer. Footage on social media showed vehicles on flooded roads in Stoke Newington, Stamford Hill and Walthamstow.
Flooding was reported outside Victoria and St Pancras rail stations. A Network Rail spokesperson said: "Not long after 3pm this afternoon, station colleagues at London Victoria noticed flooding at the main entrance, due to heavy rainfall with large volumes of water running down the slope leading towards the eastern concourse. Some retail units and platforms had to be closed."
Meanwhile, Holland Park, Kentish Town, Earls Court, Turnpike Lane and Loughton tube stations had to close on Wednesday afternoon due to flooding, and there was no service between South Tottenham and Barking Riverside on the Overground.
Last year, on 12 and 25 July 2021, the capital was hit by intense rainstorms which overwhelmed drainage systems, resulting in extensive surface water and sewer flooding, affecting homes, businesses, health infrastructure and transport networks. Flash floods affected 24 boroughs, with the worst impacts felt particularly in parts of east and north London.
The extent of the damage caused by today's flash floods in not yet known.
One of the main reasons for flash floods is heavy rainfall after a period of very dry weather, with the ground hard and compacted, which is exacerbated by large swathes of impermeable surfacing.
Speaking to PA on Monday, mayor of London Sadiq Khan said: "We learned a lot from last year in July when there was flash flooding caused by a huge amount of rain - two months' worth of rain - in just a couple of hours and people's homes businesses and public transport was flooded.
"Speaking to the Met Office, the Environment Agency and many others, we are concerned that over the next few days we could see a huge amount of rain in a short period of time which could lead to flash flooding."
Khan said he was concerned that public transport systems would not be as effective when temperatures rose above 35-40C.
Cllr Ahsan Khan, deputy leader of Waltham Forest Council, said residents and business owners were "rightfully extremely worried" about the flash floods.
"Following last year's extreme weather, we have proactively taken steps to install urban drainage systems and rain gardens to alleviate the effects of extreme weather and we will continue to work to identify places where these measures may help protect residents," he said.
"Council officers have worked closely with Thames Water colleagues following the severe weather. We have visited over 40 areas affected by flooding as part of the effort to assist hundreds of residents during an emergency situation."
Waltham Forest Council said it has contributed £250,000 towards a Sustainable Urban Drainage System (SUDS) in the Brooke Rd/Oliver Rd area of Walthamstow, to protect properties and St Marys School, which have been hit by floods twice since July 2021.
A council spokesperson told LTT: "We will also investigate where similar SUDS may be required around the borough in areas at risk of flooding and start to explore how they may be implemented.
"Waltham Forest Council is one of several local authorities to have successfully bid for sustainable drainage funding from Thames Water, which has made £1.8m available for nature-based schemes across London and the Thames Valley."
Thames Water and Waltham Forest Council are working together to jointly fund a local representative for a minimum of one year to join the National Flood Forum, an independent charity that supports individuals and communities at risk of flooding. "The representative would assist in developing a Community Flood Plan as well as organising self-sustainable community-based support networks in the event of an emergency," the spokesperson said.
Earlier this year London Council's Surface Water Flooding Task and Finish Group warned that the risk of flash floods in the capital is likely to increase due to the impact of climate change.
Surface water flooding is the most challenging flood risk to manage in the capital, said London Councils in a report (LTT 27 February). This occurs when the drainage system is overwhelmed, and rain cannot get into local drains, sewers, or watercourses.
London's built-up infrastructure makes surface water flooding difficult to manage, which is made worse by an increasing area of impermeable surfacing and a Victorian drainage system, which was "not designed to cope with the current and predicted future populations of London".
The Task and Finish Group notes that there is no single organisation in overall charge of managing surface water flood risk in London. They also point to insufficient funding to manage the risk and a lack of modelling to show where floods are likely to occur.
A strategic vision and plan should be developed by a 'transition group', with a Surface Water Flooding Strategic Forum launched by next year, said the report.
"These recommendations are ambitious, but the Task and Finish Group members believe them to be in-line with the seriousness of the situation and the level of need," said the report. "Surface water flooding presents a clear threat to life as well as significant economic costs due to damage to residential property and businesses."
London Council's findings were echoed in an independent review for Thames Water, published last month, which said the July 2021 floods are likely to happen more frequently in the future.
"Consequently, as flooding is not any one organisation's responsibility, the review notes that the many parties which manage flood risk in the capital must work together to identify solutions to manage multiple sources of flooding and identify potential funding to ensure that the impacts of flooding are managed effectively."
As proposed by London Councils, the review called for the setting up of a new body. This would take a "strategic view and governance with all parties contributing so that surface water and sewer systems can be assessed together, and investments designed to optimise outcome across different organisational boundaries".