Portsmouth: e-scooter demand rises and scheme to be extended
Voi installs new parking infrastructure in Portsmouth as scooter use continues to rise
27 July 2022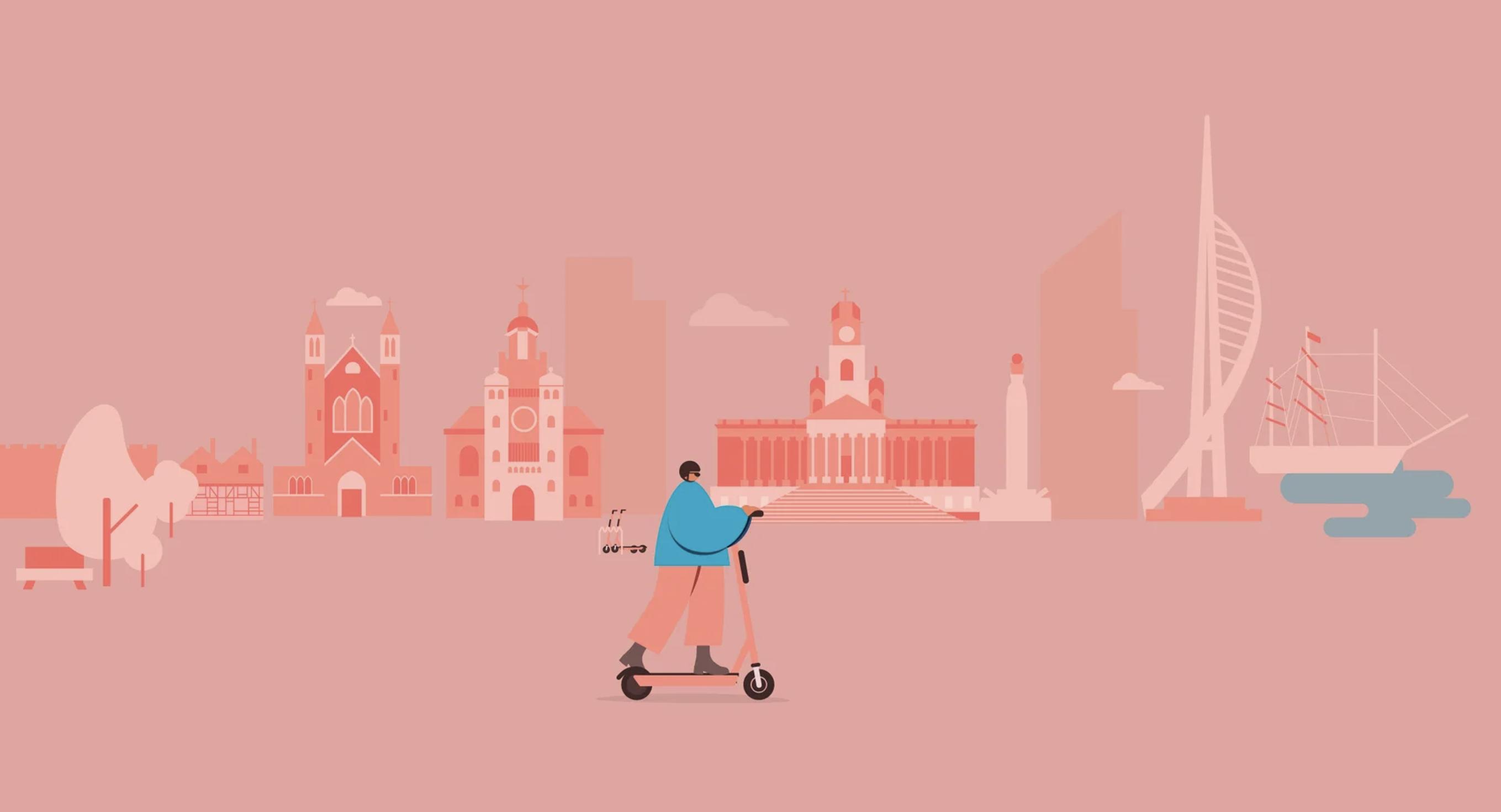 Shared transport operator Voi has installed new parking infrastructure in Portsmouth, as the demand for e-scooters in the city continues to rise and rules that allow e-scooters in Portsmouth are set to be made permanent, according to The Portsmouth News.
The Voi e-scooter rental scheme in Portsmouth has now hit 372,000 rides since launching in 2021, prompting the brand to install 32 new bike racks (260 spaces), bringing the total parking provision to 900 spaces.
Increasing parking racks makes Voi e-scooters more user-friendly for both users and local residents, according to Voi.
Voi has produced a guide to Portsmouth by e-scooter.
---
Cllr Lynne Stagg, cabinet member for Traffic and Transportation at Portsmouth City Council and Chair of Solent Transport's Joint Committee, said: "The latest figures on rental e-scooter use show that people are using them as part of their daily routine, which is what we hoped would happen, and I'm pleased to see people are using them with other modes of public transport.
"These findings are in line with what we as a council would like to see – people travelling across our city in ways that are convenient, cost-effective and considerate. There's also less of an environmental impact, improving air quality for everyone in Portsmouth."
She also told The Portsmouth News that: "It's mainly for those shorter journeys, but they're the ones we really want to be stopping anyway.They are really helping to reduce traffic but are also saving a huge amount of emissions too."
The Portsmouth News adds: "A report published ahead of a decision-making meeting this week recommends the experimental traffic order introduced in March 2021 be made permanent to extend their use beyond the initial 18-month expiry in September.
"The move will facilitate the approved scheduled continuation of the trial until the end of November, however Cllr Stagg will have to separately approve the extension of the use of e-scooters beyond that."
Voi e-scooter rental scheme sees ridership top 372,000 rides since launching in 2021

Voi expands parking capacity by nearly a third in Portsmouth by adding 32 new racks (equivalent to 260 spaces)

Riders have access to 900 safe parking spaces available across the city

Parking infrastructure is an important part of Voi's commitment to delivering a safe and convenient service and helping the city transition to a decarbonised future
Last month, government ministers agreed to allow councils to extend their trials until May 2024.
The DfT said: "The move towards a new regime means that the trials continue to have significant value, as well as providing a practical example of how better regulation can encourage responsible use. We continue to gather trip data and monthly incident reports to inform policy development.
"We are also keen to use the extension to allow local authorities to share lessons learned, amongst themselves and with non-trial areas, in preparation for the introduction of rental permit schemes under the new legal framework."
Voi keen to expand scheme
Voi has also tried to make e-scooters more accessible in underserved areas, including Milton Common, Eastney Beach, and the Lock Sailing Club.
The brand says that addressing parking and improving the convenience of micromobility is an important part of helping cities transition to a decarbonised future.
One in five users in Portsmouth currently use the service for their daily commute, while more than 47% combine rental e-scooters with public transport.
Jim Hubbard, Senior Public Policy Manager at Voi, said: "Parking racks are an important part of helping make rental e-scooters more convenient and accessible for all, especially as the car is still the dominant mode of transport in Portsmouth.
"The success of the scheme has so far helped change Portsmouth for the better. With nearly 900 safe parking spaces now available to riders across the city, it has never been easier for more people to hop on and off, leave their cars at home, and most importantly, tackle the impacts of climate change."