Welsh parliament votes to make 20mph default speed limit
13 July 2022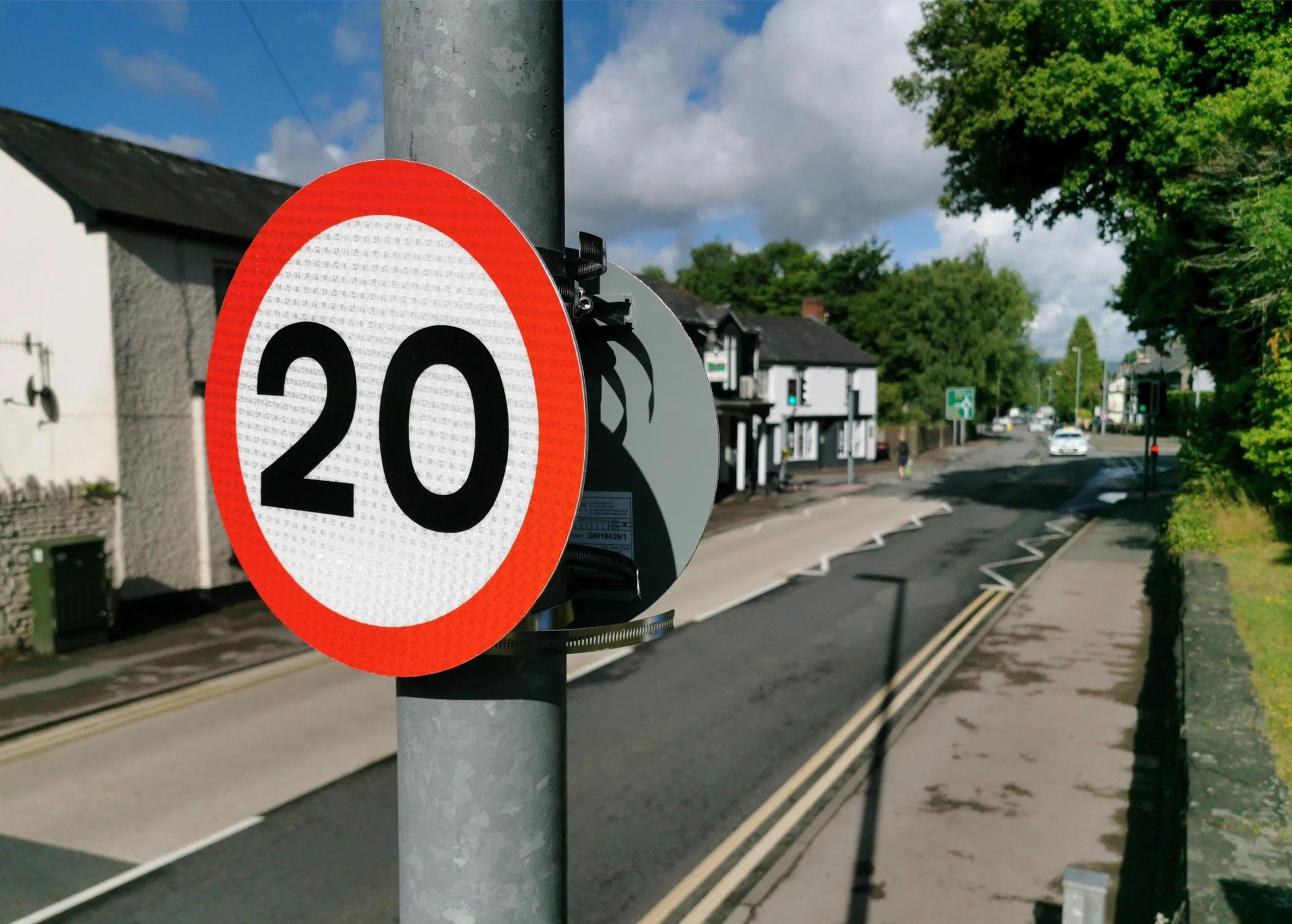 A default speed limit of 20mph is to be introduced across Wales after the Senedd approved new legislation by 39 votes to 15 last night. The nationwide limit, to be introduced in September 2023, will apply to restricted roads, typically residential and built-up areas with high pedestrian activity. This will make Wales the first UK nation to lower the default national speed limit from 30mph to 20mph.
The slower speed limits are currently being trialled in eight communities across.
Although new legislation will make the default limit 20mph, local highway authorities will be able to set a different speed limit on individual roads to allow for particular local requirements.
Currently, just 2.5% of Welsh roads have a speed limit of 20mph, but the Welsh government expects this to increase to about 35% next year.
Speaking after the vote, minister for climate change, Julie James said: "The evidence is clear; decreasing speeds not only reduces accidents and saves lives, but helps improve people's quality of life - making our streets and communities a safer and more welcoming place for cyclists and pedestrians, whilst helping reduce our environmental impact.
"We know this move won't be easy – it's as much about changing hearts and minds as it is about enforcement – but over time 20mph will become the norm, just like the restrictions we've introduced before on carrier bag charges and organ donation."
A Task Force Group set up by the Welsh government in 2019 found that the risk of being killed is almost five times higher in a collision between a car and a pedestrian at 31mph (50km/h) compared with the same type of collision at 18.6mph (30km/h).
Cycling UK hopes the Welsh government's decision will set a precedent across the rest of the UK.
Although 20mph streets and zones have become more widespread in recent years, their introduction one by one is a slow, bureaucratic process, limiting the positive impact it could have, said the charity.
This "piecemeal approach" has also meant that often 20mph zones are concentrated around schools, according to Cycling UK. "While this is intended to ensure the safety of children, it only protects them at the end of their journey, or those children living close to the school. Consequently, this approach does not benefit children living further away who are more likely to be driven in, rather than travel actively by walking, cycling or scooting.
"Reversing this by making 20mph the default in Wales is much more efficient, as local authorities will in future need to identify the far fewer sections of road where a higher speed is justified, and a traffic regulation order can then be introduced."
Cycling UK's engagement officer in Wales, Gwenda Owen said: "This is a huge leap forward for Wales - the lower speed limit will help create more liveable neighbourhoods and town centres, building community cohesion by encouraging more cycling and walking. Studies also show this can benefit local businesses, as people feel safer and more confident exploring their local area on foot or two wheels."
Rod King MBE, founder and campaign director of 20's Plenty For Us, welcomed the Senedd vote. "This is a Welsh nation daring to do something smarter than the UK government," he said. "The Wales Act 2017 empowered it to set national limits so that instead of setting 20mph street by street, it could make it a national default and allow local authorities the flexibility to justify exceptions for those roads where 30mph was appropriate.
"It meets Welsh values for future generations and liveability, whilst aligning with global best practice of a 20mph or 30km/h limit where motors mix with people walking and cycling."
According to King, the DfT is looking at the Welsh 20mph implementation "with much interest". But Wales has far fewer local authorities, which enables such an approach to be developed easier, he pointed out. "It also has institutions built into government such as the Future Generations Commissioner which can take a broader and longer term view on such an issue. The national 20mph limit has strong support from Public Health Wales, and other institutions.
"Many councils in England are requesting that the UK government should follow Wales and take the same approach by setting a national 20mph limit. It is understood that the outcome of the Welsh 20mph implementation could well influence a decision on a 20mph national limit for England."
Scotland is planning for 20mph to become the urban/village norm by 2024, King said.
* Rhodri Clark expores the significance of the Welsh government's decision in an in-depth feature in LTT: https://www.lttmagazine.co.uk/pdfs/LTT849.pdf