Meet the West Midlands bus innovators at Quality Bus Solutions: 12-13 July, Coventry
The West Midlands region is a hotbed of bus innovation, and has blended government funding and business investment to fund its net zero, on demand, Electric Transportation as a Service (ETaaS) and bus priority projects
21 June 2022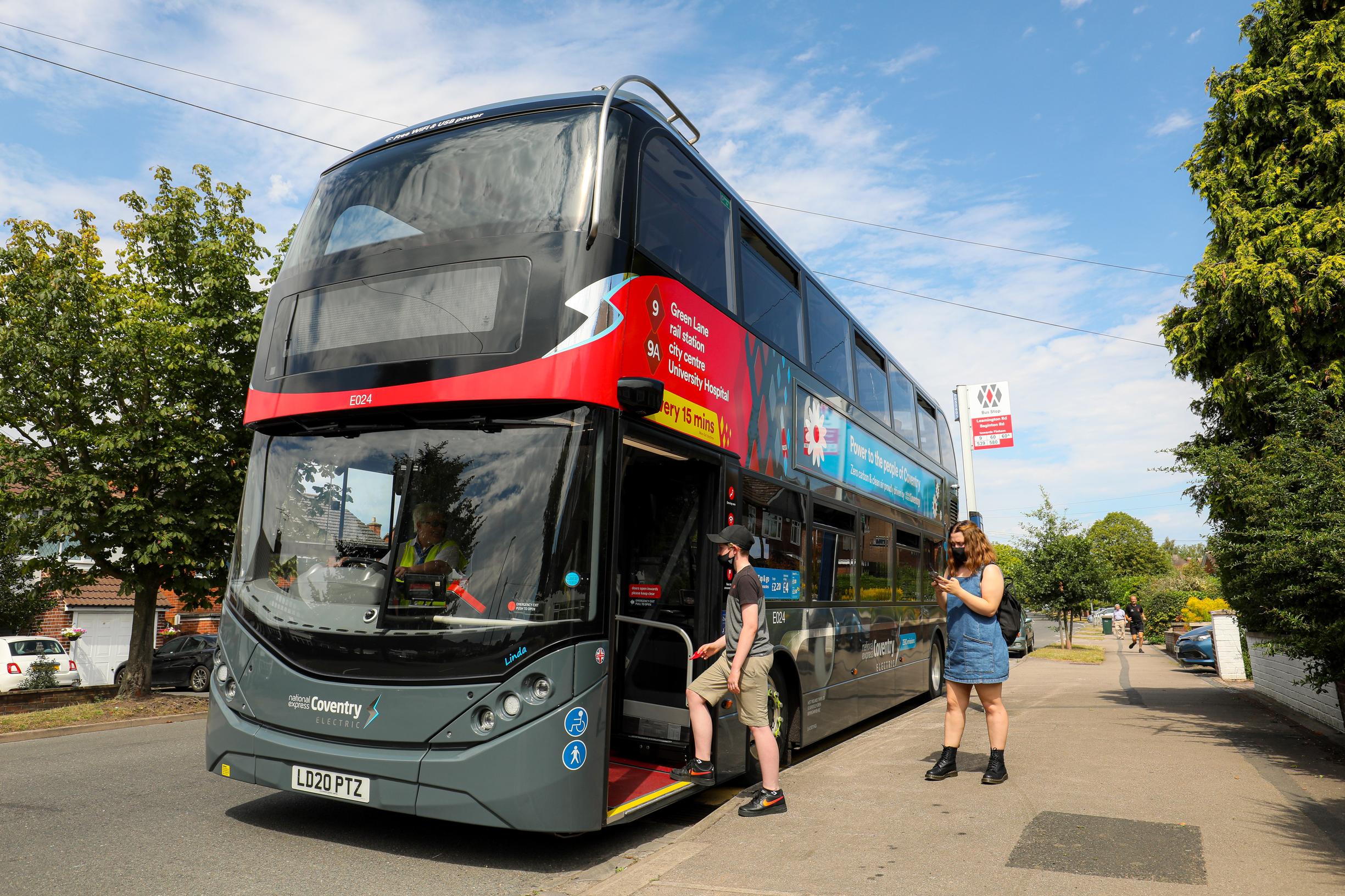 Proposals outlined in Transport for West Midlands (TfWM) Bus Service Improvement Plan (BSIP) are being supported by a further £88 million package of measures designed to transform bus services over the next three years.
---
---
The region will see greater coordination between and private operators, improvements to the bus network and more targeted fare offers and flexible ticketing to encourage new and returning customers onto buses.
TfWM, which is part of the West Midlands Combined Authority (WMCA), drew up the plan in answer to the Government's 'Bus Back Better' call for proposals to improve bus services following the Covid pandemic.
This funding is in addition to the £162 million capital investment, being delivered through the City Region Sustainable Transport Settlement, to create 50km of new bus priority routes and cross-city services, as well as investment in improvements to smart ticketing, demand-responsive transport and live travel information.
TfWM, councils and operators already work closely through the West Midlands Bus Alliance and the existing Enhanced Partnership will be extended to support the BSIP delivery.
Coventry all electric bus city
Coventry is also receiving £50m to fund 297 all-electric buses; and will the first city in the country running all electric buses by 2025. The £50m will be supported by a further £78m of investment from local bus operators into buses, depot charging facilities and associated power upgrades
The buses will help to make Coventry the UK's first all-electric bus city.
The bid was secured by Coventry City Council, Warwickshire County Council and Transport for West Midlands. As well as funding for new vehicles, the grant will also cover investment in wider infrastructure such as charging points and upgrades to the electric grid.
Councillor Jim O'Boyle, Cabinet Member for Jobs and Regeneration at Coventry City Council, said: "We have finally got this over the line after we were able to convince the government that this city is the ideal location. We persuaded the combined authority to support our bid ahead of other areas in the West Midlands and this will make a major dent in addressing air pollution. We already have a range of schemes to improve air quality and this will help exceed our targets."
Alexander Dennis Limited (ADL) and BYD UK will supply the 130 zero emission double deck buses to EV fleet and battery storage specialist Zenobe and bus operator National Express, and support these vehicles with spare parts over a period of 16 years.
Zenobe will be providing Electric Transportation as a Service (ETaaS) to National Express, financing and managing the full turnkey solution that includes new BYD ADL vehicles, on-board battery replacement, charging and grid infrastructure, a second life battery system at the depot, unique software to optimise charging, parts, and full operational support.
The work builds on ADL and Zenobe's existing work with National Express, previously providing charging infrastructure and batteries for 29 BYD ADL Enviro400EV electric buses in Coventry and Birmingham in 2020.
Paul Davies, ADL President and Managing Director, said: "As the UK's leading provider of electric buses, we are delighted to be part of this ETaaS deal with partners Zenobe and National Express. This innovative model brings together government funding and business innovation to deliver an affordable way of rolling out zero emission bus fleets at scale.
"The country will further benefit from the choice of 130 British-built vehicles that ensure money is reinvested into the manufacturing sector and local communities, where they support skilled jobs and apprenticeships at our own facilities as well as in our extensive supply chain."
Steven Meersman, Co-founder and Director of Zenobe, said: "This really is a globally important deal. We are incredibly excited to be leading the way for the electric bus industry, with ETaaS revolutionising the way fleets are electrified. By retaining ownership of the vehicles and taking on the risk of switching to zero-emission, we are giving National Express the use of an electric bus fleet without the hassle of owning one, making the transition to a zero-emission fleet more financially desirable.
On-demand buses
The successful West Midlands On Demand bus-to-order service in Coventry is being expanded after proving a success with passengers.
The buses can be booked via a smartphone app or by telephone, and pick up passengers for any chosen journey within the operating zone. The service's technology is powered by Via, a global leader in TransitTech. Upon booking a ride, Via's advanced algorithms create quick and efficient shared trips by pooling multiple passengers headed in the same direction into a single bus in real time.
Demand-responsive transport, which frees buses from fixed routes and timetables, offers people a convenient and affordable ride where and when they need it.
The pilot service was launched by Transport for West Midlands (TfWM) as part of the Future Mobility Zone/Showcase scheme to test innovative transport services and technology aimed at reducing private car use and traffic congestion on our streets.
Sprint: priority bus routing
Sprint will be the first bus priority corridor of its kind anywhere in the country, linking locations in the West Midlands from Walsall to Solihull and Birmingham Airport in one continuous route. By connecting our region through Birmingham City Centre, the Sprint corridor will benefit bus passengers, the local economy and our environment.
The first phase of milestone Birmingham bus rapid transit corridor has been completed, providing a critical 20km link from Walsall to Solihull and Birmingham Airport, via Birmingham city centre.
The first phase connects Walsall with Birmingham city centre and Birmingham Airport - joining the A34 with the A45 to create one continuous route. The second phase is expected to follow next year to complete the continuous bus priority between Walsall and the Airport and extend the route to Solihull.
The route will also enable Birmingham and West Midlands to further benefit from HS2, helping to spread the benefits by linking Walsall and Solihull and the intermediate communities directly with the new HS2 Curzon Street and Interchange stations.
Sprint is designed to support the region's economic growth and expanding population, and will actively combat congestion by offering reliable, connected, and sustainable public transport. Extended bus lanes, purpose-built shelters and priority signalling at busy junctions, will ensure quicker, and more reliable, journey times for all passengers.
The bus rapid transit project has been developed and delivered by Transport for West Midlands (TfWM), part of the West Midlands Combined Authority (WMCA), in partnership with local councils. The scheme has been funded by the Department for Transport.
The services will first launch in summer 2022 with a fleet of zero-emission double decker buses. This will include 20 environmentally friendly hydrogen-fuelled buses funded by Birmingham City Council.
TfWM is working with National Express to confirm plans to introduce high quality zero emission, low floor tram-style vehicles on the route during 2023. Articulated vehicles offer a similar level of customer experience to a tram, with enhanced passenger comfort through airy interiors and additional legroom, air conditioning, Wi-Fi, audio visual announcements and next-stop information. They also include better accessibility and more space for wheelchairs and buggies.
The role of bus in a future transport zone
Andy Street, Mayor of the West Midlands and WMCA chair, said: "Travelling by bus remains a popular choice for West Midlands residents. Pre pandemic, we were the only region outside London where bus passenger numbers were increasing – helped of course by our lower fares and offers like half-price for apprentices.
"Now we want to see our bus services bounce back from Covid and this plan sets out how we will go about doing just that – winning back not just existing customer loyalty but also encouraging even more people to give the bus a go.
"We are setting out how we are making bus journeys more comfortable, more convenient, and more affordable – not to mention safer by increasing the numbers of uniformed and visible transport safety officers out on patrol."
Cllr Ian Ward, WMCA portfolio holder for transport and leader of Birmingham City Council, added: "Government Covid support for bus operators is due to end this year – meaning this investment to reduce fares and improve services is even more vital to not only get those customers lost during the pandemic back on board but attract new customers.
"And it will of course be accompanied by further investment in bus lanes and bus priority measures which will allow buses to bypass traffic jams while offering more reliable journey times.
"Bus is the most used form of public transport and quality services are essential if we are to reduce car use, ease congestion, cut pollution and help tackle the climate emergency."