LTNs only part of solution to cutting car use, says think tank
14 June 2022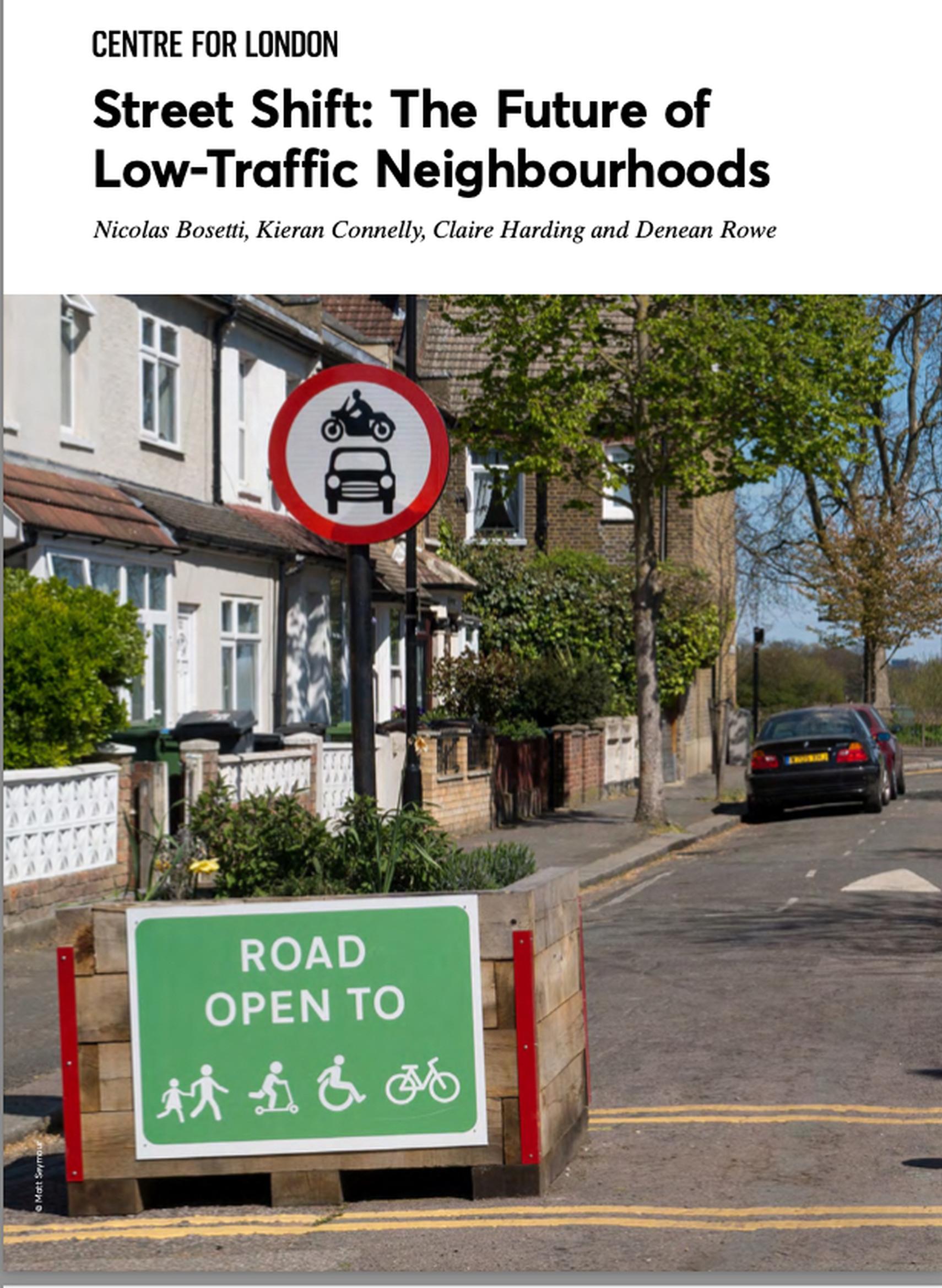 Although Low traffic neighbourhoods (LTNs) benefit local streets, they are not enough on their own to cut reliance on private cars, states a new report by Centre for London. They also do little to cut traffic on main roads and, in some cases, cause more traffic outside the schemes, adds the think tank.
The report, Street Shift: The Future of Low Traffic Neighbourhoods, looked at the roll-out of LTNs by London boroughs in recent years. It found that LTNs reduce car traffic, increase walking and cycling, and make roads safer for all users. But the report argues that LTNs should be introduced alongside complementary measures including promoting cycle training, new public transport options, and a denser network of bike and scooter hire and car clubs.
Centre for London points to research that shows that a majority of residents "strongly welcome" reduced traffic in their own neighbourhood. "But there must be alternative options provided to people who rely on their own car," says one of the report's authors Andy Bland, head of Sales, South East England and London, Enterprise Holdings.
"Mobility hubs are one promising example – these enable different modes of transport to come together to make other options than the private car more convenient. Making it easy for people to plan their journeys and providing financial incentives to give up their private car through the widespread use of mobility credits will also be necessary."
Research by Centre of London revealed that some residents felt they were not given a credible alternative to driving. "They didn't see public transport, active travel or other sustainable travel options as a solution for them," says the report. "The 2020 LTN schemes were also highly unusual in that they were conceived as pilots to be implemented quickly and without engagement at first, with consultation coming after."
This "trial-and-error approach" angered some residents and road users, the report says. "Some disliked being taken by surprise, and thought they should have been engaged on what they saw as a major change to the public realm in their area.
"As well as the lack of engagement, some felt the introduction of fines for a scheme that was meant to be temporary was harsh – especially as the pandemic was already disrupting people's lives. Some also perceived LTNs as yet another restriction being imposed at a time when their lives were upended by the pandemic – or as simply a council fine trap."
Others noted that LTN schemes were poorly thought through as a result of not involving their users. "In some cases, traffic filters created barriers making a road crossing inaccessible to people with specific mobility needs – a situation which an earlier consultation process could have avoided."
Councils and Transport for London (TfL) need to take action to minimise traffic displacement, including across borough boundaries, the report says.
Centre for London analysed nine schemes in London: Railton, Tulse Hill and Lambeth-Oval in Lambeth; Homerton and London Fields in Hackney; Maryland, Odessa, Langthorne and Montague & Woodhouse in Waltham Forest.
There were big reductions in car traffic inside the nine LTNs, ranging from 76% reduction to 25%, the think tank found. However, the outcome was mixed on boundary roads, ranging from 11% decrease to 21% decrease in car traffic.
The schemes were implemented as emergency measures and so did not follow usual standards in terms of consultation and design. Traffic modelling should be carried out before implementation of the next generation of schemes, and this should include monitoring changes outside the LTNs early on, says the report. "Based on the evidence that emerges, incremental improvements could be made to the schemes including the location of modal filters such as bollards, cameras and planters."
According to Centre for London's research, 47% Londoners support LTNs, and 16% oppose them – while 37% don't have a strong opinion or just don't know about them.
However, many Londoners are not convinced that LTNs reduce overall traffic, with 42% saying they displace cars elsewhere, while 32% think they reduce the overall number of cars on the road and 25% did not know.
Reviewing monitoring data from seven schemes, the report found that there were substantial increases in cycling within the LTNs, ranging from 31% increase to 172% increase. More could be done to encourage walking and cycling, from reallocating road space and redesigning junctions, to widening pavements and promoting cycle training, the report argues.
Creating better LTNs
Centre for London has drawn up the following recommendations:
• Until new fundraising powers are introduced, the Government should make funding available to local authorities and TfL so that they can engage residents meaningfully over LTNs and support those who are most impacted with complementary measures.
• Local authorities considering implementing an LTN should follow best practice, including engaging early with both the public and emergency services, and introducing other traffic decarbonisation measures – such as controls on parking or offering alternative mobility solutions.
• The Mayor of London should call on local authorities to maximise coverage of LTNs or similar schemes in their areas.
• London Councils and TfL should create an LTN Knowledge Hub that helps boroughs learn from each other's experiences. The Hub should be open so the public and local campaign groups can access it too.
The report recommends that London should develop a denser network of bike and scooter hire, car clubs, and new public transport options. The Mayor of London should also consider changing current road pricing schemes like the Congestion Charge and ULEZ to distance-based road user charging, accompanied by new charges and controls on workplace and residential parking, says Centre for London.
It also suggests developing tailored support to encourage people to trade in their cars with the help of scrappage schemes and vouchers that could include public transport, bike, scooter (for hire or purchase), or car club memberships.
Broadening the appeal of LTNs
Cycling and walking is not a realistic option for all residents, the report point outs. In the short term, ride hailing and car clubs may offer alternatives to car ownership. "The cost of ride hailing is high, but may be cheaper than owning a car. Availability of local car hire options will be key."
But in the longer term, people with mobility problems are necessary should be offered better access to public transport.
More School Streets could also encourage behaviour change, according to the report. "Safer streets for walking and cycling could convince some parents to walk or cycle with children for some journeys (such as school runs) – or let their children travel unaccompanied."
Other incentives include: bike or bike repair vouchers; scrappage schemes, for example, offering a new e-bike or e-scooter for an old car – or mobility credits for public transport; availability of hire schemes.
"Offering complementary solutions will help achieve behavioural change, and it is also likely to reduce the backlash from residents who might otherwise feel they are being restricted in their ability to move around.
"There are many complementary solutions available to help meet the objectives of LTNs and shift private car traffic to more sustainable modes of transport."
These measures include: Bus priority measures; Pay per mile road user charging; Workplace parking levies; Increase controls on parking and introduce dynamic pricing for on-street car parking; Boosting micromobility such as scooters; Scrappage schemes associated with mobility credits; Parcel pick up, cargo bike deliveries; Traffic calming, pedestrian crossings.
The report also offers an overview of the real and perceived benefits of LTNS. It suggests there is "strong evidence" that LTNs can lead to very large reductions in road injuries. Research conducted on the Waltham Forest Mini Holland scheme found that road injuries inside the LTN were three times lower after the introduction of the scheme compared with other areas in the borough and in outer London."
However, there is still little evidence that LTNs improve air quality, according to the report. "This is partly because many local authorities didn't have air pollution trackers on LTN streets before and after their introduction."
One of the criticisms levelled at LTNs is that they delay emergency response times. But the report found little evidence of this. "According to research on the response times conducted between October 2020 and February 2021 (after the introduction of the 2020 LTNs), LTNs didn't lead to longer response times – and this was true whether they used physical traffic filters or cameras."