E-cycling made E-asy with loans in five locations
Cycling made E-asy will provide free short- and long-term loans of e-cycles and adaptive e-cycles, giving communities in five target locations in England the opportunity to experience the benefits of e-cycles, dispelling myths and creating the environment where cycling is a natural first choice for short journeys
16 May 2022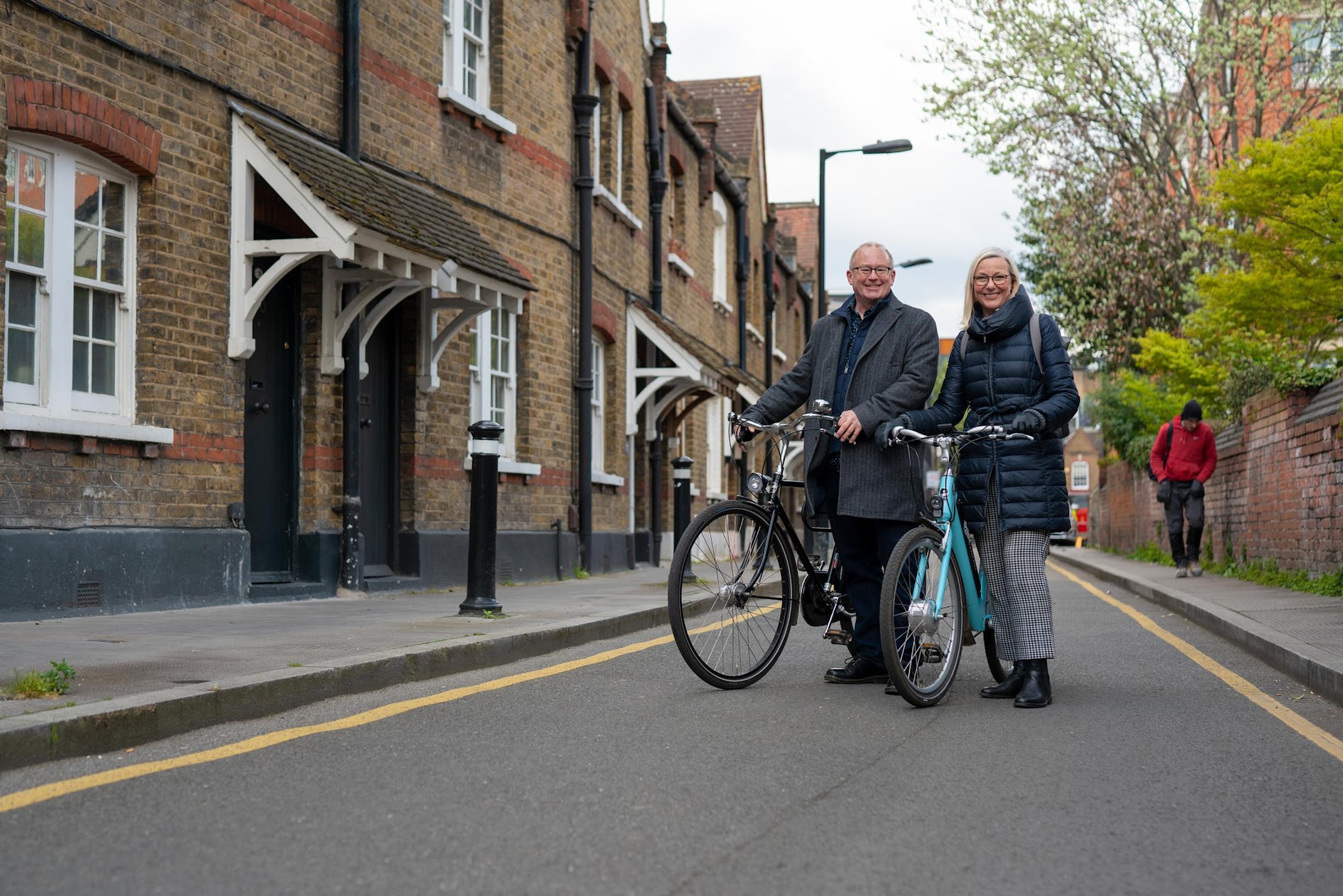 Cycling made E-asy is a new scheme funded by the Department for Transport and run by Cycling UK and partners. It gives potential e-bike users free access to 'try and ride' sessions or long-term e-cycle loans. They can choose from a wide range of electric cycles to meet their needs, including adapted e-cycles and cargo bikes, and enjoy loans from top brands, as well as expert support and training, in order to make e-cycling a regular part of daily life.
"The e-cycles project is a unique opportunity for Cycling UK to offer free and easy loans of electric cycles to communities across England," says Sarah Mitchell, Cycling UK's chief executive. " Each of our chosen locations will have a variety of e-cycles available to suit a variety of participant's needs."
The cycles are available to book online or face-to-face in five pilot locations beginning with Greater Manchester, soon to be followed by Leicester, Luton & Dunstable, Hull and Sheffield.
The project opens as new research prepared by #BikeIsBest and the University of Westminster's Active Travel Academy shows the general attitude in the UK towards e-bikes is very positive, as well highlighting many of their benefits, including the reduction of carbon emissions in comparison to electric vehicles (EVs).
A poll of adults conducted by YouGov suggests there is broad support for e-bikes as a means of reducing carbon, even amongst those who are not currently considering purchasing an e-bike. According to the YouGov poll, one fifth of adults who did not currently or previously own an e-bike were considering purchasing an e-bike in the future, while 67% of participants stated cost was the biggest obstacle preventing them from making a purchase.
With simple policy improvements to address the cost factor as well as improved infrastructure, e-bikes have the ability to transform the way we live and move, said the reseachers.
As part of a rapid evidence assessment, the #BikeIsBest and Active Travel Academy report highlighted the benefits of e-bikes. Scott Purchas, Campaigns Consultant at #BikeIsBest, said: "The future is electric but not in the way people might think. All of the focus for subsidies has been for electric cars, but this new report demonstrates the substantial benefits of electric bikes and how essential they are for rapidly decarbonising transport, improving our health and cleaning up the air at the same time."
He added: "We are lagging behind countries in Europe who have used subsidies to accelerate the shift to e-bikes. Given rising living costs, this report shows that an e-bike subsidy would have a very positive impact across a range of backgrounds, as well as reducing congestion even for people who don't cycle."
How to use E-cycling made E-asy
The Cycling made E-asy pilot scheme, which will be delivered by Cycling UK via a range of e-hubs, launched earlier this week in Greater Manchester and will be beneficial in enabling those with longer or hillier journeys to cycle and access employment opportunities in a way that's not only more affordable but is easier, faster and good for the planet. It is for people over the age of 16. As well as long-term loans, events and training will be available at each and every e-hub.
There's no app to download. Long-term loans and short-term events can be booked through the Cycling UK e-cycles website or in person at any of our Evans or community e-hubs.
Supporting access to e-bikes will enable active travel and reduce reliance on cars for short journeys, the DfT hopes.
This programme is aimed at making cycling accessible for those who would not normally consider it. It's supported by an expert consortium of industry partners including Raleigh, Evans Cycles and Beryl.