DfT announces bus grants for 31 local transport authorities
But there's disappointment for the 48 authorities that missed out
04 April 2022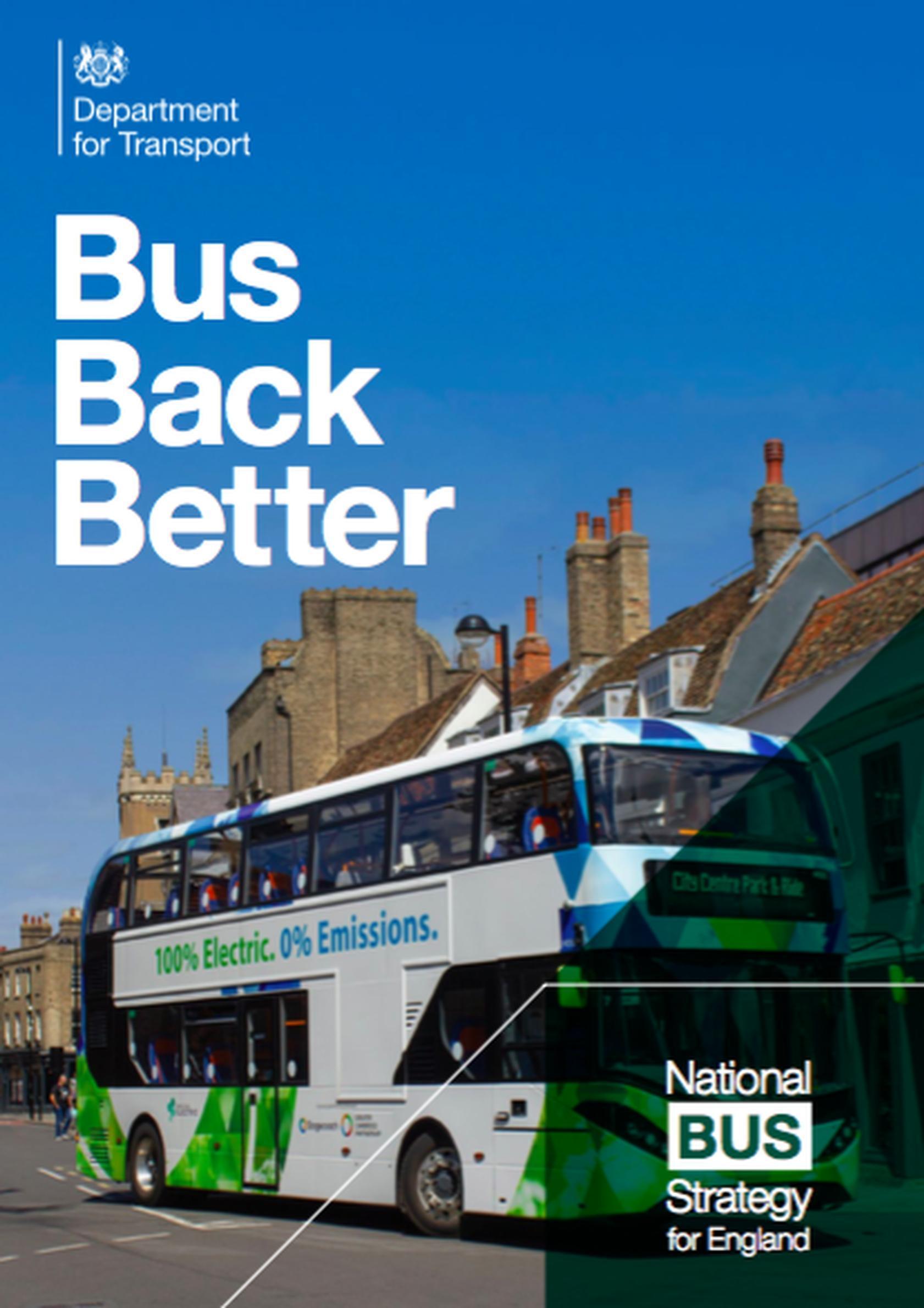 Almost 40% of England's local transport authorities (LTAs) will get significant funding packages as part of the National Bus Strategy to transform their bus services, the DfT has announced today. However, this means that of the 79 LTAs that submitted Bus Service Improvement Plan (BSIP) bids last year, 48 have missed out on funding.
The successful bids showed the "ambition to repeat the success achieved in London". The DfT had warned last year that areas failing to "show sufficient ambition, including for improvements to bus priority" would not get funding.
Just under two-thirds of England's population outside London "will benefit from new investment to make their buses more frequent, more reliable, easier to understand and use, cheaper or greener".
The DfT says that the funding will result in integrated ticketing, more bus lanes and cuts to bus fares, in some cases by as much as 40%.
The biggest awards have gone to: North East and North of Tyne (£163.5m); West of England and North Somerset (£105.5m); Greater Manchester (£94.8m); and the West Midlands (£87.9m).
'Levelling up' schemes
According to the DfT, nearly £7bn will go towards the 'levelling up' of major local transport schemes, which will include £5.7bn City Region Sustainable Transport Settlements (CRSTS). This will be spent on bus, tram, rail, walking and cycling networks in England's eight city regions (see below).
The Confederation of Passenger Transport (CPT) estimates that only between £500m and £600m of the £5.7bn CRSTS funding will be spent on buses.
In May 2021 the DfT told LTAs in England (outside London) that a total of £3bn over a three-year period would be available under the National Bus Strategy and BSIP Guidance. This has been cut to £1.4bn, including £200m announced last week for almost 1,000 new electric or hydrogen buses.
The DfT also announced today that a further £150m will go to maintaining service levels as patronage continues to recover after the Covid-19 pandemic.
A CPT spokesperson said: "It is important that we remember that there will be millions of passengers left disappointed by today's announcement as their local area missed out on funding. It's vital that the Government now clearly sets out future funding plans and policy initiatives for delivering its National Bus Strategy, including measures to reduce car use.
"This will ensure that today's announcement is the beginning not the end of plans to improve bus services across the country. A good place to start would be to confirm funding for the industry's plan to deliver simpler and price capped ticketing across the country - a move that would improve bus services for passengers everywhere."
The spokesperson told LTT: "There is not enough funding to go around, so the DfT has had to make difficult decisions. It is better to transform bus services in some areas than spread the money too thinly so that nowhere really benefits.
"But there needs to be further rounds of funding for bus services. This cannot be the end of the National Bus Strategy process. We don't want to see authorities having to scrabble around competing with other priorities for different funding pots."
'Cherry picking' improvements
Paul Tuohy, chief executive of Campaign for Better Transport (CBT), said that today's announcement means that the majority of authorities will not receiving the funding to deliver their BSIPs. "Even those that have received funding will not have received all the money they requested and will therefore have to cherry-pick which improvements they can deliver," he said. The funding announced today by the DfT falls "woefully short" with £10bn needed by local authorities to improve bus services, the transport charity estimates.
"Improving buses in a minority of places does not live up to the promise of a national bus strategy, though locally it will be very welcome," said Tuohy. "Rather than this fragmented, competitive way of funding local buses we want to see more of a focus on revenue funding to ensure every community gets the bus service it needs and deserves."
CBT is calling on the Government to tackle the buses crisis by:
Redirecting a fifth of its £27bn road building budget into a single, long-term bus funding pot
Giving a greater focus on revenue funding
Giving local authorities that missed out today capability funding and support through the Bus Centre of Excellence.
Chris Cheek, author and consultant/analyst on UK ground passenger transport, told LTT: "Any investment in improving bus services is, of course, to be warmly welcomed. However, the announcement has to be seen in the context of the 25.7% real-term reduction in revenue funding for the industry over the last decade which has seen local networks decimated in many areas.
"In the end, though, this investment will not allow the Government fully to meet its policy objectives: the bus industry cannot achieve the significant modal shift needed for net zero without positive action to rebalance the generalised cost of motoring through taxation or other methods such as road pricing. I see no sign of the political will needed to take such steps."
Roger French, a bus industry commentator and former managing director of Brighton and Hove Bus Company, told LTT: it's a bit sneaky to include all the City Region Sustainable Transport Settlement £5.7bn funding to bring the total up to £7bn when we all know buses will get much less than that.
He added: "It's great to see around half local authority areas awarded substantial sums including those which are already trail blazers at making buses an attractive proposition and growing the market, meaning those areas will get even better bus services. But in the DfT's postcode funding lottery what's going to happen to the other half of bidders who get nothing? It's a bleak outlook for buses and passengers in those areas."
Bus industry investor Julian Peddle said the DfT's announcement "leaves many questions unanswered". He told LTT: "The allocation seems fairly random, and presumably based on the quality of the BSIP, but if an authority (or more to the point its consultants) can put together an eye catching presentation does this mean that the authority can actually deliver?
"And for the 48 authorities that received nothing is there any point in them having an Enhanced Partnership as logically those are those with poor BSIPs not worth funding, so are bus network in those areas deemed not worth investment?
"Will there be further tranches of funding in subsequent years for those not blessed this time? It will be fascinating to see the letters sent to those with no funding, will it be explained why they missed out."
Government funding for Bus Service Improvement Plans
Blackburn with Darwen and Lancashire: £34.2m
Bournemouth, Christchurch and Poole: £8.9m
Brighton and Hove: £27.9m
Central Bedfordshire: £3.7m
City of York: £17.4m
Cornwall (including Isles of Scilly): £13.3m
Derby City: £7m
Derbyshire: £47m
Devon: £14.1m
East Sussex: £41.4m
Greater Manchester: £94.8m
Hertfordshire: £29.7m
Kent: £35.1m
Liverpool City Region: £12.3m
Luton: £19.1m
Norfolk: £49.6m
North East and North of Tyne: £163.5m
North East Lincolnshire: £4.7m
Nottingham City: £11.4m
Nottinghamshire: £18.7m
Oxfordshire: £12.7m
Portsmouth: £48.3m
Reading: £26.3m
Somerset: £11.9m
Stoke-on-Trent: £31.7m
Warrington: £16.2m
West Berkshire: £2.6m
West Midlands: £87.9m
West of England and North Somerset: £105.5m
West Sussex: £17.4m
West Yorkshire: £70m
Light Rail Allocations
Manchester: £20.5m
North East: £7.3m
Nottingham: £3.3m
Sheffield: £4m
West Midlands: £2.7m
City Region Sustainable Transport Settlements
The Government has also confirmed final CRSTS allocations for the Mayoral Combined Authorities, which are as follows:
Tees Valley Combined Authority - £310m to fund initiatives such as transforming Darlington Station to enable more local rail journeys and providing active travel infrastructure on priority corridors to make cycling and walking the natural choice for short journeys.
West Yorkshire Combined Authority - £830m to fund schemes such as the development and delivery of a mass transit network across the region.
South Yorkshire Mayoral Combined Authority - £570m to fund a range of schemes including renewal of the Sheffield Supertram network connecting Sheffield and Rotherham.
Greater Manchester Combined Authority - £1.07bn to fund a range of schemes such as new vehicles to extend the Metrolink network and the creation of walking and cycling corridors across the city region as part of the Streets for All programme.
Liverpool City Region Combined Authority - £710m to fund a range of schemes including a new rail station in Liverpool's Baltic quarter providing direct access to the city's growing creative and digital cluster.
West Midlands Combined Authority - £1.05bn to fund a range of schemes including 50km of new bus priority lanes across the city region doubling the current amount and Ultra Rapid Charging Transit stations to ensure that local journeys are safer, greener, and cleaner.
West of England Combined Authority - £540m to support the creation of sustainable transport corridors across Bristol and Bath to make bus, cycling, and walking easier and more accessible for all.