'Game changing' smartphone app gathers evidence of speeding
28 March 2022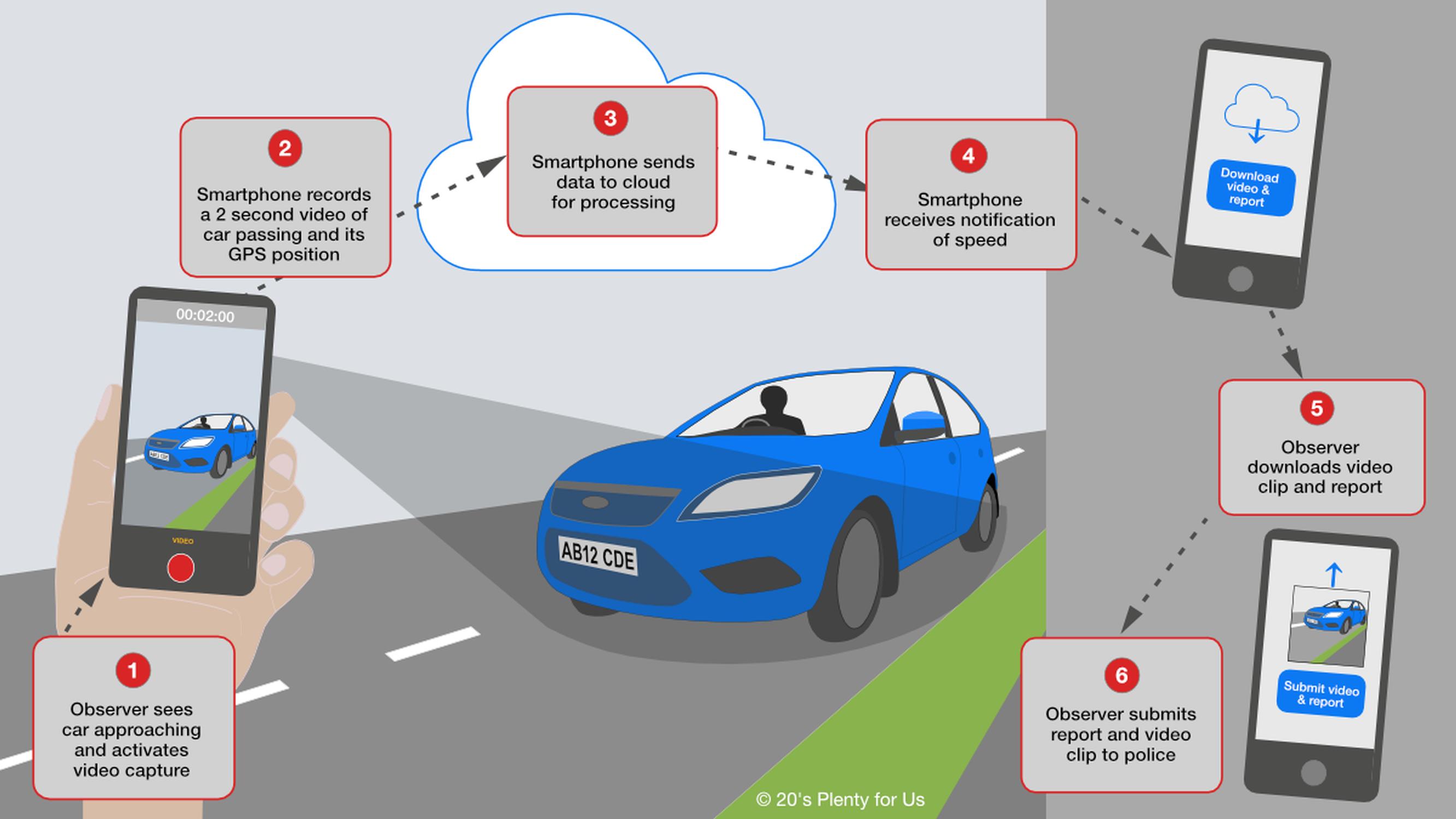 A new app has been developed to allow pedestrians to use their smartphones to gather evidence of speeding vehicles. Speedcam Anywhere generates a 'video snip', which is uploaded to the cloud and analysed using Artificial Intelligence (AI) algorithms. This then creates an analysis sheet, and a link to download their video evidence, which is automatically emailed to the user for uploading to police dashcam web sites.
Trials of the app have resulted in a "favourable reaction" from the police and members of the public, though it has not yet been Type Approved by the Home Office, so cannot issue speeding tickets, say the app developers. In the meantime, it is proposed that evidence from the app can be presented to police forces so they can issue Anti-Social Driving Orders for Section 59 offences, where inconsiderate driving causes alarm and distress.
The system has been endorsed by campaigning organisation 20's Plenty for Us, with members across the country set to start piloting the system in the coming weeks. It has been approved by Google for download to Android phones from PlayStore and Apple is expected to be approved soon for AppStore.
Rod King MBE, founder and campaign director of 20's Plenty For Us, described the system as a "game changer".
"Speedcam Anywhere bypasses the current resource bottlenecks associated with enforcement," said King. "We have police forces that desperately want to reduce road offences and speeding offences, but many will only prioritise minimal resources to the task.
"Speedcam Anywhere can be discreetely and safely used by pedestrians in a very similar way to drivers using dashcams. But, unlike dashcam footage, the 'analysis report' requires little police back office analysis other than deciding whether and which offence to sanction. In addition, being digital it can be connected directly to current back office systems to process the paperwork. Hence police retain full control of the outcome."
The technology behind the system is claimed to provide "irrefutable evidence" of speeding. The developer, Sam Bailey, told LTT: "The app is not critically dependent upon the angle of approach or departure of the vehicle as long as the number plate and side can be seen in the video captured." Only a two-second clip of the passing vehicle is needed, Bailey said.
"The app essentially gathers video evidence and does not in itself determine the speed of the vehicle. It is the AI analysis of the video snip in the cloud and its report which shows the location, speed limit, time, and vehicle details together with photos of the vehicle as it passes with key times together with the speed.
"The analysis is able to identify the wheelbase from the make and model of the vehicle, and uses this to identify the difference in timing for the wheels to pass a fixed point, so establishing the speed. The video snip is also available as primary evidence, together with a witness statement for signing."
Detective chief superintendent at Lincolnshire Police Andy Cox said the new app is "potentially very significant" as a deterrent to dangerous driving. "Sadly, five people on average die every day in a road crash within the UK. This devastation is preventable and we need to develop innovative methods to eradicate road danger," said Cox, who is the national lead for fatal collision investigation reporting to the National Police Chiefs' Council.
"One such method is the use of dashcam and headcam technology by the public to capture dangerous and reckless driving and report it to the police. The police cannot be everywhere all of the time but the public can be and as word spreads of this capability it is likely to act as a deterrent to bad driving."
Cox told LTT: "Public referrals are increasing and enforcement of these referrals is high and outcomes include drivers losing their licence. To further develop this important work I am keen it tackles the biggest single contributory factor in fatal crashes – 'speed'. I am therefore keen technology providers enable dashcam and headcam devices to capture speeding offences.
"Such technology would enable, where appropriate, police enforcement and most crucially act as a deterrence reducing risk on our roads. The technology in development by Sam and Rod is encouraging and potentially very significant."
King and Bailey see two chief outcomes of the technology:
Members of the public can report road speeding crime in their communities. It will lead to a vast increase in driver enforcement, through levering and complementing police resources
It will act as a deterrent because any of the people you drive past could be videoing your speed. That is different from drivers feeling they only have to comply when someone in a hi-vis jacket at the side of the road is pointing a speed gun at them.
King added: "The team behind Speedcam Anywhere are like the many thousands of parents across the country worried about speeding. And those thousands of parents have said they want to do something about the speed on their roads.
"Some of them form 20's Plenty For Us campaigns, some of them get into road safety, and then you have Sam and his AI scientists, who have the skills and expertise to take the germ of an idea and turn it into a technical reality that will help police and communities enable all our places to be better and safer places to be.
"By allowing communities and local authorities to submit clear and unambiguous evidence of careless and inconsiderate driving this technology will be a game changer in speed limit enforcement. It allows police forces to align with community needs for compliance without imposing an increased load on the police. We expect it to be welcomed by all those interested in making our communities safer."
There will be a small charge for using the app.
To find out more contact: sca@20splenty.org or see www.20splenty.org/speedcamanywhere
The app is available to download from SpeedcamAnywhere.com or the Google Play Store