Oxford proposes a zero-carbon transport system
The proposals will see the introduction of a city-wide workplace parking levy, traffic filters and a wider zero emission zone, together with improved public transport and cycle routes
18 February 2022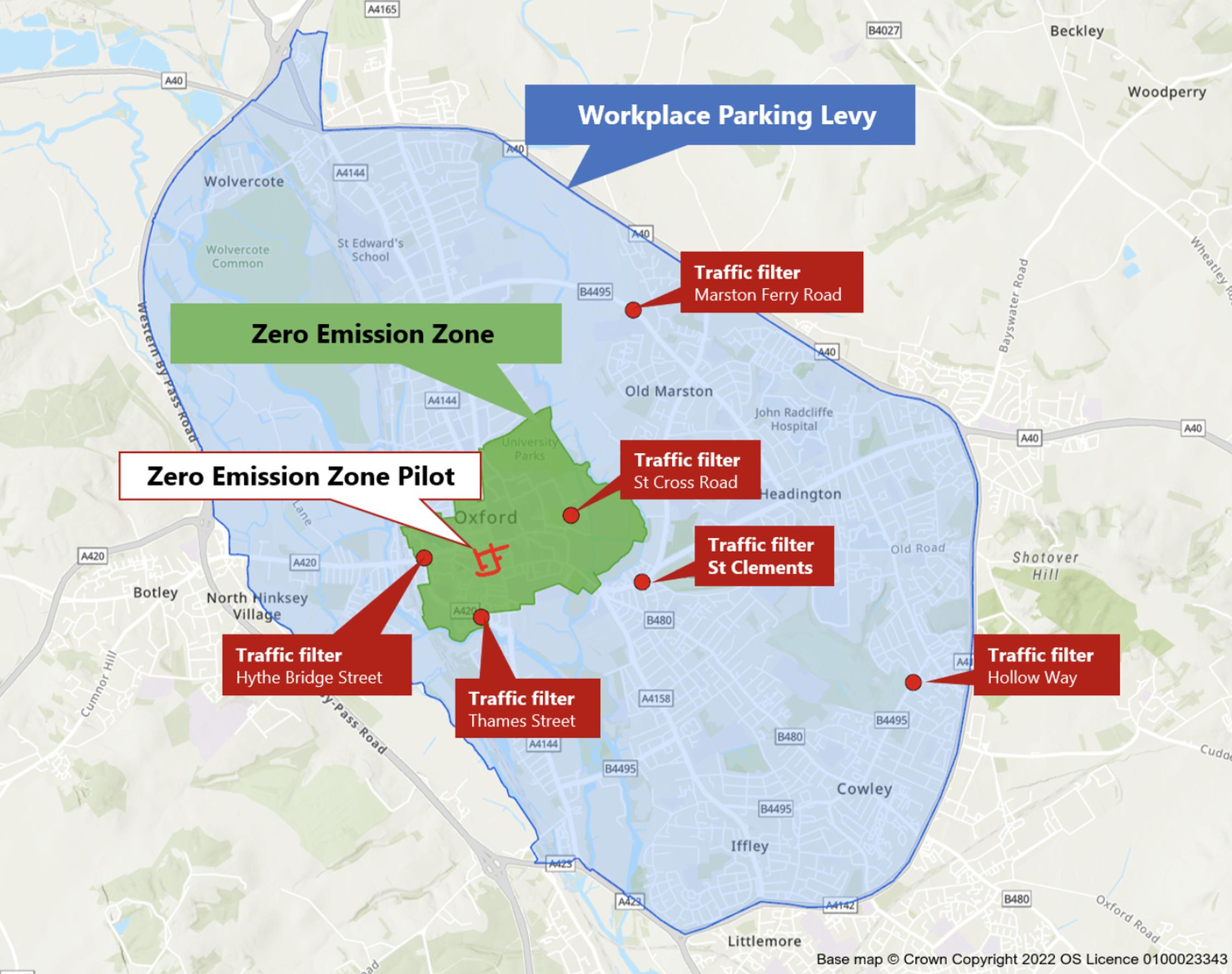 Plans to create a sustainable and reliable transport system in Oxfordshire have been announced. The proposals would see the introduction of a city-wide workplace parking levy, traffic filters and a wider zero emission zone, together with improved public transport and cycle routes.
Also in Oxfordshire, it is being recommended by the Director of Growth and Economy "to make permanent the provisions of the current Experimental Traffic Regulation Orders for the Church Cowley, Florence Park and Temple Cowley area Low Traffic Neighbourhoods".
The key measures of success for any LTN scheme which have been monitored during the trial, says the Director's report, are traffic volumes, pedestrian volumes, cycling volumes, vehicle speed, bus journey times, air quality, impact on emergency services response and a feeling by residents that it is safer or more desirable to use non-vehicular based travel modes.
It adds: "In line with the objectives of the LTNs, there has been a significant decrease in car traffic volumes and a notable relative increase in cycling and walking levels within the limits of the LTNs. There is also some evidence suggesting bus patronage is also starting to increase.
The Emergency Active Travel Tranche 1: Cowley LTN Evaluation report concluded that: "Overall, we have found that LTNs work well as a local intervention, effectively reducing the volume of car journeys, increasing volume of active travel, and have numerous benefits to the those who reside within them. These include greater perceived safety, air quality, and tendency to adopt walking and cycling.
"However, we have also found some adverse effects in the boundary roads, such as a small increase in car traffic volume and reduced air quality, indicating that at least some traffic is diverted to these roads. There also has been an adverse effect to bus operations, especially during the evening peak."
Oxfordshire's new transport proposals
Over the coming months, Oxfordshire County Council and Oxford City Council will engage with businesses, service providers, hospitals, transport providers, schools and town and parish councils on its wider transport strategy.
Consultations on the proposals will take place in late summer 2022, with the schemes to be implemented between 2023 and 2024. The plans will support people to walk, cycle and make faster journeys by public transport. By changing the way people travel in and around Oxford, the schemes will also help reduce air pollution, create healthy communities and reduce traffic levels across the city.
The new proposals include:
Workplace parking levy: The councils are proposing to extend the Workplace Parking Levy (WPL) to cover employers across the city. By law, money raised by the levy must be spent on improving transport in the city.

Traffic filters: Six traffic filters are proposed on certain roads to reduce traffic congestion, improve bus journey times and create safer routes for cyclists and pedestrians.

Zero Emission Zone (ZEZ): The councils propose to extend the ZEZ from the current pilot area to cover the entire city centre.
Transport emissions currently account for 17% of greenhouse gas emissions in Oxford. In order to achieve a zero carbon transport network in the city by 2040, a 30% reduction in the use of vehicular transport through increases in cycling, walking, home-working, car sharing and car clubbing is needed.
Councillor Duncan Enright, Oxfordshire County Council's Cabinet Member for Travel and Development Strategy, said: "The climate emergency and inequalities across the county and city mean Oxford needs a more sustainable and reliable transport system for everyone.
"We want to make walking, cycling and using public transport the first choice for people. The new plans will not only help us move towards a progressive transport network in the city, but they will also improve the quality of all our lives.
"Oxford has always been a leader in innovation and these new plans will help us move towards a zero-carbon transport system in the city, while making Oxford a safer, cleaner and better place for people who live and work here and for those who visit.
"While the county council is leading the development of these plans together with the city council, we also intend to work with key partners such as our businesses, universities and bus operators."
Councillor Tom Hayes, Deputy Leader and Cabinet Member for Green Transport and Zero Carbon Oxford, Oxford City Council, said: "Gridlocked traffic is bad for everyone – it is bad for residents, bad for the economy, and bad for the environment. Our air must be cleaner to protect our health.
"Our energy must be cleaner to protect our futures. As well as tackling air pollution and our climate crisis, everyone must be able to move swiftly and simply from A to B. Citizens have lives to lead and they want to enjoy the best possible health and transportation, and to look to the future with hope."