Masters of Modelling revealed at Modelling World 2021
Mott MacDonald's Charlene Rohr is first female named as a Master of Modelling
22 October 2021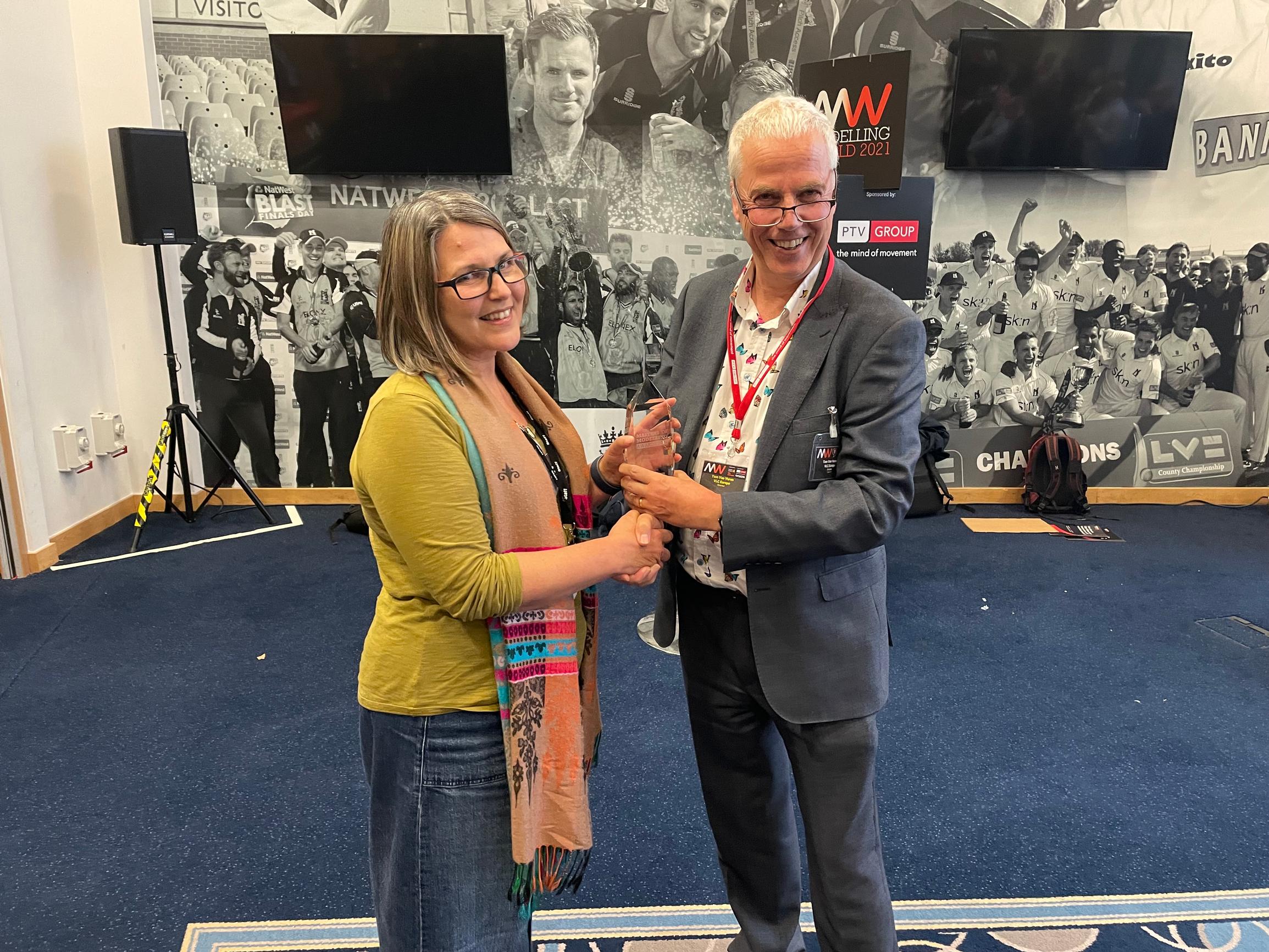 Three new Masters of Modelling revealed at Modelling World 2021.
The Masters of Modelling Awards were launched in 2017 to shine a much needed spotlight on the good work of the UK's expert modellers, surround them with positive publicity, and to build the reputation of modelling and modellers.
Modelling World chairman Tom van Vuren said: "Outsiders, even transport planning colleagues, often think that we are geeks, a homogeneous mass of introverts that rarely see the world outside, and that we are a necessary evil rather than a particularly valuable or helpful profession.
"I disagree; of course I disagree. That is why I am pleased to award the Master of Modelling title to professional peers; and over time we will build up a cadre of masters of modelling who can be trail-blazers for our profession."
There are three awards:
Master of Modelling: Lifetime Achievement

The New Master of Modelling Awards: Moving Modelling On

Data Visualisation Challenge
This year the Master of Modelling 2021, Lifetime Achievement Award went to Charlene Rohr, technical director, Mott MacDonald, a worthy winner and the first female modeller to be celebrated.
Van Vuren says: "The panel of judges agreed on a winner, a role model for women in transport modelling, a fellow modeller who I have admired for many years. And that is Charlene Rohr, best known for her work at RAND Europe and before that Hague Consulting Group, but recently transferred to Mott MacDonald.
"Charlene is one of the best-known and most knowledgeable discrete choice modellers in UK practice. She has had her finger in many of the most advanced models in operation in the UK and many more abroad, including PRISM here in the West Midlands. She knows the theory, has applied it in so many practical applications that she is aware of all the pitfalls, and she can explain the complexities of multinomial logit, mixed'probit and maximum likelihood estimation to anyone.
"When I met Charlene in 1994, she was very much embedded in transport modelling, and I know that where her passion is. But she managed in the past 15 years or so to transfer various of these skills to a much broader policy environment, for example in defence, healthcare, education and even Brexit. Charlene is proof for me that what we do as transport modellers, the problems we solve, the tools we use, have wider societal applicability. The Department for Transport certainly values Charlene's expertise and she serves on their Joint Analysis Development Panel. I know Charlene doesn't normally seek the limelight but this lifetime achievement award is very much deserved."
The Master of Modelling Award is a lifetime achievement award and is open to all modellers who are working, or who have worked, in the UK. It is awarded to an individual who has excelled in driving change, challenged thinking and done the most for 'moving modelling on' during their career.
The award is peer-reviewed and judged by the Modelling World Steering Group and key partners.
Past winners
Winner in 2017: Luis Willumsen, Director, Willumsen Advisory Services & Kineo Mobility Analytics

Winner in 2018: Sonny Tolofari, Team Manager, Leicestershire County Council

Winner in 2019: Anon Allos, Director, ATKINS
The Moving Modelling On Award recognises a young professional between the age of 20 – 35 who has shown willingness to challenge thinking and methodologies, developed new ways of thinking and driven practitioner thinking forward, and inspired colleagues and the wider industry.
This year it went to Christopher Storey, Senior Data Analytics and Modelling Officer, Transport for the North.
Past winners:
Winner in 2017: Chris Wroe, Telefonica UK

Winners in 2018: Rebecca Wilson, Systra (Highly Commended: Steven O'Hare, Mott MacDonald)

Joint winners in 2019: Alex Dawn, City Science & Mike Oliver, PTV Group
The Data Visualisation Challenge Award is for initiatives in data visualisation that presents modelling output (or input!) data effectively, with proven success in gaining new and dependable insights.
This year the award was presented by Luis Willumsen to Atkins. It's not so much about increasing realism in the visualisation of microsimulation models, but about the complex representation of travel dynamics in space and time, across different modes and trip purposes, and the need to compare between different scenarios (assessment years and policy options).
Past winners:
Winner in 2018: Transport for London

Winner in 2019: Cadence, City Science