New e-cargo bike range offers 'replacement for short car journeys'
The new Raleigh Stride bikes are designed to transform everyday trips and unlock a new sense of freedom, fun and discovery for the whole family...
28 July 2021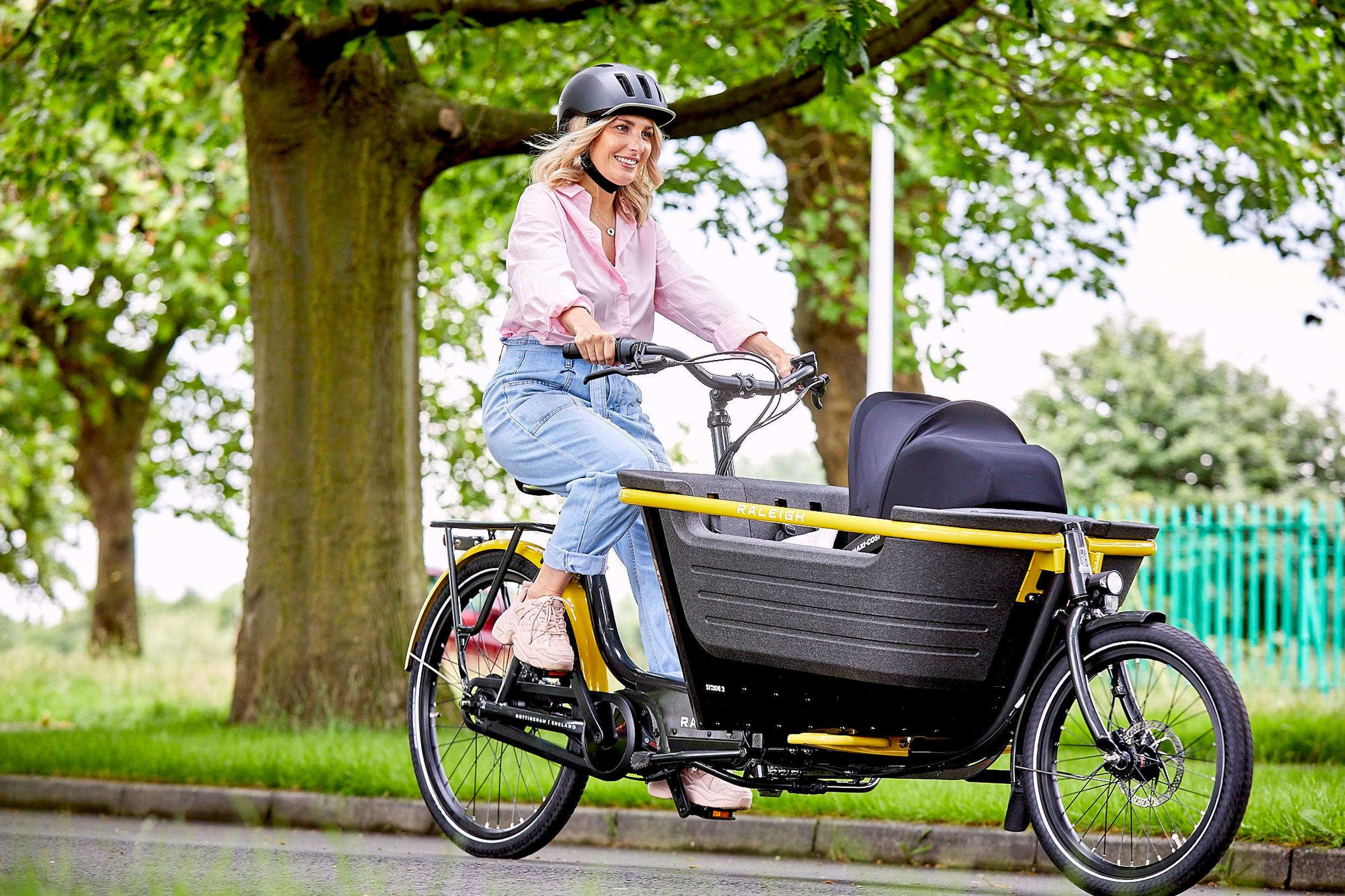 Raleigh has announced the launch of its new Stride E-Cargo range with the aim of offering families a replacement for short car journeys.
With a whole section of Raleigh's company dedicated to encouraging UK businesses to use cargo bikes for greener 'last mile solutions', Raleigh have long advocated cycles designed specifically for carrying heavy or bulky loads.
Previously used most often by delivery riders, new e-bike technology has seen recent demand for everyday family use grow across cities. With 68% of journeys in the UK under just five miles, e-cargo bikes offer a sustainable, time efficient and fun alternative for short trips like the school run or weekly shop.
Aiming to spread the unique joy of cycling far and wide, the brand new Raleigh Stride bikes are designed to transform everyday trips and unlock a new sense of freedom, fun and discovery for the whole family.
The new range encompasses two different models; the two-wheeled Stride 2 bike and the larger three wheeled Stride 3 trike.
Whilst designed primarily for everyday use, the new Stride range is also perfect for small independent business owners looking to become more eco-friendly (without burning the bank, or their legs). Cargo bikes are increasingly used for delivering goods in record time, or moving tools around congested built-up cities.
Commenting on the new Stride range, Lee Kidger, Managing Director, Raleigh, said: 'We are thrilled to unveil our new range of Stride E-Cargo bikes. Having worked closely with businesses in recent years to help them find greener, quicker and more enjoyable last mile solutions, we're excited to create a bike that passes on all of these benefits to everybody.
With 130 years of experience building bikes, we're confident that E-Cargo cycles will play a central role in our future and are proud to play a role in that.'
The Stride 2 font carrier comprises strong aluminium and an EEP-foam box that can hold up to 80kg of cargo (rising to 100kg for the larger Stride 3 trike). A selection of useful accessories will also be available for riders looking to upgrade their new go-to family wagon, including; a rain tent, box cover, bike cover, baby & toddler seats, bench cushions and Maxi cosi car seat brackets.
About the bikes
Unlike many other models on the market, both Stride cycles come with a top of the range Bosch Performance CX Cargo Line motor. Purpose-built specifically for carrying heavy loads, the 500 watt Bosch Powerpack battery makes light work of any hills on your way home - even when stacked to the brim with the kids and shopping.
Equipped with a premium Enviolo Cargo hub and shifters, Raleigh's use of best-in-class componentry means you can enjoy a smooth ride - devoid of clunky gear changes and delayed power assistance. With a total range of between 30-40 miles, the battery can be easily removed from the frame and recharged indoors within just 4.5 hours.
Built with a sturdy one-size-fits-all steel frame, the bikes also come with hydraulic disc brakes, built-in front and rear lights, an attached ring lock and a full metal mudguard set as standard - to ensure that riders are equipped for every scenario.
The new Stride 2 E-Cargo bike is available for £4,395, with the larger Stride 3 trike at £4,695.