Face coverings will no longer be mandatory on public transport
Decision to drop mask rule is welcomed by rail companies but worries mayors, unions and medical professionals
06 July 2021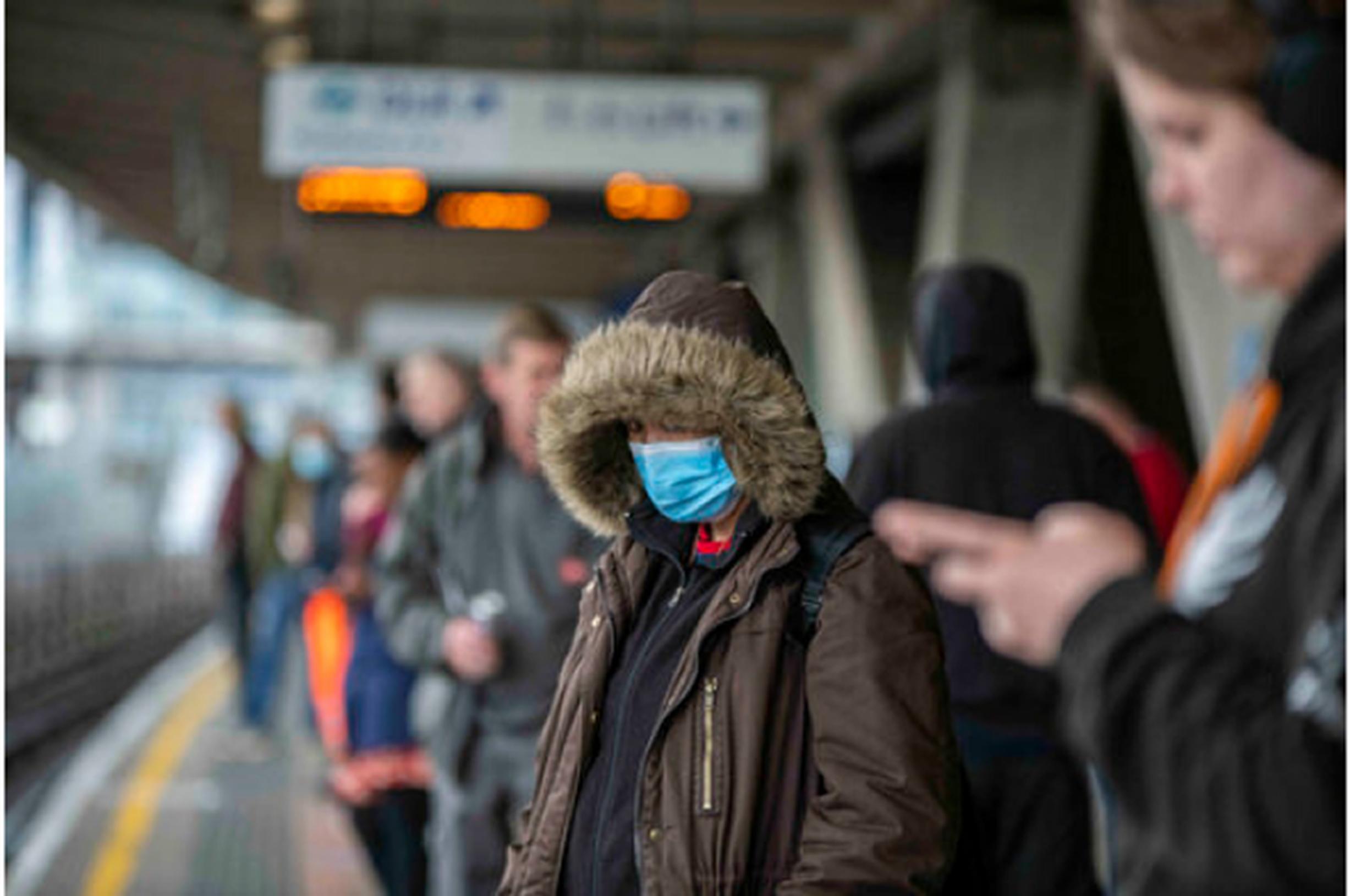 Mandatory mask-wearing will end as part of a wider easing of restrictions on gatherings and engagement across England on 19 July, the Prime Minister confirmed during a 10 Downing Street briefing on 5 July. People will still be encouraged to use face coverings in crowded places, such as shops and on public transport, to help stop the spread of Covid, but there will be no legal requirement or fines if they opt not to.
However, the issue of whether or not it is a wise idea to end the mandatory wearing of masks in contexts such as public transport seems set to become a major point of contention. While rail operators have welcomed the easing of mask wearing rules, it has drawn flak from opposition politicians, unions and the medical profession.
The PM backs personal discretion
The government line is that decisions on wearing face coverings should be a personal judgment. During a 10 Downing Street briefing on 5 July, Prime Minister Boris Johnson said: "We will end the 1 metre-plus rule on social distancing, and the legal obligation to wear a face covering, although guidance will suggest where you might choose to do so, especially when cases are rising, and where you come into contact with people you don't normally meet in enclosed places, such as obviously crowded public transport."
Asked where and when he would continue to wear a mask, the Prime Minister responded: "It will depend on the circumstances. Clearly there's a big difference between travelling on a crowded Tube train and sitting late at night in a virtually empty carriage on the main railway line. We want people to exercise their personal responsibility but remember the value of face coverings both in protecting themselves and others."
The medical advisor's perspective
During the 10 Downing Street briefing Chief Medical Officer Chris Whitty said he would continue to wear a mask in crowded indoor spaces or "as a point of common courtesy". Professor Whitty outlined the three scenarios where he would continue to wear a face covering in the context of rising case numbers: "The first is any situation which is indoors, crowded, or indoors with close proximity with other people. The second situation I'd do it is if I was required to by any competent authority, and the third reason is if someone else was uncomfortable if I did not wear a mask."
New Health Secretary backs easing of rules
The Prime Minister's line on personal responsibility was repeated by new Health Secretary Sajid Javid when speaking to BBC Breakfast. Javid said there is increasing evidence that the link between case numbers and hospitalisations and deaths is weakening.
Asked whether he will continue to wear a mask, he said: "I will continue to carry a face mask with me for the foreseeable future and if I'm in a crowded place I will wear a mask, not least out of respect for others."
Javid added that it will be up to shops and transport operators to have their own policy on masks. "It shouldn't be a central diktat," the health secretary tells BBC Breakfast. "It's about relying on sensible guidance as we move to a world that feels much more like normal."
Rail industry says trains are safe spaces
The Prime Minister's announcement was welcomed by the rail industry, which argues that trains should be treated consistently with other indoor settings when it comes to the removal or ongoing use of restrictions.
A spokesperson for the Rail Delivery Group, said: "It's good to see government treating public transport the same as other indoor settings by recommending that face coverings are worn only in crowded spaces, whether that's on a train or elsewhere.
"Travelling by train is low risk as carriages are well ventilated with air regularly refreshed either by air conditioning systems, or by doors and windows being opened. Of course, train companies will continue with extra cleaning and better information about how busy services are and we will support people who wish to continue wearing face coverings in future."
Mayors consider next steps
City and regional leaders with responsibility for passenger transport networks will now need to decide their route ahead regarding face coverings.
Transport for London was an early advocate of mask wearing on buses, trains and the Tube. It will be reviewing its approach in light of the government's statements. Mayor of London, Sadiq Khan, said: "The wearing of face coverings on public transport helps to reduce the spread of Covid, and crucially gives Londoners confidence to travel on the network, which is vital to our economic recovery. Further discussions are now planned with Transport for London, the Department for Transport and other transport providers before we decide our next steps.
"The vaccines are making a huge difference, protecting people against serious illness and hospitalisation, but the number of COVID cases is continuing to rise in London and across the country. The absolutely best way to reduce case numbers and make re-opening a success is for every Londoner to take the vaccine as soon as possible."
Andy Burnham, Mayor of Greater Manchester was more forthright in his unease about the ending of mandatory mask wearing on public transport. He tweeted: "I struggle to see how Ministers can drop the requirement to wear masks on public transport without causing real problems for some people who are dependent on it. Those more vulnerable to infection or anxious about it will be put in a very unfair position. Rethink needed?"
Dan Norris, the Labour Mayor for the West of England, said he wants to keep mask-wearing mandatory until the number of Covid-19 infections starts falling.
"Many people are still anxious about traveling on public transport and we need to get people back to normal again; normal means taking public transport, which we know they haven't been," Norris said in an interview. "We need to err on the side of caution."
Labour's Steve Rotheram, Mayor of the Liverpool City Region, said that Johnson was "caving in to the backbench members in his own party."
Workers are worried
Unions representing public transport and shop workers have said their staff face an increased risk of infection if people will be asked to exercise their own judgement regarding masks.
There had been a high level of Covid deaths among bus drivers even with mandatory face mask wearing so Unite called for face coverings to remain mandatory on public transport. The union's national officer for passenger transport, Bobby Morton, said: "To end the requirement to wear masks on public transport would be an act of gross negligence by the government. Rates of infection are continuing to increase and, not only does mask-wearing reduce transmissions, it helps provide reassurance to drivers and to passengers who are nervous about using public transport. The idea of personal responsibility and hoping that people will wear masks is absolutely ridiculous."
RMT General Secretary Mick Lynch also expressed his unease. "Yet again there's a real danger of the government making up policy on the hoof on critical issues and that is reflected in the comments of ministers this morning. Back in the real world discussions are on-going at industry-wide level but all parties are having to second-guess what the government will say later today and that is not good enough," he said.
"All the indications are that the government are going for a free-for-all, whereas common sense and medical advice seems to indicate that some level of control should remain in place in the public realm. The RMT's priority will be the safety of our members and the travelling public and the union will continue to campaign for the staffing levels and enhanced, in-house cleaning services that the pandemic has exposed as being key to delivering that safe operation."
Doctors endorse mask wearing
The British Medical Association (BMA), which represents doctors, wants to retain the wearing of face coverings in enclosed public spaces. Speaking ahead of the Prime Minister's announcement, Dr Chaand Nagpaul, BMA council chair, said easing restrictions was not an "all or nothing" decision and that "sensible, cautious" measures will be vital to minimising the impact of further waves, new variants and lockdowns.
Nagpaul said: "As case numbers continue to rise at an alarming rate due to the rapid transmission of the Delta variant and an increase in people mixing with one another, it makes no sense to remove restrictions in their entirety in just over two weeks' time.
"The promise was to make decisions based on data and not dates, and while we were pleased to see the government react to data in delaying the easing on 21 June last month, ministers must not now simply disregard the most recent, damning, numbers by rushing into meeting their new 19 July deadline.
"We have made excellent progress with both the vaccination campaign and individual action from people across the country over the last 18 months, and the government must absolutely not throw this away at this critical juncture."
Beyond England...
Scotland, Wales and Northern Ireland are in charge of their own coronavirus rules. The Scottish Government has said it may continue to require masks in certain settings even after 9 August, when it is hoped the final curbs will end. Ahead of a review on 15 July in Wales, ministers said people would need to learn to live with Covid. Rules in Northern Ireland have just eased, with another review due on 8 July.
When it comes to international travel, airlines are signalling they will stay cautious. For example, Ryanair has made clear its intention to retain masks, saying: "In order to protect the health of our customers and crew, the use of face masks will still be mandatory across all Ryanair flights, regardless of the departing/destination country."