LFA: Reimagining Euston as a connecting space
Muslim Women in Architecture win Curating Concourses competition run by London Festival of Architecture
10 June 2021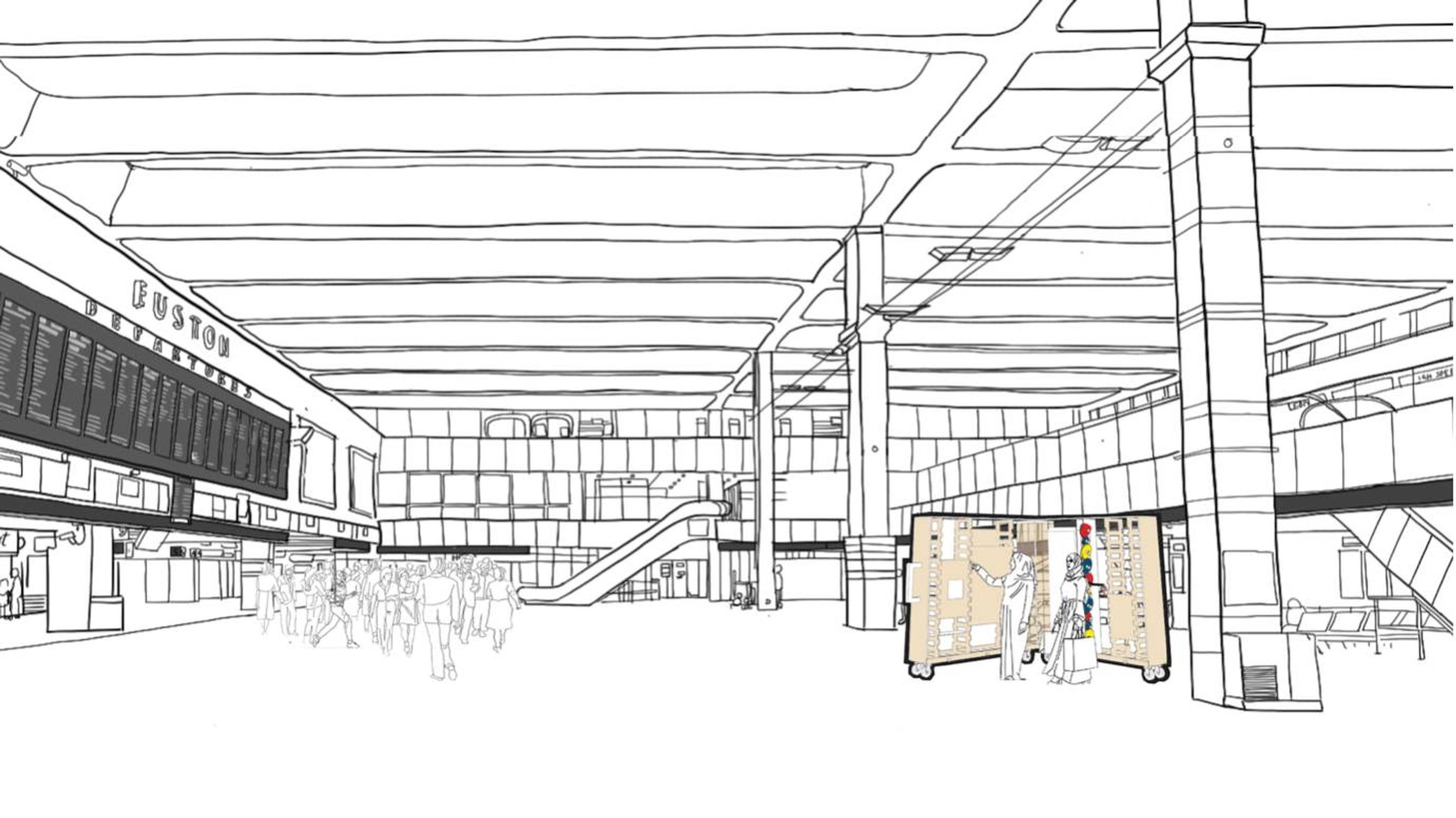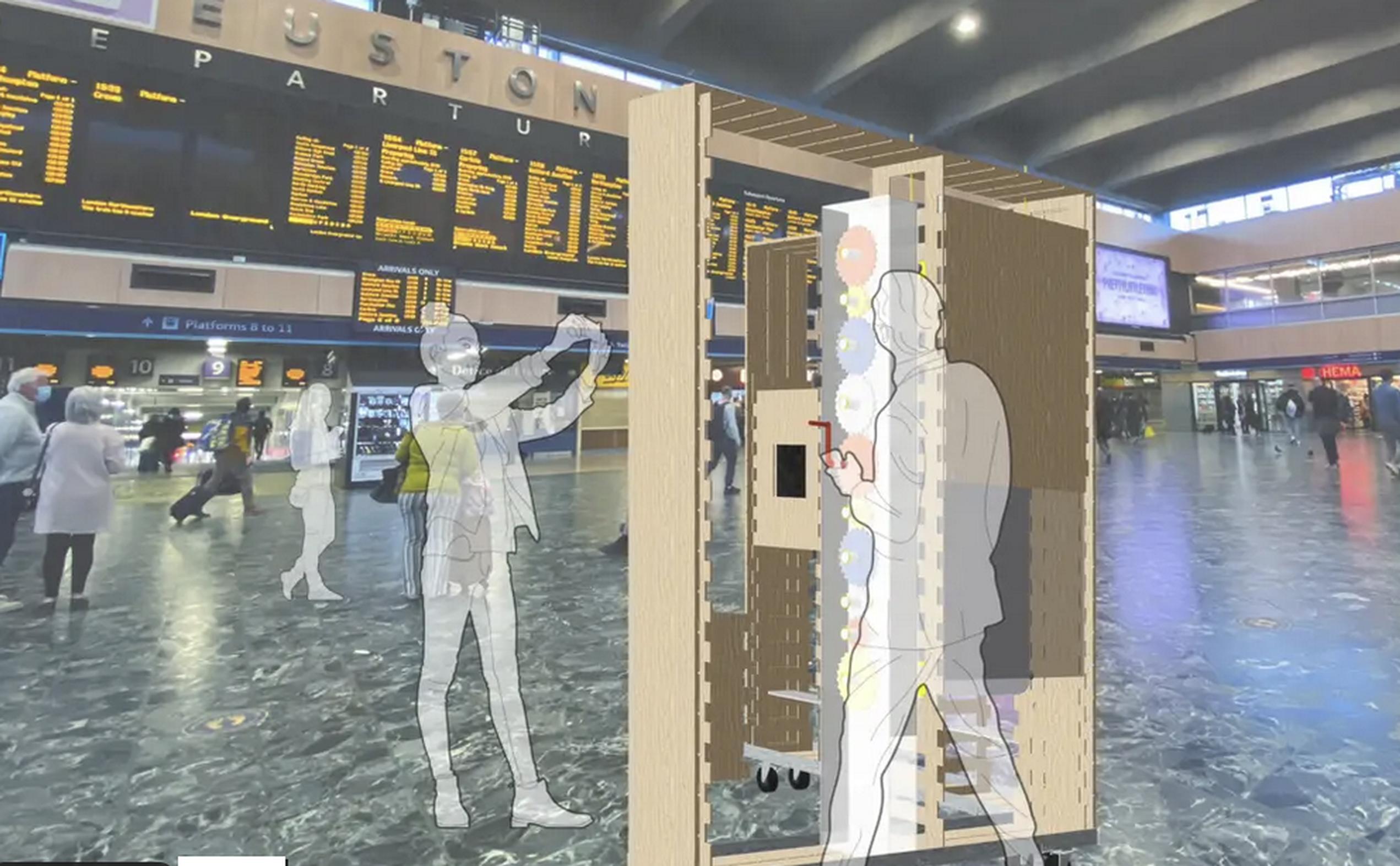 The design practice Muslim Women in Architecture (MWA) has won the Curating Concourses competition run the London Festival of Architecture (LFA) and Network Rail. Their winning concept, 'As you're passing by', looks to transform people's experience of Euston Station's concourse with an installation that brings different communities together, using interactive design to communicate content in a way that is accessible to all.
The installation will be displayed at Euston Station from 14 June to 31 August.
Open to all emerging architects, designers, artists and curators, the Curating Concourses competition sought imaginative proposals for a prototype exhibition concept that can enhance station users' experience, encourage people to engage with displayed content, and test the future of exhibitions in stations.
Rosa Rogina, programme director at the London Festival of Architecture, said: "Muslim Women in Architecture's winning proposal is an outstanding response to our brief to enliven London's station concourses. London's stations are among the city's most important yet overlooked public spaces, and MWA have risen to the challenge of engaging with people from all backgrounds through their engaging, inclusive and flexible exhibition design. I'm looking forward to seeing their exhibition design make its debut during this year's London Festival of Architecture in June."
Muslim Women in Architecture's design overcame strong competition from an selection of up-and-coming architects and designers who were shortlisted for the project: Bamidele Awoyemi, Farouk Agoro and Livia Wang, Editional Studio, Everyday Fictions, Mark + Cristina and Project Poché. Each team produced a short video for the judges which explained their design approach to the competition.
Click here to find out more about the shortlisted entries.

'As you're passing by' was selected by a panel of expert judges, including Anthony Dewar (Network Rail's technical head buildings and architecture), Frank Anatole (Network Rail's principal architect), Francesca Perry (editor, ICON Magazine), Dinah Casson (co-founder and director, Casson Mann), Jason Bruges (artist) and Tamsie Thomson (managing director, New London Architecture).
Frank Anatole, principal architect, Network Rail, said: "This competition is a fantastic opportunity to highlight the curatorial potential of station spaces and we are delighted to announce Muslim Women in Architecture as the winning entry. Their approach brings together clever use of technology and adaptable solutions that showcase our commitment to quality design on Britain's railway network in an accessible, interactive and engaging way for passengers. We look forward to seeing their imaginative concept come to life at London Euston Station in June."
'As you're passing by'
Muslim Women in Architecture describe their project
Stations are among the most diverse 'meeting points' in cities. 'As you're passing by' considers how stations can offer a more inclusive and accessible environment, informed by MWA's experience of exclusion and empathy that shapes the collective's approach to design as a result.
'As you're passing by" makes use of simple, eye-catching elements to break down the key information, making this easy to see and understand even when passing-by from a distance. Using tactile surfaces, as well as contrasting tones and materiality, these panels illustrate the images and graphics from these documents, while also bringing attention to Network Rail's subtle design intent that is often forgotten during the bustle of travel.
To create an engaging experience, the exhibition display also includes interactive and playful elements such as mirrored panels, a cog mechanism, movement and QR technology. By employing a range of tactile and technology features, the exhibition hopes to appeal to a broad audience – creating a space that feels accessible and comfortable to visitors, locals and passengers of all ages and backgrounds, and in turn maximising the learning opportunities presented by the exhibition helping to introduce a shared space for all.
Seeking to create a flexible and adjustable design, the display panels are mobile and made up of ply sheets which slot together for easy on-site assembly. The panels can be arranged or opened and closed to any desired angles to create more intimate or open spaces, allowing the installation to easily cater for different locations as well as different types of exhibitions in future.