LFA: Designer benches installed across City of London
London Festival of Architecture hopes imaginative public seating will promote conversation
10 June 2021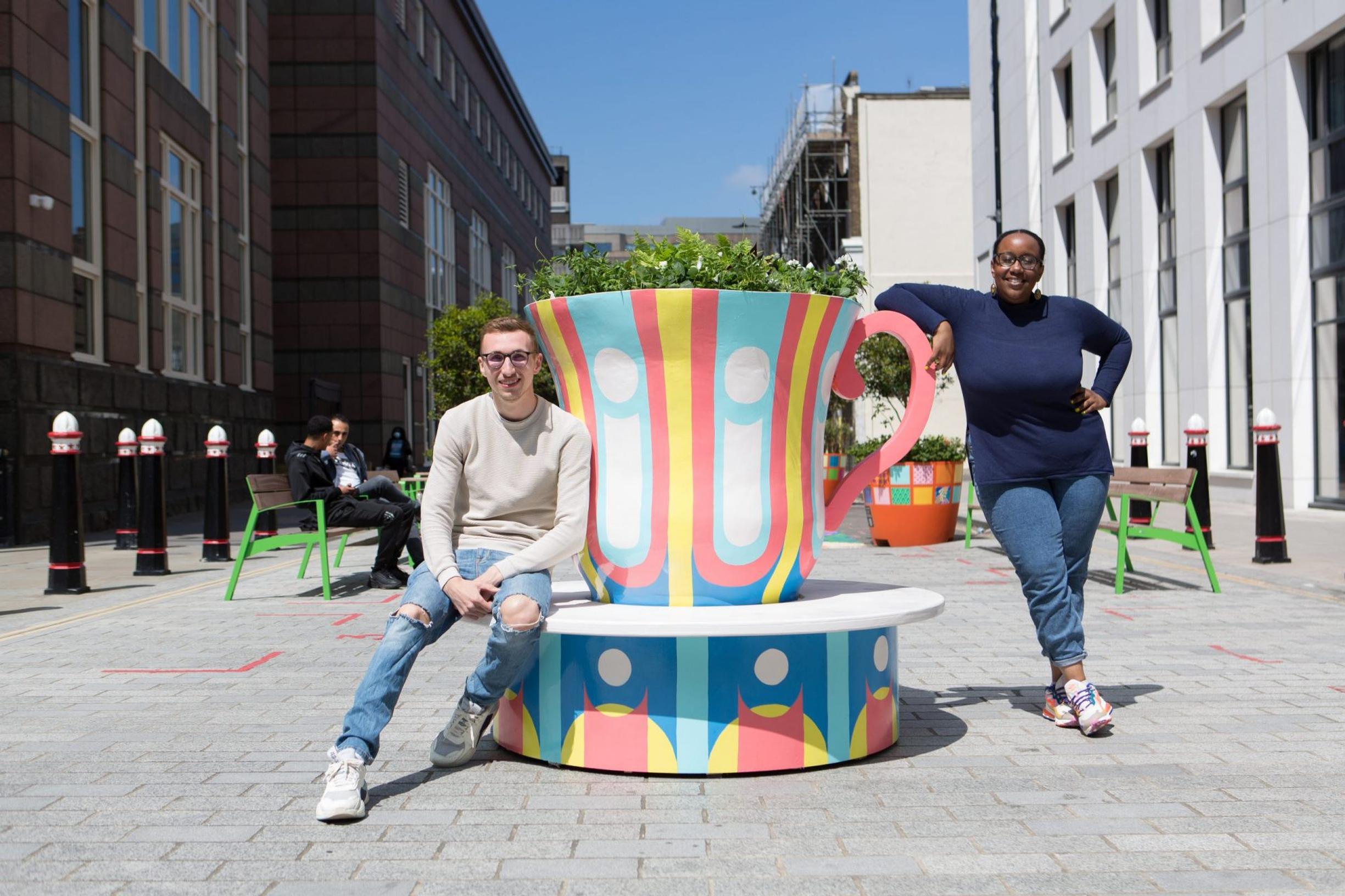 A series of striking public benches have been unveiled as part of the London Festival of Architecture (LFA).
The LFA City Benches competition is run by the Cheapside Business Alliance and Aldgate Connect business improvement districts in the City of London.
Designed by a group of international and interdisciplinary architects and designers, the imaginative benches will enliven the public realm across the City of London as it begins to welcome visitors, commuters and locals back to its streets this summer.
Inspired by the festival's 2021 theme of "care", the benches are designed to provide safe and inviting environments for people to meet again post-pandemic. In addition to providing much-needed seating, the benches will encourage passers-by to pause, rest and once again make the most of the City and neighbouring Aldgate.
The LFA hopes to start a conversation on how people can better care for one another and their built environment. It hopes to do this telling forgotten stories about the local area, supporting wellbeing by encouraging interaction, and making the case for sustainability by challenging views on littering and introducing more planting.
Rosa Rogina, LFA programme director, said: "City Benches is now an established fixture in the London Festival of Architecture's public programme, and it's exciting to see how the programme has expanded for 2021. Despite the constraints of the pandemic, this year's diverse group of emerging architects and designers has risen to the challenge with a fantastic series of installations that enliven the City of London and Aldgate, and bring architectural creativity to new public audiences."

The City Benches
'It takes two' by 10F (Nomura International)
'Do you care about your city?' by Nick Green (50 Cheapside)
'Quick Getaway' by Ex Architectures with Flu-or Arquitectura (Bow Church Yard)
'The friendly blob' by Jelly Collective (Bow Church Yard)
'Sobremesa' by Pebble Haus (Royal Exchange)
'Conversation' by NVBL (Aldgate Pump)
'A Cuppa' by The Mad Hatters (Middlesex Street)
'Monuments' to Mingling by Sohanna Srinivasan (Toynbee Hall)
'Plant Yourself Here' by Lisa McDanell (Leman Locke Hotel)
To meet the designers click here
The final nine teams and their designs were selected by an expert jury comprising Yigong Zhang (urban designer, Perkins & Will and co-chair, Aldgate BID Public Realm Steering Group), Charlotte Fletcher (chair, Cheapside Business Alliance board and senior director, CBRE), Laura King (director, KPF), Ellie Stathaki (architecture editor, Wallpaper*) and Rosa Rogina, (programme director, London Festival of Architecture & New London Architecture).
The project was realised with support from the City of London Corporation and Tower Hamlets Borough Council.
Zoe Barwick, BID manager, Aldgate Connect BID, said: "At Aldgate Connect we are thrilled to host several of this year's City Benches installations, and to see this hugely successful project extend eastwards into Aldgate. One of our objectives of this year is to bring a joy factor to everything we do. This year's installations offer fun, intrigue and style, and demonstrate the hugely positive impact of well-designed interventions in our public realm."
Claire Dumontier-Marriage, BID manager of Cheapside Business Alliance said: "As City Benches goes from strength to strength, it's a pleasure to be working in partnership with the London Festival of Architecture on this project for a fourth year, and to once again work alongside such a talented new cohort of architects and designers. As Cheapside continues to welcome people back to its streets and spaces, City Benches enhances our appeal as one of London's best places to live, work and visit."