Obituary: Alastair Hanton 1926 – 2021
The transport campaigner, social entrepreneur and banking innovator Alastair Hanton has died aged 94
09 June 2021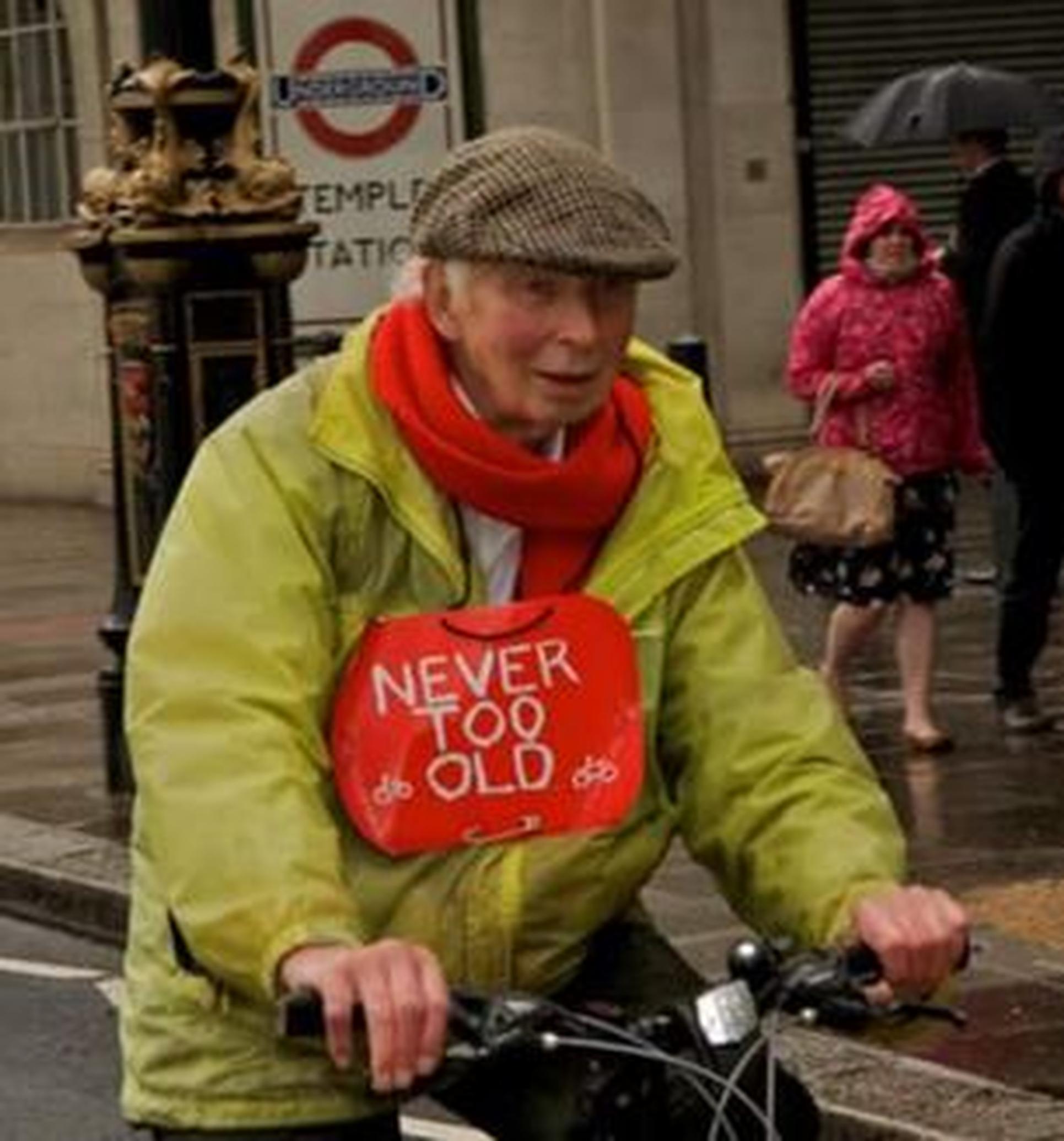 Alastair Hanton was well known for his achievements as a transport campaigner over the past 35 years. Prior to this, he played a key role in reforming the banking industry. After a long struggle with the banking establishment, he succeeded in introducing the Direct Debit system where money could come direct from the customers' accounts.
Alastair was also concerned that millions of ordinary people in the UK had no bank accounts and no access to financial services so, when in 1968 Harold Wilson's Government suggested setting up a state bank, he was given the job of running it. By the time Alastair retired in 1986, Girobank had 5,000 employees and had transformed banking.
After his retirement, he went on to become an effective, tenacious and widely respected transport campaigner. In 2016 he was awarded the Lifetime Achievement Award at the Cycle Planning Awards.
His son Angus Hanton writes: Alastair introduced Direct Debit to the UK, started National Girobank, founded the Fair Trade Foundation, and through his transport campaigning saved countless lives. He achieved a remarkable amount of change over a long life of persistent enterprise and collaboration.
Despite running a national bank full-time, he found time to set up several campaigns and charities such as the Ethical Investment Research and Information Service (EIRIS) which helped ordinary investors to influence how companies behaved. Through EIRIS, Alastair and Peter Webster enabled the UK's first ethical investment funds, which could, for example, choose to avoid tobacco or weapons manufacturers.
Alastair's formula for creating change was this: work out a logical vision of what needs doing, collaborate with others, be persistent and patient, and never say anything unkind. After he retired he used this approach in dozens of new campaigns mostly for better public transport.
As a child, Alastair had witnessed the carnage caused by the introduction of the motor car and in the 1970s he was appalled by an annual death toll of more than 7,000 lives and thousands of life-changing injuries. By 1980 the company car tax perks had massively distorted travel and led to a damaging increase in car usage. He wanted these tax breaks abolished and formed the Transport Taxation Group to take on the motoring lobby in persuading the government to remove the tax distortions. The ultimate success of this fight contributed to the cut in annual road deaths by two-thirds to 1,700 and even this year he was working to reduce that number further.
On retirement, he became vice-chairman of the charity Christian Aid, and with his leadership team worked to empower local people of all faiths and campaigned for systemic change. Alastair left the bulk of his estate to Christian Aid and other charities.
Alastair loved campaigning because it combined two his two favourite activities - making new friends and creating change. He set up and supported dozens of traffic calming projects locally in London and nationally to save lives, improve quality of life, and build community. One of these was the ETA (Environmental Transport Association), a green alternative to the AA and RAC. Another was his campaign for lorry safety after he discovered how many road deaths involved unsighted lorry drivers reversing or turning left. He worked on the 20's Plenty initiative to spread 20mph zones in residential areas nationwide. He developed RoadPeace, which memorialised a road death and then used the facts of the case to help traffic planners to make that location safer for others.
Alastair chaired the charity Living Streets, an organisation that lobbies nationally for pedestrian schemes and safer, healthier public spaces and modes of travel. Locally, he was a founder of the Dulwich Society and was an activist for traffic calming and car-free places across Southwark.
His interest was always in identifying the most important issues where change was possible. Rebuilding the Herne Hill Velodrome was one such and although it took several years the result was the creation of place where thousands of young people are learning to love cycling as he did.
This passion started when he and his brother Graham cycled back to London from Cumbria, where their school had been evacuated to during the Second World War. Much later, he chaired the London Cycling Campaign. He rode his bike for almost all journeys within London until he was 90 and Southwark Council recently used a picture of him on his bike as their 'poster boy'.
Many of his efforts were never acknowledged but he didn't care; as he explained to the family, quoting US President Harry Truman, "it's amazing what you can achieve if you don't mind who takes the credit".
Alastair was an avid reader of LTT. In fact, not only was it by his bed when he died but it was also the one publication that he took with him into hospital every fortnight over the last four years when he went for his transfusions. I'm not sure which did most to keep him alive – the transfusions or the transport campaigning, or maybe it was LTT.
Stephen Joseph, former chief executive of the Campaign for Better Transport and Transport 2000, writes: Alastair was hugely influential in the transport world. For many years, he ran the Transport Taxation Group within Transport 2000/Campaign for Better Transport, and was instrumental in securing the wholesale reform of company car taxation.
He also helped Dr Simon Norton set up the Foundation for Integrated Transport, and was an active secretary to FIT, taking a detailed interest in the projects it funded. In particular he was very involved in the Transport New Homes project, and in his 90s joined in TfNH site visits to highlight car-based development. His wise advice, kindness and support will be greatly missed by FIT trustees and those it funds, and by the many groups in the active travel and road danger reduction worlds in which he played such a big part.
Lynn Sloman, director at Transport for Quality of Life, writes: Alastair had a long and very active retirement, involved in the management boards of literally dozens of organisations and initiatives, mostly but by no means all related to sustainable transport. In the nearly 30 years that I knew him, he was always supportive, generous and encouraging, so that when he asked you to do something – with a kind twinkle in his eye – it felt impossible to say no.
His approach to being 'on the board' of the many charities and campaigns that he served was always one of being active and practical. I remember him saying once (with an uncharacteristic note of mild annoyance in his voice, perhaps after a rather difficult meeting) that he thought it was important for board members to make themselves useful. He didn't just turn up to board meetings – he worked hard in between, whether that was drafting proposals or sorting out problems with finances, or helping out on the welcome desk at a supporters' event.
He was modest and unassuming, so that when he was in the office of one of the charities or organisations he was involved with, he was as likely to be making the tea for the staff as having big strategic discussions. But he had a sharp mind and excellent judgment, and his advice and guidance, given gently and with a smile, was always worth having.
Alastair's quiet, determined commitment to make the world a better place, one small step at a time, was an inspiration and there could be no better example of a good life, well-lived.
Margy Newens, councillor at the London Borough of Southwark, said: Alastair's wisdom and vision, particularly in respect of urban travel and environment questions, have been an inspiration and guide during my time as a councillor. He will be greatly missed throughout our community, not just for his outstanding contribution, but also for his tremendous kindness and gentle humour. It was a privilege to have known him and he leaves a big smile in my heart.
Crispin Truman, chief executive of the countryside charity CPRE, writes: Alastair was always a strong, clear and thoughtful contributor to whatever was the subject of discussion. He seemed to have limitless energy and commitment to the cause, a great knowledge and an ageless quality which seemed to cross generations and the great variety and levels of campaigning and activism beautifully. He will be sorely missed.