Campaigners claim diesel buses are affecting young children
Mums for Lungs, Medact, Choked Up and EDF Europe unite in call for a zero-emission bus fleet
19 March 2021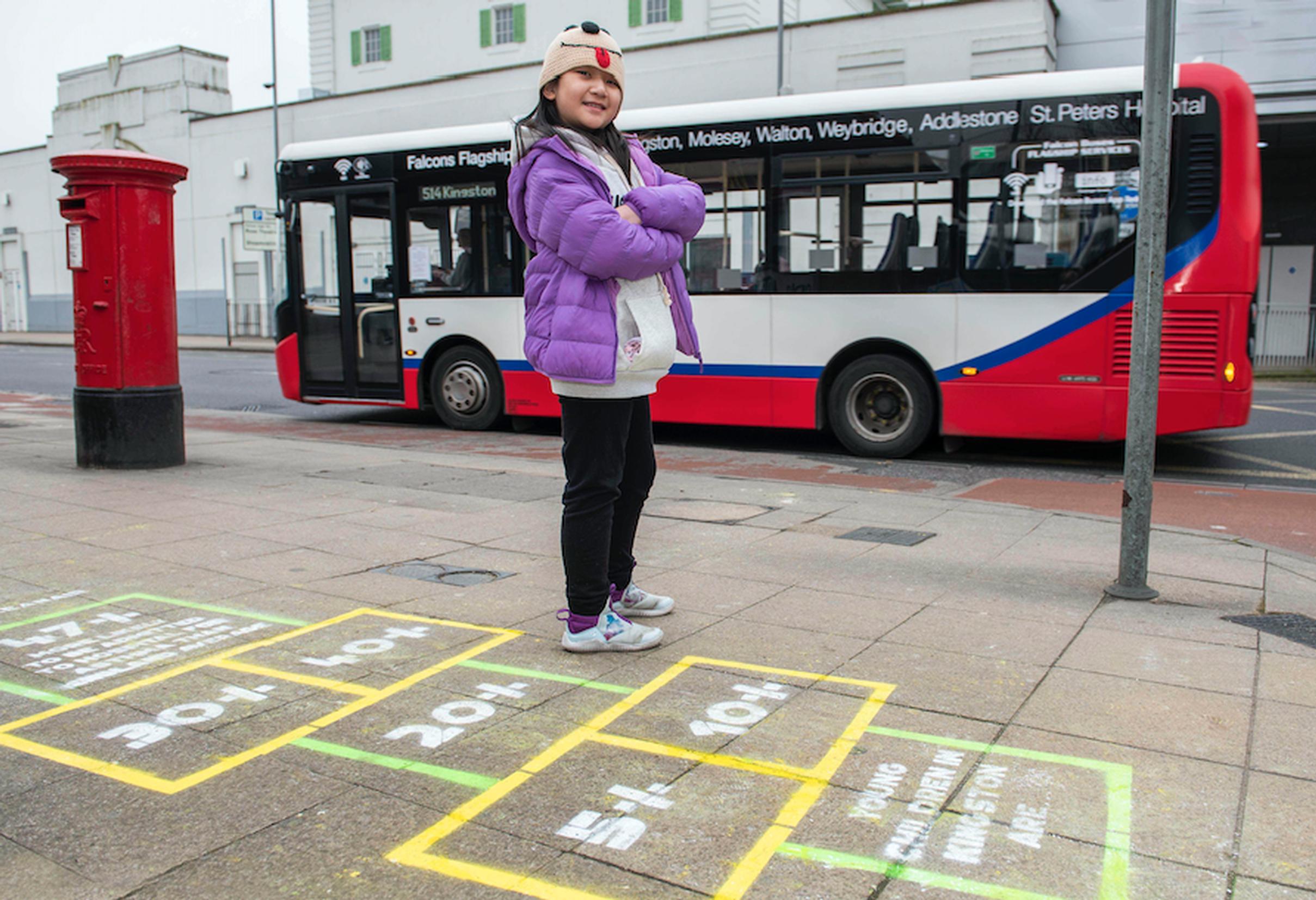 Campaign groups representing parents, health workers and young people have joined forces to call for the next Mayor of London to tackle air pollution from diesel buses on the capital's roads and commit to a zero-emission bus fleet.
The campaigners have launched a playground nursery stencil campaign to highlight the dangers of diesel pollution to public health, particularly for young children. They have been installing adapted nursery rhymes in a graffiti art campaign aimed at raising awareness amongst parents and children of the dangers of air pollution.
In one adapted rhyme, the wheels on the diesel-powered bus don't just go round and round, they also make "toxic air." The graphic is being installed in a special Covid-secure playground in Kingston, South London. Another stencil states "Humpty Dumpty sat on the wall because Humpty Dumpty had an asthma attack."
There are currently no electric bus routes in Kingston despite there being illegal levels of air pollution and the asthma-related hospital admissions rate for young children is 47% higher than the rate for England.
The call for action coincides with new data modelling and analysis by Environmental Defense Fund Europe (EDF Europe) that finds harmful NOx pollution from TfL diesel buses is on average 62% higher in London's most deprived areas than the least. NOx pollution is especially harmful to children and can contribute to reduced lung function, say the campaogners.
Concerned parents Mums for Lungs and Black and brown teen activists Choked Up, along with health workers Medact and scientists at EDF Europe, are calling on London's mayoral candidates to protect children's health and address health inequities by speeding up the rollout of electric buses and delivering a zero-emission bus fleet this decade. Cities such as Los Angeles, Copenhagen and Amsterdam have already set targets to remove diesel buses by 2030 or sooner.
Last month, the Prime Minister promised £3bn to fund new, cleaner bus services. However, the campaigners note that none of the money will be allocated to London, despite having some of the worst pollution levels in the country.
Only 3% of London's bus routes are currently electric or hydrogen, with TfL aiming to reach 7% by 2022. Under existing plans, the campaigners argue that it will take more than 15 years for the city's fleet to be diesel-free. This follows research showing that only 6% of newly-registered urban buses in the UK were electric or hydrogen in 2019, compared to 66% in the Netherlands.
The campaign is supported by a letter from more than 100 health workers to London Mayoral candidates stressing the need for accessible and affordable zero-emission public transport. It mirrors a call from the Prime Minister for "better buses" to protect the environment and town centre economies as we build back from the pandemic.
Marilyn Mason, a parent and member of the Kingston Environment Forum, said: "As things go back to 'normal', traffic and air pollution is rising again. Eden Street and Cromwell Road in Kingston are two of the most polluted streets and amongst the busiest bus routes in London. Kingston's one-way system takes all that bus traffic past several schools causing harm to children's development."
"Changing to a zero-emission bus fleet is a TfL responsibility, but it seems to be all too easy to neglect the outer suburbs and our health needs when making London-wide transport policies. This is no longer tolerable, and we hope that all London Assembly candidates will commit to transport policies that will lead to clean air across the whole of London."
Jemima Hartshorn, a parent who lives in south London and is part of the Mums for Lungs group, said: "For families who live close to a busy bus route which is a large percentage of Londoners there is the constant anxiety of the impact it is having on your child. We need the next Mayor of London to commit to all buses becoming zero emissions, whilst ensuring they are the most affordable and accessible way to get around."
An inquest in late 2020 confirmed air pollution, especially from diesel vehicles, was a direct cause of the death of the nine-year old Ella Kissi-Debrah, who lived near the South Circular. The founders of Choked Up, a youth organisation of Black and brown teenagers, including friends of Ella who live along highly polluted roads in South London, want to make sure that never happens again.
Destiny Boka Batesa, from Choked Up said: "As young people we have to take the bus to get to school or to meet our friends. We don't want to be risking our lives to make essential journeys. We need the next Mayor of London to rid our city of diesel and prioritise clean air so we can grow up in a safe, healthy environment."
New air quality modelling and analysis at select kerbside locations outside central London shows a zero-emission bus fleet in London could reduce levels of the toxic gas nitrogen dioxide (NO2) by up to 13%.
The government has started a consultation to end sales of diesel buses in the UK but the campaigners say that it is unclear whether any of the 4,000 zero-emission buses they have committed to deliver from next year will be earmarked for London.
Oliver Lord, head of policy and campaigns at the Environmental Defense Fund Europe, said: "Buses are already one of the most efficient and affordable ways for people to get around, and they are critical to helping people be less reliant on cars. Currently just 3% of London's bus routes are electric, meaning there is a huge opportunity to put a cleaner fleet at the heart of a green recovery that benefits marginalised communities the most. By prioritising electric buses in the most deprived areas and delivering a zero-emission bus fleet this decade, London Mayoral candidates can help to tackle health inequities, create jobs and keep the city moving."