£50m funding boost for Wales' Centre of Rail Excellence
Welsh Government suppports rail testing facility to be created in former opencast mine
26 March 2021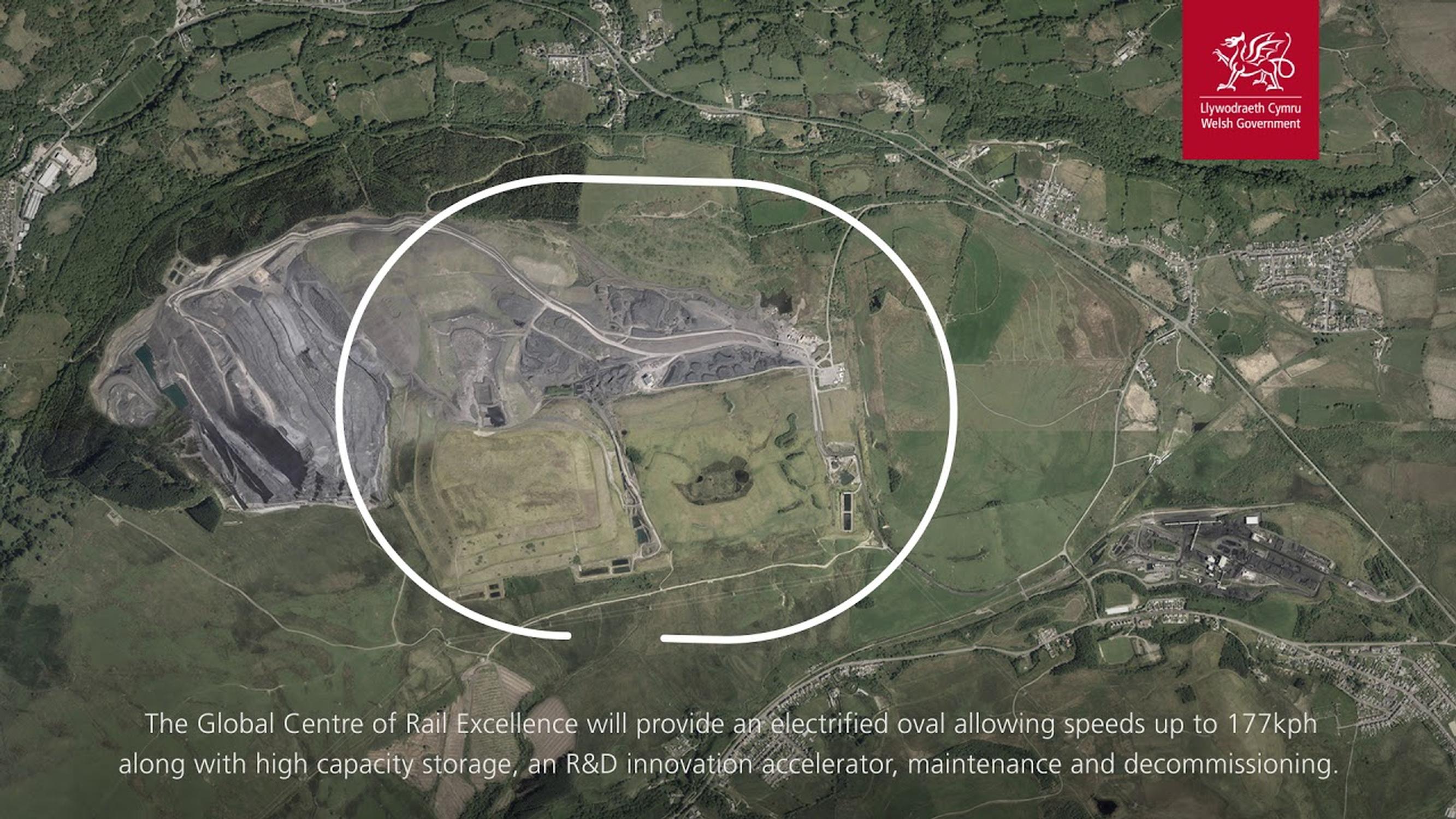 Plans for the construction of a rail testing facility on a former opencast mining site at the head of the Dulais and Tawe Valleys took a step forward with the announcement of £50m Welsh Government support for the delivery of the Global Centre of Rail Excellence (GCRE).
The train, rail infrastructure and technology testing facility, will provide unique capability in the UK and Europe, to support innovation in the UK and international rail industry, including the testing of cutting-edge, green technologies.
The Welsh Government has been working with Neath Port Talbot and Powys Councils to develop proposals for the GCRE, which will be located on the site of Nant Helen Open Cast Mine in Onllwyn, currently operated by Celtic Energy.
In order to deliver the first phase of the project, the Welsh Government has confirmed a £50m capital funding loan to be given to Powys Council. Earlier this month the UK Government pledged up to £30m funding to the pioneering project in the Spring Budget.
A land option deal has been completed for the sites at the Nant Helen surface mine and Onllwyn coal washery, which will see Celtic Energy gift all the land necessary for the project. A formal planning application will also be submitted for a purpose-built railway infrastructure, systems and rolling stock test and validation complex. The facility will act as a driver for accelerated rail industry innovation, investment and growth in Wales, the wider United Kingdom and internationally.
To take the project forward a new GCRE company will be established as the project transitions from a government-led scheme supported by industry to an industry-led one supported by government.
Ken Skates, minister for economy, transport and North Wales, said: "GCRE will be a powerful 'magnet' project bringing a major global industry closer to Wales. It will provide a raft of vital services and wide ranging research, development and innovation platforms to UK and international train manufacturers, network operators, the wider industry, supply chain and academia. It will also provide significant direct benefits to our national operator Transport for Wales.."
A joint venture was established in 2019 between Welsh Government and both Powys and Neath Port Talbot Councils to support project development and delivery. The proposals are the result of collaborative working with partners and extensive engagement and consultation with stakeholders and local communities.