Academic research will help protect London bus drivers
UCL study results will help TfL make buses and workplaces safer
23 March 2021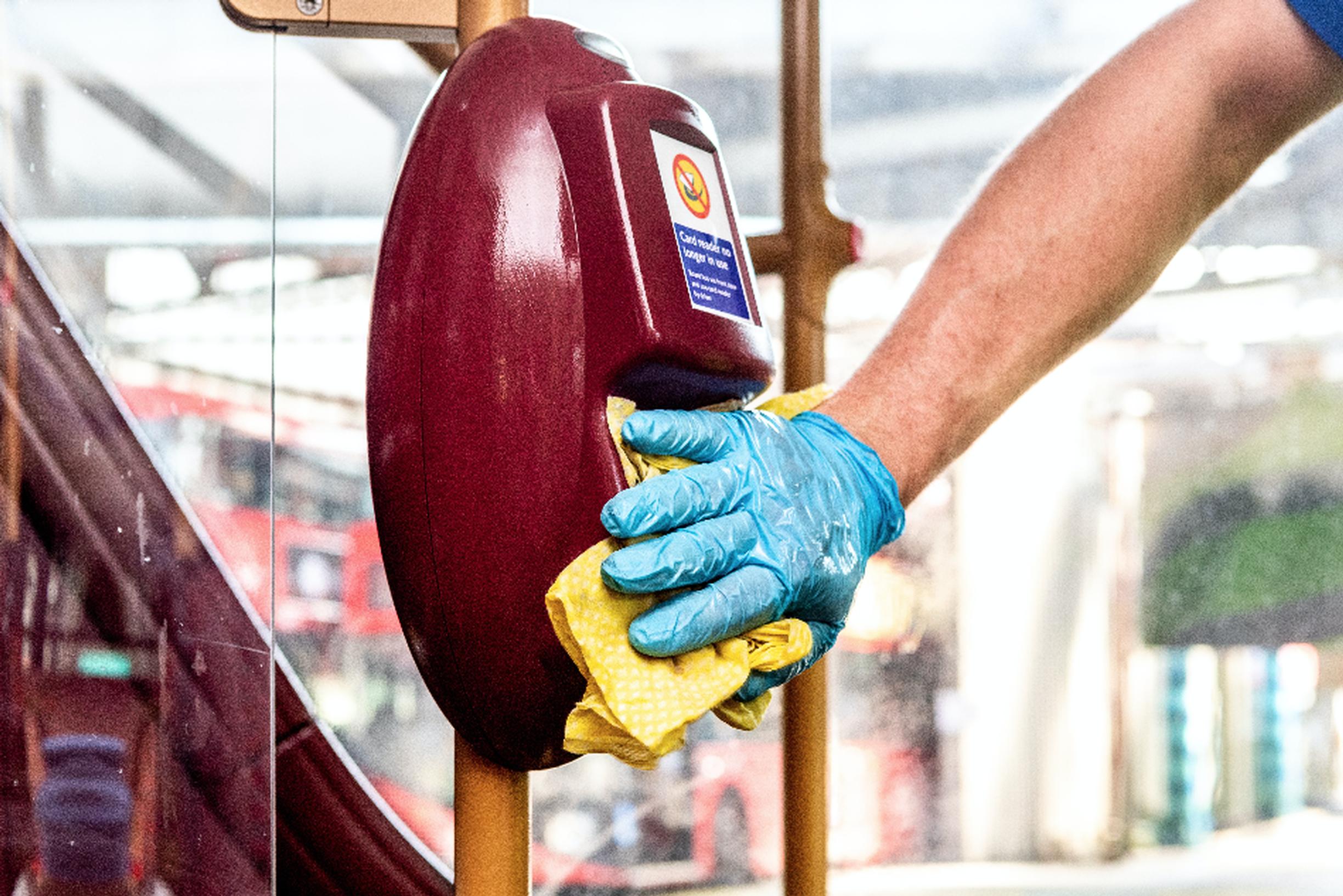 There have been 65 deaths of London bus workers reported as being due to coronavirus, 51 of whom were drivers. Now bus drivers are being protected from the coronavirus as a result of research by University College London's Institute of Health Equity.
The UCL department was commissioned commissioned by Transport for London (TfL) to look at the impact of coronavirus on London bus drivers.
The latest phase of the UCL study covers the deaths of 27 of drivers in the period March to May 2020. The latest work by the Institute of Health Equity takes a fresh look at data from the start of pandemic and surveyed bus drivers on measures to take to protect them.
The latest recommendations include:
Continued adherence and promotion of social distancing and masking wearing in driver facilities
Early interventions on ill-health, particularly to help address the problem of obesity in younger drivers
Continuing to build on TfL's work to address the issue of fatigue amongst bus drivers who experienced coronavirus symptoms
Recognising the need for ongoing financial, clinical and psychological support for drivers with "Long Covid" by government and employers
Clear communication and enforcement of the coronavirus safety measures, such as passengers wearing face covering as the city unlocks and passenger numbers increase
More consistent recording of the ethnicity of bus drivers in line with the NHS
Improving air quality on London's roads after drivers reported issues of ongoing breathing problems after experiencing coronavirus symptoms.
Previous findings by UCL informed changes such as rapidly sealing up the driver's cab across all 9,000 buses in London, which UCL analysis found substantially reduces the risk of drivers contracting coronavirus.
University College London's Institute of Health Equity was commissioned to undertake two phases of research.
The first phase of the report into coronavirus related fatalities amongst London bus drivers, which covered March to May 2020, was published last July. This found that many of these drivers had underlying health conditions and characteristics, such as being from a black and minority ethnic background and lived in areas of deprivation, which contributed to their risk to coronavirus. It showed that the first national lockdown was an effective measure in saving lives, with most of the drivers who passed away in this period having stopped work 10 days either side of 23 March. The study concluded that more lives would have been saved if lockdown had happened earlier.
Protective film to cover communication holes was added to the screens in drivers' cabs in early April 2020, and UCL analysis found this greatly reduces the risk to drivers of contracting coronavirus from passengers. Temporary middle door boarding was introduced in April 2020 to increase the distance between drivers and customers, and to allow for further safety measures to be added to the driver cabs. Analysis by UCL has found that closing up the remaining gaps around the screens to 5mm or less reduced the risk to drivers significantly and enabled the return to front-door boarding along with collaborative work with Unite the Union and bus operators.
Following the recommendations of the first stage of the work by the UCL Institute of Health Equity, TfL has ensured the contingency plans to protect vulnerable drivers are deployed consistently. A "Covid-19 age" risk assessment process has been introduced across the bus operators, identifying more vulnerable drivers with appropriate adjustments to be offered.
Further feedback led to the improvement of ventilation systems on 2,000 buses to ensure fresh air from outside the bus goes into the driver's cab, across the whole bus fleet. Based on the latest evidence from UCL on the benefits of improved fresh air and air movement within the saloon, TfL has started to introduce 'window blocks' on the opening 'hopper' windows across the fleet to improve the airflow. These blocks prevent the windows from fully closing at any time, yet prevent rain from blowing in, and will be rolled out by mid-May 2021.
Since the start of the pandemic, TfL has introduced cleaning with long-lasting anti-viral cleaning fluid and limits on the number of customers onboard buses. Staff facilities have been reconfigured to enable better social distancing and temporary 'portacabin' facilities have been constructed to enable staff to spread out. Throughout the pandemic, TfL and the bus companies have followed Public Health England and Government advice as it has evolved.
A tripartite forum between TfL, Unite the union and the bus operators was established before the pandemic, which helped to develop the Health Bus, an additional occupational health service to bus workers. The service provides a rapid health diagnosis in a format that drivers can access at their work environment free of charge. The assessment measures height, weight, body mass index, body fat percentage, blood pressure, heart rate and hydration level. Lifestyle factors including sleep, smoking, relaxation, home life, work life, stress, diet, alcohol and exercise are also assessed. Following their screening, the occupational health technicians provide each employee with guidance and lifestyle advice
Following an earlier study by the University of Loughborough, all bus companies have needed fatigue risk management systems in place to be given a contract by TfL since August 2020. Fatigue awareness training, which started last year, will be rolled out at pace in the coming months, and the recently launched £500,000 Fatigue Innovation Fund, which bus operators can bid for, will now be broadened to include innovation that could also improve health and wellbeing of bus drivers.
TfL said it would also ensure consistent reporting of ethnicity across the industry that is in line with the NHS.
Enforcement action is also being taken against the selfish minority who refuse to wear face coverings on public transport. Enforcement officers have stopped around 140,000 people from boarding public transport, the vast majority on buses, until they put on a face covering, and fined around 2,000 for refusing to comply. These operations will continue as long as mask wearing on public transport is mandatory. It has also been made easier for drivers to report passengers not wearing masks via a text messaging service on buses, which is then used to target enforcement activity.
Enhanced sick pay is available for those suffering from coronavirus symptoms, or having to self-isolate for up to 14 days because someone in their household has symptoms. This is designed to allow drivers to take the necessary time off without fear of financial implications.
Lilli Matson, TfL's chief health, safety and environment officer, said: "This awful virus has taken much-loved colleagues from us, leaving devastated family and friends behind. It is our duty to do everything humanly possible to keep bus drivers safe in this pandemic. This report helps to reinforce what we are doing and shows where we can redouble our efforts.
"We will work closely with the bus operators to ensure that those suffering or at risk from coronavirus will continue to receive support, with vulnerable drivers having to shield being able to stay at home, with sick pay for those with symptoms and access to a range of services. Further measures to improve ventilation on buses are being introduced, and we are working to drive a more proactive approach to drivers' health and wellbeing.
"In addition, we continue with our strong measures to ensure social distancing and the wearing of face coverings, and with our wider radical work alongside the Mayor to improve London's air quality."
The Mayor of London, Sadiq Khan, said: "Our heroic frontline transport workers have worked tirelessly throughout the immensely challenging past year. We commissioned an independent review into the tragic deaths of bus drivers from coronavirus because we wanted to ensure we were doing everything possible to protect staff. As the son of a bus driver, this is deeply personal to me, and the transport workers who have lost their lives are constantly in my thoughts.
"The second part of UCL's study makes clear that if the Government had announced a national lockdown earlier it would have saved drivers' lives. We know that underlying health conditions and ethnicity were also contributory factors. The drivers' survey has meant we have been able to hear from them directly, and I am pleased that the majority of respondents believe that the measures we introduced early on in the pandemic improved their safety.
"We will continue to do everything we can to keep staff and passengers safe, and from this week we will be further improving air flow onboard by fitting a new part to windows to keep them permanently open. We will also be implementing the report's recommendations in full. This will include working with bus operators to ensure staff receive the best possible support and improved wellbeing advice, ensuring enhanced sick pay continues to be made available for those who are ill or need to self-isolate, and taking tough action against people who refuse to wear face coverings."