Lockdown's walking champions revealed
Living Streets announces Charles Maher Award 2021 shortlist
10 March 2021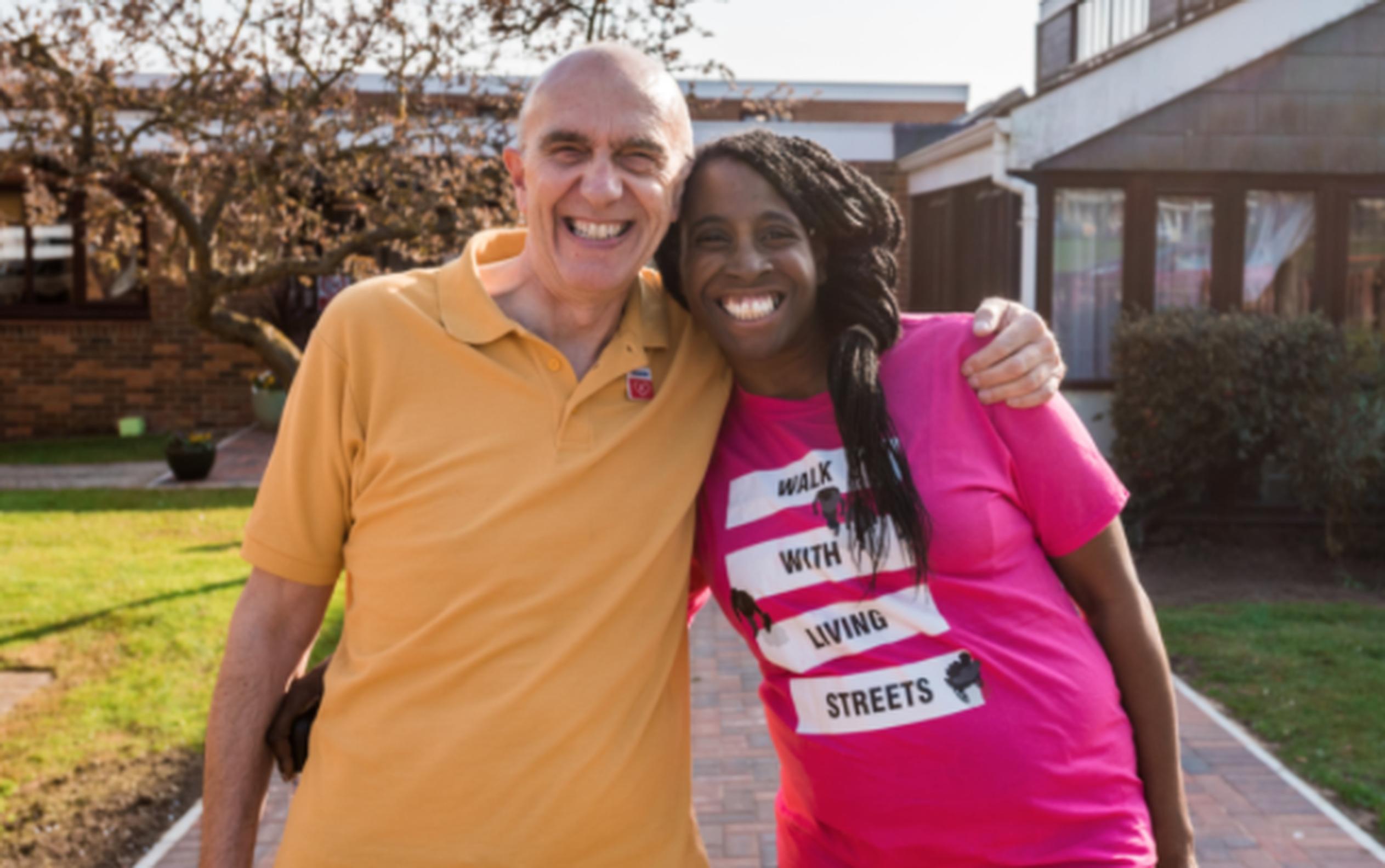 A list of walking champions who have made a real difference during lockdown as been published by Living Streets, the UK charity for everyday walking.
The shortlist for the Charles Maher Award, Walking Champion 2021, includes candidates from East Cheshire, Kent, London, Blackburn with Darwen, Grimsby, Fife and Prestatyn.
After a year that has seen streets improved so people can walk while socially distancing and seen more people walking for exercise, the charity is keen to celebrate the people who made this possible and embraced walking.
The Living Streets Charles Maher Award - Walking Champion 2021 recognises an individual, local group or organisation that has campaigned to benefit people in their local community.
This year saw the charity receive a record number of nominations, which have been shortlisted down to eight. All the candidates have made streets safer and cleaner, promoted inclusion, pioneered low traffic solutions, demonstrated creativity and innovation and used walking to tackle to the pressures of the coronavirus pandemic.
Mary Creagh, chief executive, Living Streets said: "We know there are some dedicated people out there who work tirelessly for their local community to transform their streets into safer and more attractive places. We want to recognise the brilliant work they've done which has helped people to stay healthy, happy and connected during the pandemic."
Members of Living Streets will now vote for their winner, with the award presented at Living Streets' National Walking Summit on 18 March 2021.
Full details and ticket information at livingstreets.org.uk/NationalWalkingSummit

Charles Maher Award 2021 shortlist
Cllr Suzanne Akers-Smith: From 20mph and pavement parking, to fundraising for all manner of active travel, Suzanne, an East Cheshire Councillor, has been irrepressible in her campaigning for walking and cycling in a rather car-dominated area, liaising directly with fellow councillors in her role as Cycling and Walking Champion.
Adrian Berendt: As lead co-ordinator and trainer and mentor for 20's Plenty in Kent, Adrian has almost single-handedly persuaded the county council to adopt 20mph limits as the default in residential areas.
Sarah Berry: Sarah has played a key role campaigning for her local streets in south London. She has championed the local low traffic neighbourhood, led a community-wide project to design 'Road Open' signs, and used social media to bust myths and reach out.
Mustafa Desai: As a Blackburn with Darwen councillor, Mustafa set up Take A Hike programme which seeks to use walking as a way to tackle physical and mental health challenges, at the same time as promoting inclusivity for black, Asian and minority ethnic (BAME) women and connecting with the great outdoors.
Emma Griffin and David Harrison: Emma and David put together Footways London, a brand new network of walking routes across Central London, whose emphasis on walking friendly routes aims to enable people to walk further by identifying the routes and places that are most attractive to walk to and through across an area.
Zane Powles: Zane, a primary school teacher in Grimsby, walked seven and a half miles a day to deliver meals to his pupils, covering 600 miles in the first lockdown, promoting the power of walking while providing a vital service to dozens of families.
David Spence: For the past year, David has been the driving force behind Fife Street Champions volunteer group, which encourages local folk to help clean up local streets and beaches. The Facebook group he set up has gone on to attract over 1,500 members and in 2020 they collected over 10,000 bags of litter.
Malcolm Wilkinson: Malcolm has been driving force behind Prestatyn's many walking achievements over the years, from running the annual Walking Festival, to working with local schools, parents and other groups to incorporate walking into people's daily lives.
The 2020 Charles Maher Award was won by Pauline Johnston from Manchester for her involvement in helping Levenshulme develop the first community led 'Filtered Neighbourhood' for the Bee Network, Cycling and Walking Commissioner Chris Boardman's active travel plan for Greater Manchester.