Surrey's Covid vaccination bus opens its doors
10 March 2021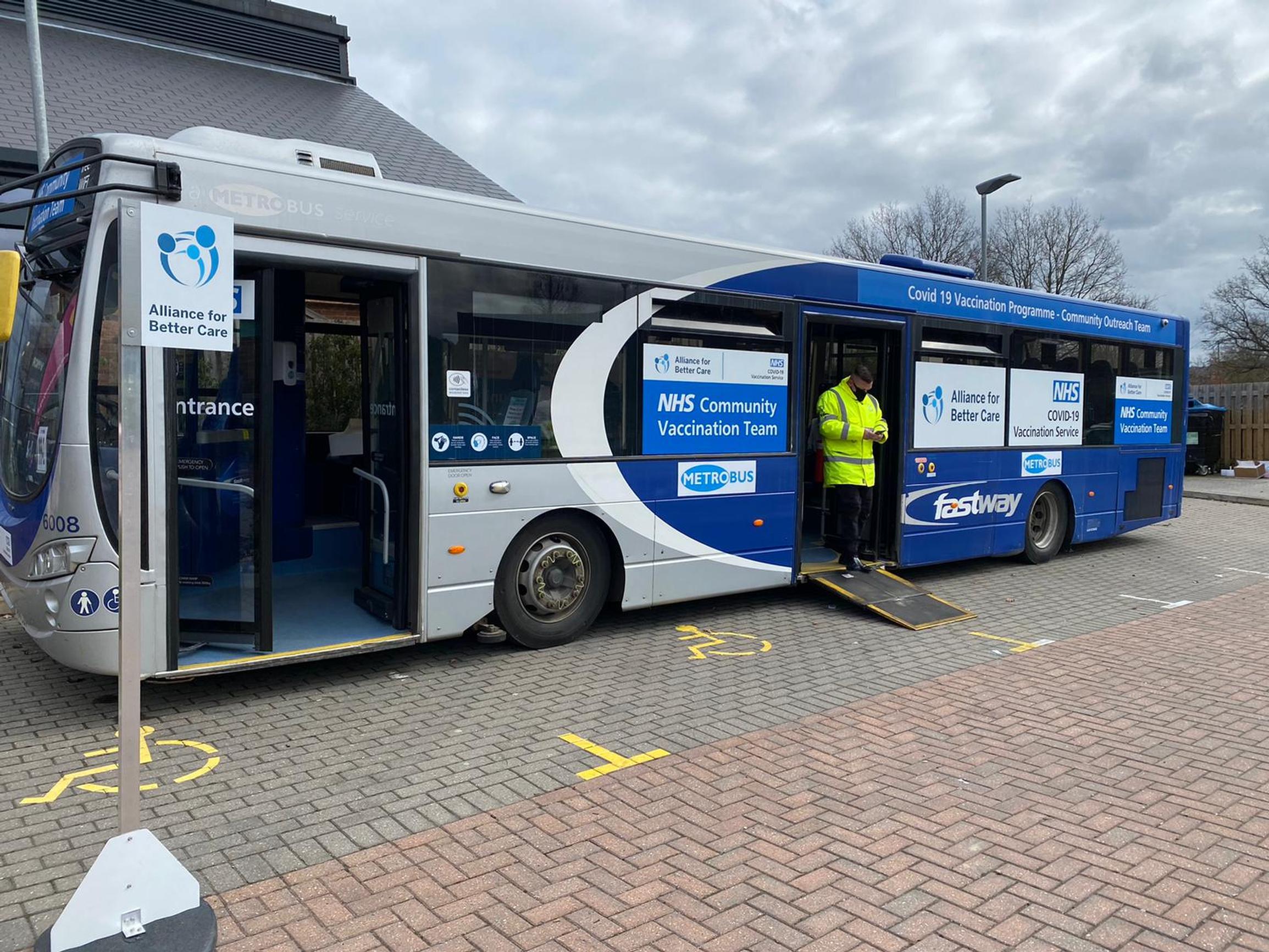 Brighton & Hove and Metrobus mobilised Surrey's first mobile Covid-19 vaccination on 5 March in partnership with the Alliance for Better Care (ABC), which represents GPs.
The vehicle is the second bus where people can come and get their jabs. The original bus began offering vaccinations Crawley last month. The bus company believes this was the UK's first mobile vaccination unit (MVU).
The Surrey bus is based at the Merstham Community Hub and vaccinations are by GP invitation only. The aim is to make it easier to get the vaccine to hard-to-reach and vulnerable communities. It can also help people who have been shielding, who may feel nervous getting their jab in hospital.
The bus was specially adapted by the bus company's engineers, who removed handrails and some seats to create more room for medical staff and their equipment. The in-built one-way system and dual doors provide a self-contained, clean, and safe location for vaccinations.
Brighton & Hove and Metrobus managing director Martin Harris said the bus company had received several enquiries from hospitals, GPs, and bus companies about setting up similar projects in other parts of the country since the arrival of the first vaccination bus in February.
Harris said: "That is what makes this joint project so exciting, because it can go on to benefit other communities in the UK. We are proud to have worked in partnership with the Alliance for Better Care and local councils to roll out the second vaccination bus, which forms part of the great work already done by the NHS Coronavirus vaccination programme."
Lena Abdu, PCN development manager at the Alliance for Better Care, leads the Surrey project. She said: "We are extremely proud to have rolled out a second mobile vaccination unit in the region. The first unit in Crawley was a huge success in broadening the reach of our vaccination programme. Our aim has always been to ensure that every member of our community is afforded access to the vaccine and the bus has become an essential component in doing just that."
Metrobus driver Alyson Care has already used the Sussex vaccination bus twice, taking her autistic son to get his jab in Ifield last month. "The volunteers were friendly and polite and explained what would happen. Everyone was lovely," said Care. "I got a message to get my vaccination and chose the mobile unit again, this time at Bewbush School. The experience at both sites was great and we felt relaxed the whole time."
Metrobus night controller Duncan Rolls also received his vaccine on the bus last month: "The bus was laid out really well. You get on via the front doors, get the vaccination in the wheelchair area and go down the ramp by the exit doors. It was quick, easy and, most of all, it was safe for people who are shielding or have health issues."