Removal of Shoreham cycle lane 'unlawful', says Cycling UK
25 February 2021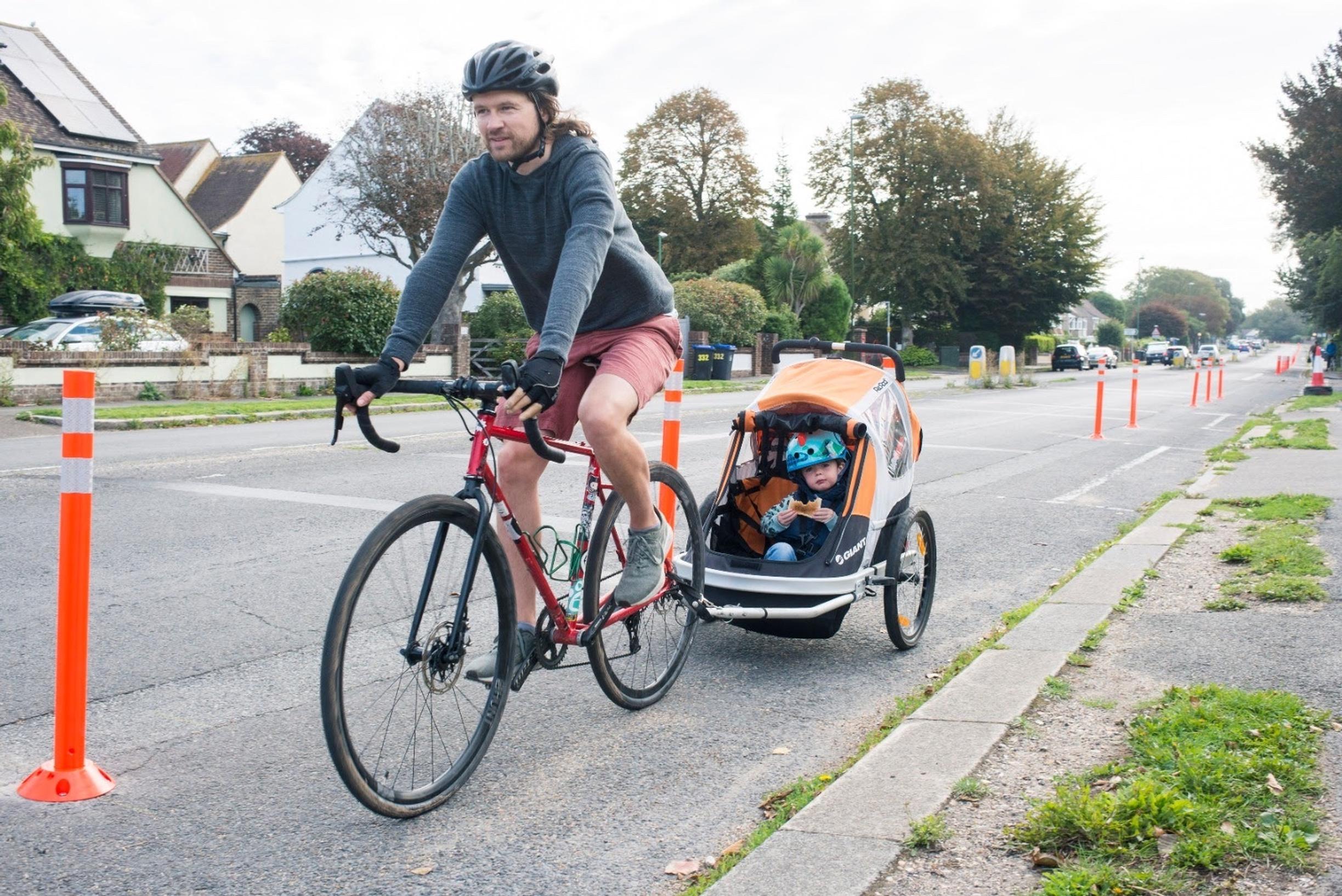 Cycling UK is taking legal action against West Sussex County Council's decision to remove a 'pop-up' cycle lane in Shoreham.
The council failed in its duty to show "due regard to the equalities impacts of its decisions", including the impact on young people, says the charity.
The cycle lane, along Upper Shoreham Road, was one of seven introduced in West Sussex last year with funding from the DfT's Covid-19 Emergency Active Travel Fund. Plastic wands were used to separate the space on the carriageway.
Last November the council decided to scrap all the schemes - in Crawley, East Grinstead, Horsham, Shoreham and Worthing - after receiving a petition of more than 4,000 signatures calling for the lanes to be removed.
The Shoreham scheme, which was officially launched on 25 September and taken out in mid January, was popular with parents and children attending the three nurseries, three primary and two secondary schools close to the cycle lane, says Cycling UK. It was also popular with commuters and residents, according to the charity.
More than 30,000 bike trips were made on the cycle lane, and it even featured in a government publicity video "highlighting the community benefits of the new cycle lanes introduced during the pandemic", the charity points out.
Council monitoring of the pop-up lane, between 25 September and 1 November, revealed that the number of cycle trips almost tripled, said Cycling UK's head of campaigns Duncan Dollimore. He told TransportXtra: "The council's own data showed the Shoreham cycle lane did not have a negative impact on journey times or increase air pollution."
Dollimore says an "arbitrary decision was made to remove the lane" by Roger Elkins, West Sussex County Council's cabinet member for highways and infrastructure.
After making his decision, Cllr Elkins stated on 3 November: "The schemes fulfilled their main objectives of offering people dedicated space to cycle rather than using public transport, or to leave the car at home and use their bike instead. This was in response to the unique set of circumstances during the first national lockdown, including schools and colleges having been closed for months and vastly-reduced public transport capacity.
"The extraordinary environment that led to their installation no longer exists even though we are about to enter into a new national lockdown: schools and colleges are open, traffic volumes have increased and, although public transport capacity is not back to pre-March levels, it is significantly improved."
Dollimore argues that Cllr Elkins' decision "appears to have been based on a small number of complaints about increased congestion", adding that the complaints were "not borne out by the data gathered by the council".
Cllr Elkins decided to remove the lane just five weeks after it was officially launched "without considering the evidence showing the lane's benefits", says Dollimore. This is contrary to statutory guidance and "demonstrates a fundamentally flawed process, which Cycling UK would argue, is both irrational and unlawful".
The charity, which is funding its legal challenge via the Cyclists' Defence Fund, expects a hearing to take place in August or September.
West Sussex County Council's actions could be mirrored by other local authorities "under pressure from vocal minorities resistant to improvements in their community", Cycling UK warns.
A spokesperson for West Sussex County Council told TransportXtra: "We have just been served with legal proceedings in relation to the temporary cycle scheme that was in situ on the Upper Shoreham Road during the autumn/winter 2020/21. We are unable to comment further at this time."
* Last month the DfT awarded the West Sussex County Council £2.3m in Phase 2 of the Active Travel Fund. The council has identified five projects in a summary consultation plan, including a permanent cycleway scheme for Upper Shoreham Road. The scheme, which would cost £250,000, would be for "a high-quality cycleway that meets the new national standard for cycling infrastructure, known as LTN 1/20", said the council.