National Model Design Code consultation launched: includes plans for active travel, LTNs and street hierarchies
Government wants every council will produce a local design code and guide
01 February 2021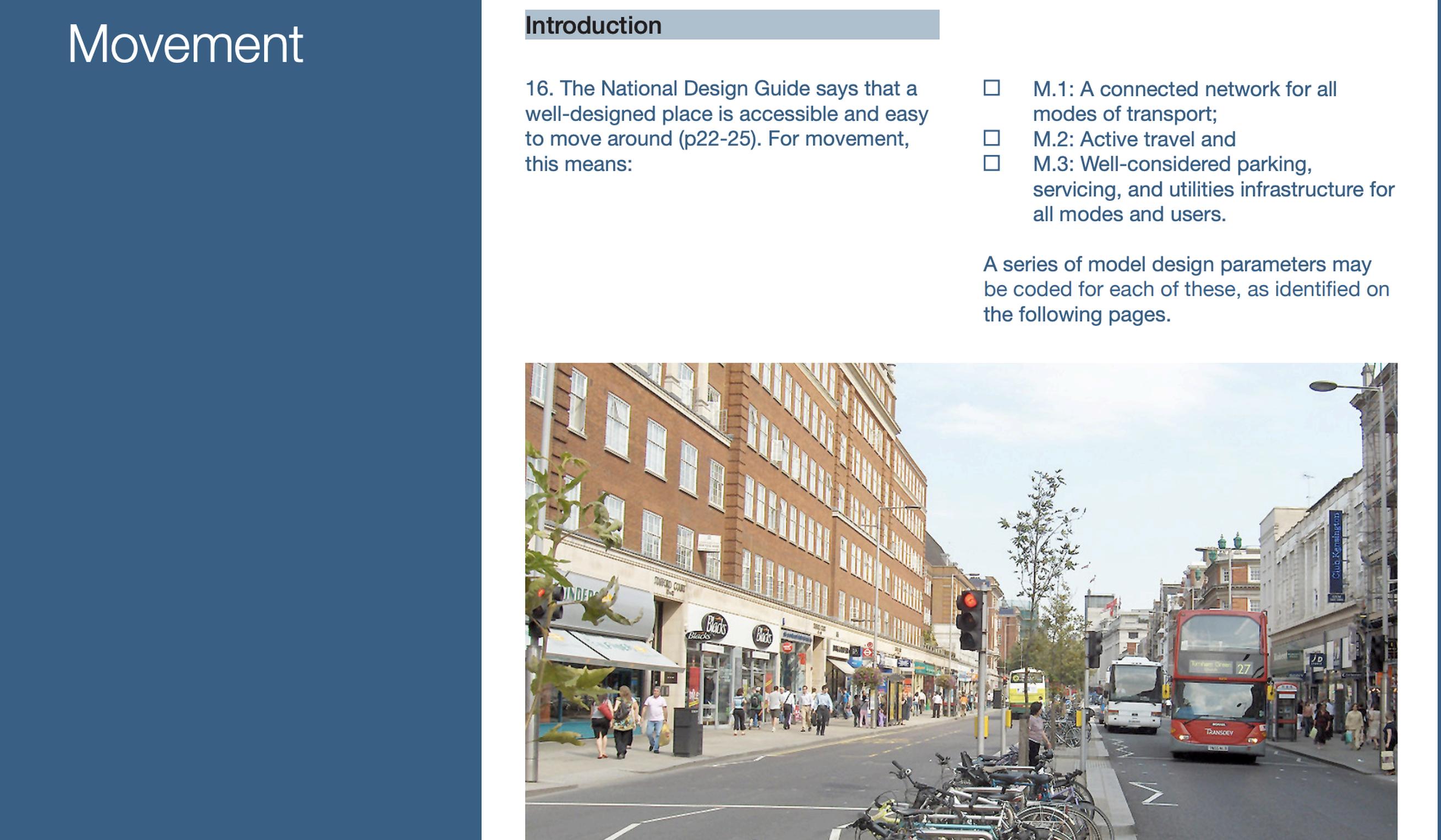 The government has published a draft National Model Design Code that outlines the design standards new developments are expected to meet. This provides a checklist that will guide local councils to create their own, unique, local design code, centred on genuine community involvement so residents have a real say in the design of new developments, embracing the history, culture and heritage of their local area.
The design guidance provided in the consultation documents covers all aspects of movement planning, including active travel, public transport, parking, street hierachies and public transport, along with neighbourhood design and identity.
It is the government's ambition that every council will produce a local design code and guide, to set expectations for beauty and well-designed homes and places in their local area and to give a simple process to local communities so they can have their say.
The government is now inviting expressions of interest from local planning authorities in England to test the National Model Design Code. This consultation seeks views on draft revisions to the National Planning Policy Framework. The text has been revised to implement policy changes in response to the Building Better Building Beautiful Commission Living with Beauty report.
The consultation, open until 27 March, is also seeking views on the draft National Model Design Code, which provides detailed guidance on the production of design codes, guides and policies to promote successful design. MHCLG says: 'We made a commitment to seek views on the National Model Design Code as we expect it to be used to inform the production of local design guides, codes and policies and want to ensure it is as effective as possible.' Expressions of interest are now open for the first councils to sign up.
Following an overwhelmingly positive response to the expressions of interest launched in October 2020, funding has been doubled – to £1.5 million – allowing 22 areas to now be involved in the pilot, instead of the 10 originally announced.
Nicholas Boys Smith, Chair of the Design Body Steering Group, said: 'There is no fundamental reason that prevents the creation of streets and squares, homes as places where we can lead happy, healthy, and connected lives. In these places we can know more of our neighbours and be more joyful as we go about our daily lives. As a society we have not done this, and we are paying the consequences.
'I am delighted that the government is implementing so many of the Building Better Building Beautiful Commission's findings and would like to thank them for their work to undertake this. I am honoured to be asked to chair the transition board of the Interim Office for Place and look forward to our work to help deliver new places and manage existing places to be beautiful, popular, healthy and sustainable.
'Our ultimate purpose will be to make it easier for neighbourhood communities to ask for what they find beautiful and to refuse what they find ugly.'
An interim Office for Place will be established in the department immediately with a transition board chaired by Nicholas Boys Smith, tasked with considering what form the organisation should take, informed by responses to the planning reform consultation.
This team will this year be piloting the National Model Design Code with 20 communities and empowering local authorities to demand beauty, design quality and place-making, through training on the principles outlined in the National Model Design Code.
The government is also relaunching the Community Housing Fund, making £4 million available to help Community Land Trusts (CLTs) bid for funds to support them to prepare bids for the £11.5 billion Affordable Homes Programme. This programme is the largest investment in affordable housing in a decade and will provide up to 180,000 new homes across the country, should economic conditions allow.
This will help to diversify the homebuilding sector, improving design, sustainability and build quality by developing modern methods of construction.
The government is also encouraging communities to nominate historic buildings and other heritage assets such as memorials and plaques for their council's local heritage list – helping to protect the historic buildings and heritage truly valued in their area.
This follows the appointment of Charles O'Brien as the government's Listing Heritage Adviser to help conserve some of England's historic buildings as part of the most ambitious local heritage campaign for 40 years. This is the first time such a post has been created since the 1980s and has echoes of the famous Monuments Men who battled to save historic buildings and artefacts from bulldozers during the Second World War.
Together, these new proposals will make sure that local residents are at the heart of new developments in their community, with beauty, wellbeing and a communal spirit at its centre as we Build Back Better.