Active travel should be accessible travel: impacts of LTNs on disabled people
As the 'new normal' is being shaped, Transport for All asks that those designing our rapidly changing streetscapes commit to making these shared spaces a world-class example of equity, community and harmony
26 January 2021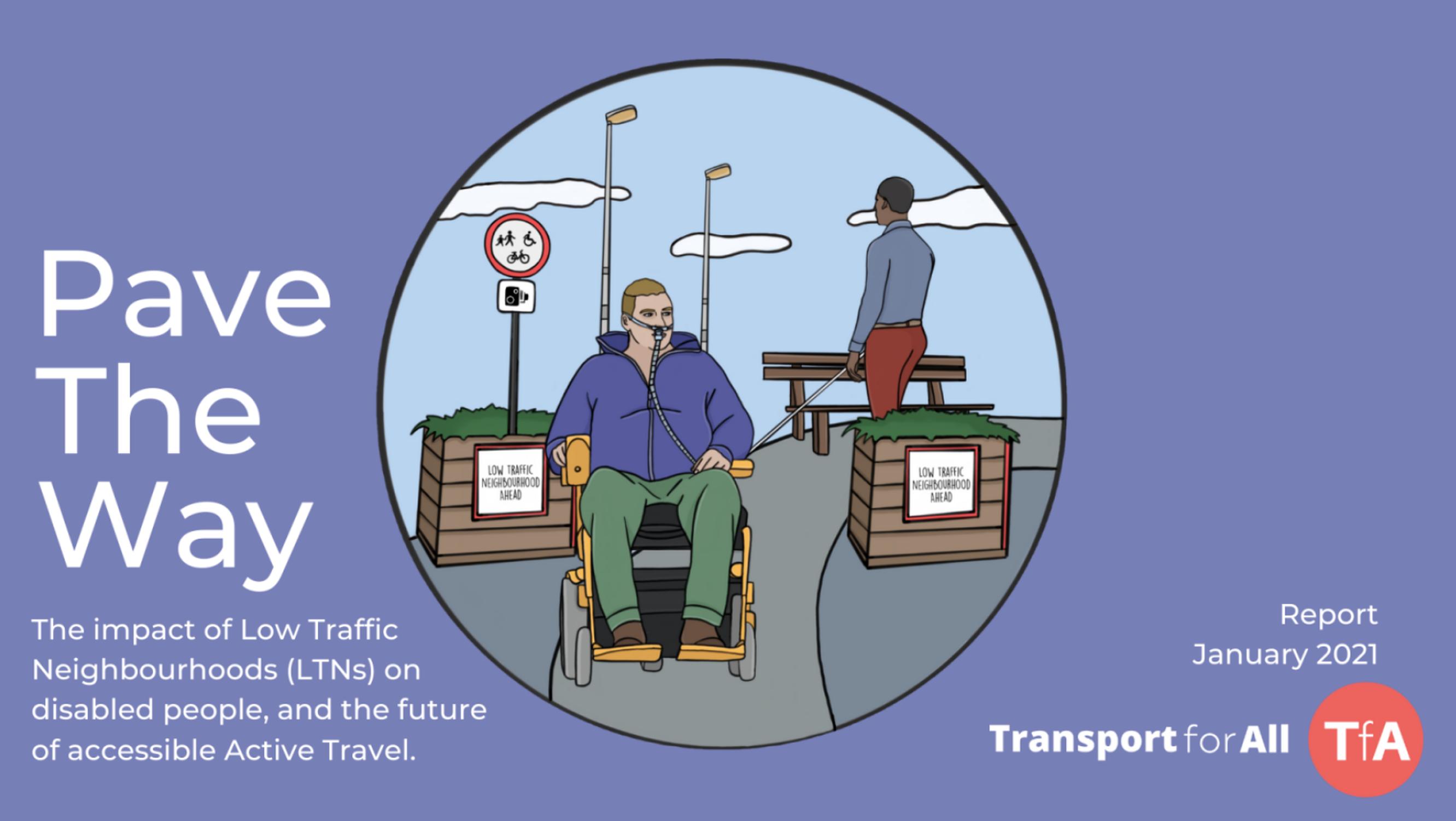 The Pave The Way (PTW) report , recently published, is an independent and in-depth research into how disabled people have been impacted by Low Traffic Neighbourhoods, and the barriers to Active Travel. It has been published by Transport for All.
The report is the product of our past 6 months of in-depth research into the impacts of Low Traffic Neighbourhoods (LTNs) on disabled people. The report will present our findings from the qualitative interviews we've conducted with over 85 disabled participants from across the impairment groups, and will set out the landscape of street design, transport, and the rights of disabled people in the pandemic and beyond.
The interviews have been compelling, enlightening, and at times emotion-filled. Participants have shared their concerns not only with the Low Traffic Neighbourhoods, but with the context that the LTNs sit within: difficult personal circumstances in the time of a global pandemic, wide societal and structural barriers to Active Travel, negative attitudes and stigmatisation of disability, and an increasingly hostile and inaccessible transport system.
Low Traffic Neighbourhoods are a good example of a variable impact: they impact different people in different ways. Some disabled people welcome the changes, others feel negatively impacted. This is the nuance and diversity of opinion that we have set out to capture in our research, and this is what we will be setting out in our report, alongside our suggestions for long-term solutions and drivers for systemic change.
Background
Transport for All says: We are concerned about the pace of change of our streetscapes and the impact on disabled people. By 'streetscapes' we mean all the shared space that you walk, wheel, push, drive or cycle in – spaces that are seeing huge changes that impact accessibility including: widened pavements, low traffic zones, street clutter, and the introduction of e-scooters.
We fully support the fight for climate justice and understand the importance of introducing environmental initiatives that promote Active Travel, particularly in light of the recent COVID-19 pandemic. However, we maintain that environmental initiatives must not negatively impact disabled people.