Crackdown on dangerous HGVs in capital to start on 1 March
20 January 2021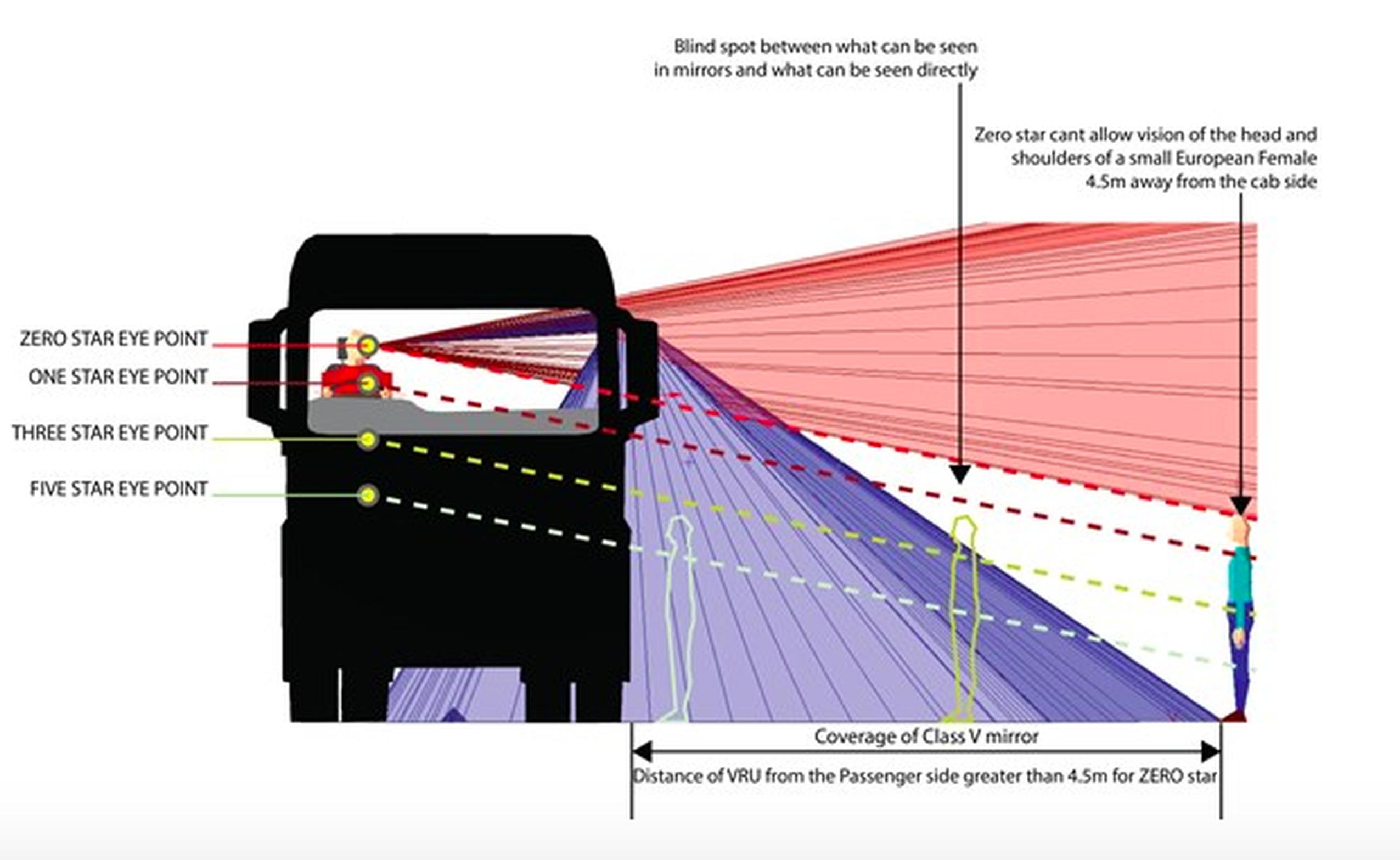 Heavy goods vehicle (HGV) owners will not be able to operate in Greater London from 1 March unless they comply with the Direct Vision Standard designed to reduce lethal blind spots. Transport for London (TfL) said the permit system will assign vehicles a star rating based on how much the driver can see directly through their cab window.
All HGVs over 12 tonnes must meet a minimum one-star rating or will need to fit Safe System measures to improve the vehicle's safety. From 1 March HGV drivers who enter the capital without a safety permit may receive a penalty charge notice (PCN) of up to £550 (reduced to £275 if paid within 14 days).
So far, more than 50,000 safety permits have been issued. "However, there remain many thousands of HGVs on London's roads whose operators have not yet applied for a required free safety permit," said TfL. "HGV owners are advised to check TfL's online vehicle registration checker to see the star rating of their HGV and apply for a safety permit urgently if they have not already done so."
Between 2018 and 2020, HGVs were involved in 41% of collisions where people cycling were killed and 19% of collisions where a pedestrian was killed, TfL said.
On average, HGVs were involved in 15% of all road deaths over that period, despite making up just 3% of vehicle traffic in London. "This means that HGVs are five times more likely to be involved in a collision resulting in a fatality, relative to their share of traffic," said TfL.
TfL said it delayed enforcement of the Direct Vision Standard by more than four months in response to the challenges faced by the freight industry due to Covid-19 and Brexit.
Operators who have applied before 1 March, or are in the process of having the Safe System equipment fitted but have not yet received their Safety Permit, will be added to an "allow list" of vehicles. This will prevent them from incurring PCNs for up to 90 days from the enforcement date. The new system will require operators to provide details of their applications or planned safety system component installation, where applicable.
The introduction of the Direct Vision Standard forms part of the Mayor of London's Vision Zero plan to eliminate all deaths and serious injuries on London's transport network by 2041.
A tighter Low Emission Zone (LEZ) standard will also come into force on 1 March. Current LEZ emissions standards set a limit for how much particulate matter (PM) a vehicle may emit. From March there will also be a limit for nitrogen oxides (NOx) for some vehicles, in line with requirements for the central London Ultra Low Emission Zone (ULEZ). Heavy vehicles including lorries, buses, coaches and specialist vehicles will need to meet Euro VI (NOx and PM) emissions standards or pay a daily charge to drive within the Greater London area.
Will Norman, London's walking and cycling commissioner, said: "With record numbers of Londoners walking and cycling as a result of the pandemic, it's vital that we do all we can to protect them. I urge all HGV operators to apply for their safety permits as soon as possible as there are now less than two months to go until enforcement begins."
Christina Calderato, TfL's head of transport strategy and planning, said: "We've worked closely with manufacturers, operators and stakeholders – including RoadPeace and Living Streets – to develop our new lorry safety scheme, which we're proud to say is the first of its kind.
"We understand that the freight industry has been exceptionally busy during the coronavirus pandemic and as a result we delayed enforcement of the Direct Vision Standard and LEZ until 1 March, giving HGV operators more time to improve the safety and emissions of their vehicles. We have also streamlined our permit system to offer more support to operators who apply by the deadline."
Natalie Chapman, head of policy – South at Logistics UK, said: "The safety of all London's road users is of prime importance to Logistics UK and we welcome the flexibility and certainty that today's announcement provides. Our members have rolling programmes of safe system retrofit for their existing fleet as well as orders in place for new compliant vehicles, but these schedules are currently being disrupted due to ongoing challenges with the Covid pandemic.
"The creation of an 'allow list' by the Mayor's office and Transport for London (TfL) is welcome news for businesses as they adopt new vehicles or change the specification of their fleets. In addition, it is encouraging to see they have noted the need for improvements in the permit system to speed up processing of applications. Logistics UK will be working closely with TfL to clarify how the "allow list" will work in practice and what fleet operators need to implement, as well as pressing for quicker turnaround times of permit applications."
Richard Burnett, chief executive of the Road Haulage Assocation (RHA), said: "The RHA is totally committed to road safety, but hauliers have faced multiple and significant challenges to ensure compliance with the Direct Vision Standard. The supply chain disruption caused by Brexit meant that operators have faced difficulties sourcing the required safety equipment.
"In addition, Covid-19 has meant that the technicians needed to install the equipment are either furloughed or complying with Covid-19 travel restrictions.
"Whilst there are still some points to clarify regarding how operators can qualify for the "allow list", we are pleased that TfL has listened to us and put in place an initial grace period of 90 days to allow hauliers more time to comply."