TfL firms up Streatham Hill walking and cycling measures
20 January 2021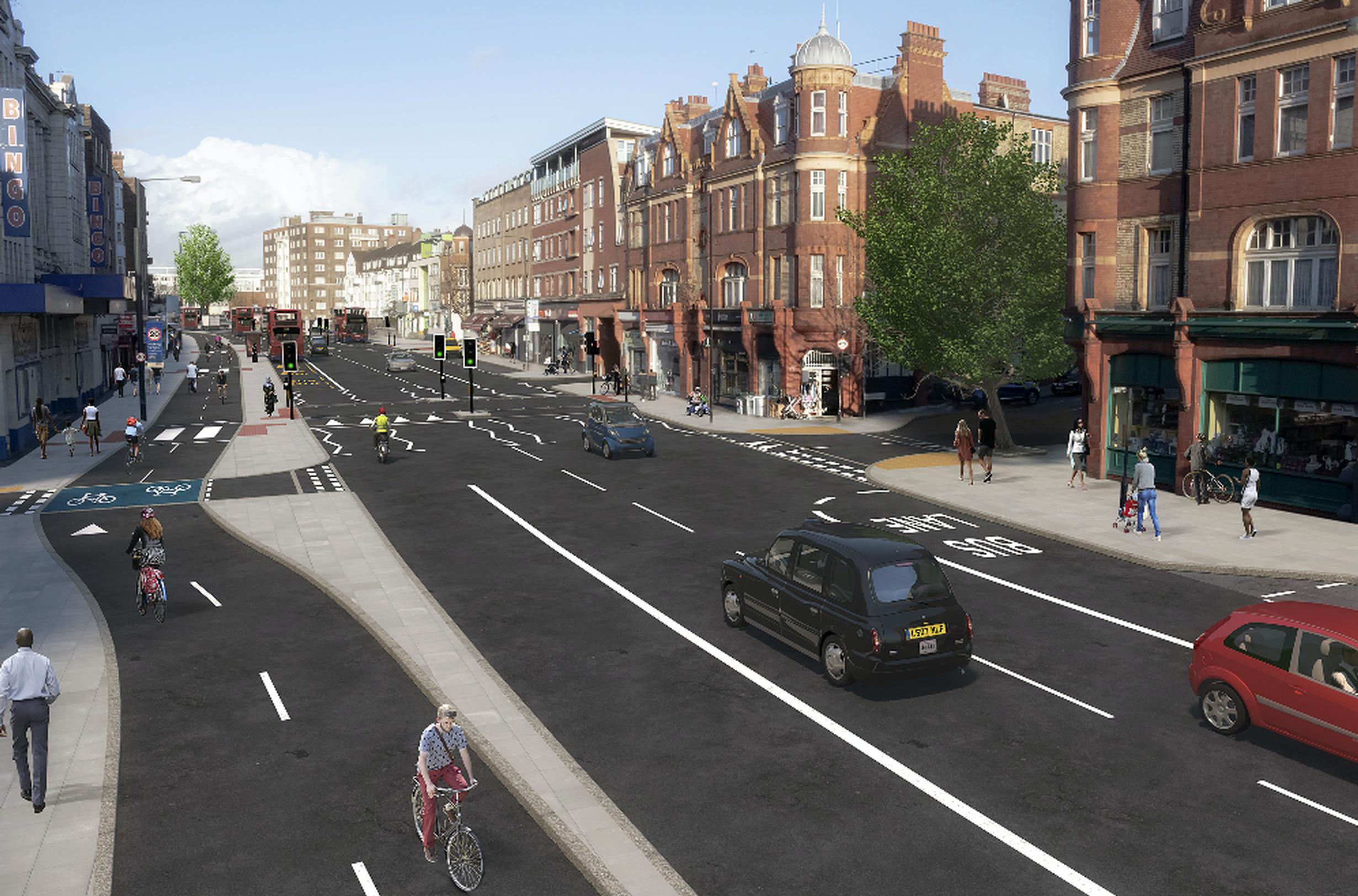 Transport for London (TfL) is making permanent measures designed to make roads in?Streatham, south London, safer for walking and cycling.
The scheme complements measures that TfL and Lambeth Council are implementing across the borough as part of the Mayor's of London's Streetspace programme, which enables safer walking and cycling during the coronavirus pandemic.
The results of a TfL consultation into the scheme show that 83% of respondents agreed that the proposals would make people feel safer cycling through the area, with 70% saying the same about walking.
Ensuring that people feel safe when walking and cycling is absolutely vital to enable more people to reduce their reliance on cars and switch journeys to more sustainable modes wherever possible.
The changes proposed for Streatham Hill, which TfL will now start detailed design work on, include:
Nearly 2km of new, high quality segregated cycle lanes between Sternhold Avenue and Holmewood Road, making cycling much easier and safer on this busy stretch of road

New pedestrian crossings and the relocation of existing crossings, making sure that people can cross safely at the most convenient locations

Changes to side road entry and exit rules to reduce rat running on local roads

Improvements to make the local area more attractive for everyone, including by planting new trees and improving landscaping in the area.
TfL listened to feedback from people responding to the consultation and made changes to the scheme to improve it, including increasing the amount of tree planting and making other changes to side road access to further reduce rat running in the area. TfL said it would now work to finalise its designs for these changes to local roads andwill look to start construction work early next year.
Will Norman, London's walking and cycling commissioner, said: "We are doing all we can to support the increased numbers of Londoners who are walking and cycling and help prevent a damaging car-led recovery from the pandemic. Permanent road changes, such as the transformation of Streatham Hill, are key to this and it is positive that so many respondents to the consultation said it would make them feel safer on bike and on foot. Temporary improvements also play an important role as the success of our local Streetspace measures shows. We will continue to work closely with Lambeth Council to further support walking and cycling as the detailed design work for the A23 is completed."
Penny Rees, TfL's head of healthy streets investment and delivery, said: "The busy A23 route through Streatham Hill has long been a hostile and intimidating environment for people walking and cycling, which is why making these changes is so important to enable more people to get around by bike and on foot. These planned measures will make roads much safer and more attractive to people living, shopping and travelling in the area."
TfL has also been working with Lambeth Council to support more walking and cycling throughout the coronavirus pandemic as part of its emergency response to the crisis. They are developing plans for a Streetspace cycling corridor between Oval and Streatham that will enable more cycle journeys in neighbourhoods across southwest London, connecting even more people to the capital's growing cycling network. TfL continues to work on final designs for the scheme and is planning to start work on the changes in early spring.
Cllr Claire Holland, deputy leader of Lambeth Council, said: "We know that many groups in society are underrepresented when it comes to using a cycle to get around and we know that the main barriers are accessibility and danger, real or perceived. Only by delivering transformational main road schemes like this one, together with area-wide low traffic neighbourhoods on our local streets, can we make Lambeth into a borough whereby everyone has access to affordable and safe mobility options."
A total of 32 Streetspace schemes have been delivered by Lambeth Council, which has set out a strategy for monitoring these schemes to ensure they are successful. Early indications from independent analysis commissioned by Lambeth Council on a Low Traffic Neighbourhood (LTN) on Railton Road shows an overall reduction in traffic of 27% across the area, with a 50% increase in the number of cycle journeys on Railton Road itself.
Upgrades to the CS7 route through the borough have also made cycling safer and easier for people making essential journeys or exercising by bike. Monitoring in Colliers Wood further south along the upgraded route has shown that the number of cyclists has increased by 35% during the week, and 150% at the weekend.