DfT announces £175m funding for active travel schemes
All English authorities to get money for new walking and cycling infrastructure
13 November 2020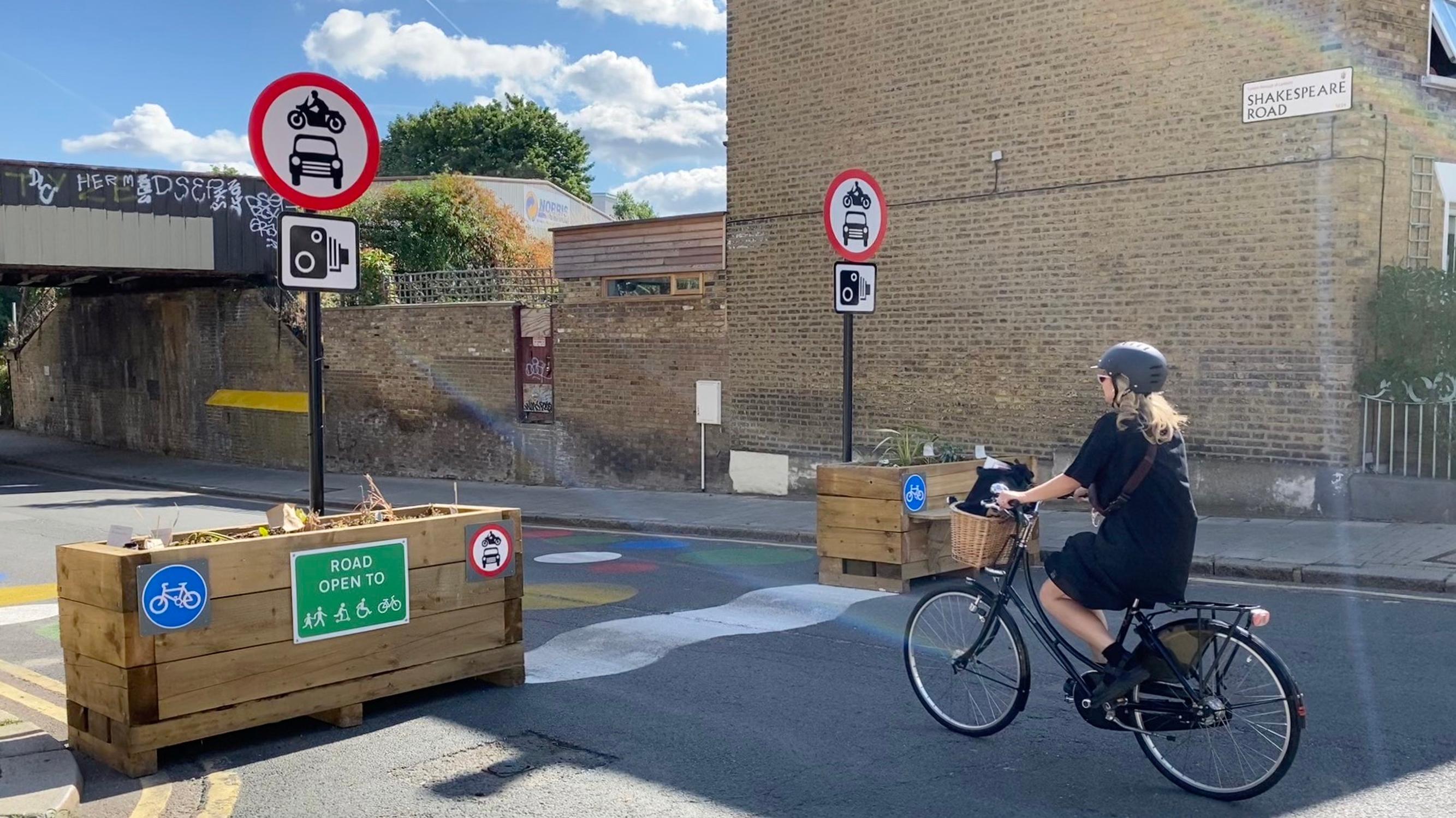 Councils across England will get a share of £175m funding towards schemes that create 'high-quality' walking and cycling infrastructure, the DfT announced today.
This marks the second tranche of emergency funding launched in May to support the installation of temporary projects in response to COVID-19. Tranche two will focus on longer-term projects.
There will be greater emphasis on thorough consultations, said Transport secretary Grant Shapps. This follows public opposition to some measures introduced during the first tranche of funding, which resulted in authorities such as Wandsworth and Redbridge scrapping Low Traffic Neighbourhood (LTN) trials.
Shapps said that if councils failed to "show evidence of appropriate consultation prior to schemes" future funding allocations would be reduced and "clawbacks" could be imposed.
A total of £225m has been allocated to the Active Travel Fund, with £42m spent in the first tranche and £175m awarded for the tranche two. Cycle maintenance schemes such as the Fix Your Bike vouchers will get £25m.
All transport authorities or combined authorities in England will get a share of the Active Travel Fund. TfL and London boroughs will get £20m in tranche two money. See the final breakdown of allocations here.
Low Traffic Neighbourhoods
The money will fund measures such as: School Streets, where streets around schools are closed to motorists at school times; Low Traffic Neighbourhoods (LTNs), which closes residential side streets to through traffic; segregated cycle lanes; and pedestrian improvements.
TransportXtra asked the DfT why the Emergency Active Travel Fund (EATF) has been renamed the Active Travel Fund. A spokeswoman replied: "The world has moved on since May when the EATF was announced. The emphasis has shifted to high-quality schemes, rather than schemes delivered at pace."
Proper consultation was essential to the success of a scheme, she said. "Authorities will have to confirm that they have consulted all appropriate local stakeholders, including businesses, emergency services, and local MPs," she told TransportXtra.
"Most of the complaints were because insufficient consultation had taken place prior to schemes being introduced. Many local authorities implemented schemes as trials, meaning they are consulting on them in parallel with implementation."
Authorities will also have to submit monitoring reports on the implementation of schemes 6 to 12 months after they begin. "The DfT will be providing detailed monitoring and evaluation guidance, including for undertaking public opinion surveys," said the spokeswoman. "The department will also continue to engage with local stakeholders and MPs to gauge effectiveness of consultation and delivery arrangements. The department will also want authorities to report on the impacts schemes have had, including on local businesses."
Pop-up to permanent
The DfT referred to a survey by Kantar Media last month, which revealed that 65% of people across England support reallocating road space to cycling and walking in their local area. Nearly eight out of ten people (78%) support measures to reduce road traffic in their neighbourhood.
In London, independent polling by Redfield & Winton shows 19% of people oppose LTNs, 52% support them, and 25% are neutral.
Evaluation of School Streets projects has shown traffic outside schools has reduced on average by 68%, children cycling to school has increased by 51%, and harmful vehicle pollution outside schools is down by almost three-quarters, said the DfT.
Transport Secretary Grant Shapps said: "It has been great to see so many people build cycling and walking into their daily travel habits. To support them, we know it's vital to have the right infrastructure in place so everyone – cyclists, pedestrians and motorists – can use our roads.
"Whether you're walking, cycling, driving or using public transport, people must have the space they need to get around safely."
Greater Manchester's Cycling and Walking Commissioner Chris Boardman said: "I wholeheartedly support the government's continued funding of this crucial work. The emphasis on more consultation is welcome too, so that we can ensure the best solutions are put in the right locations. If we get this right, many of these pop-up routes and Low Traffic Neighbourhoods will become a permanent and valued part of people's daily lives. The industrial revolution started in Great Britain, now we should lead the green revolution."
Challenging 'urban myths'
The announcement of further funding has been welcomed by the Walking and Cycling Alliance, comprising the Bicycle Association, British Cycling, Cycling UK, Living Streets, Sustrans and the Ramblers.
The alliance has published a report - The Urgent Case for More Walking and Cycling in the UK - which calls for the roll-out of Low Traffic Neighbourhoods (LTNs). The report includes case studies that, says the alliance, challenge the "urban myths" that have emerged about LTN schemes.
Speaking on behalf of the Walking and Cycling Alliance, Mary Creagh, chief executive at walking charity Living Streets said: "Everyone should feel safe to walk, cycle, wheel or scoot on our streets, but that is not the case in too many towns and cities. Across the country, there is a silent majority in favour of more people-friendly streets, but all too often their voices are drowned out by a vocal minority.
"It's vital more people start walking and cycling for local journeys, to reduce congestion, improve air quality and tackle the twin epidemics of loneliness and obesity. We hope this report will support councillors to build back better after the pandemic."
Daisy Narayanan, Director of Urbanism at walking and cycling charity Sustrans, said: "The COVID-19 crisis created a need to change the way we move around in our towns and cities, with walking and cycling being seen as one of the safest modes of transport during the pandemic.
"This urgency to designate more space for walking and cycling has naturally created opposition as change can be difficult for people, especially during a time of crisis."
However, the majority support active travel, said Narayanan, referring to a YouGov poll carried out for Sustrans that showed 71% of UK parents agree that local authorities should take steps to make it easier for families to travel actively to school.
"Local authorities therefore need to continue to make it easier for people to walk and cycle and the tranche 2 funding is a huge opportunity to progress the work that has already begun and create safer, healthier and truly inclusive streets and places. This is also a vital part of the solution to meet governmental climate change targets."
Alongside the DfT's announcement of tranche 2 funding, the Active Travel Suppliers Directory is published today by Landor LINKS. Download your free copy now.