Bike theft spike in Waltham Forest during lockdown
01 October 2020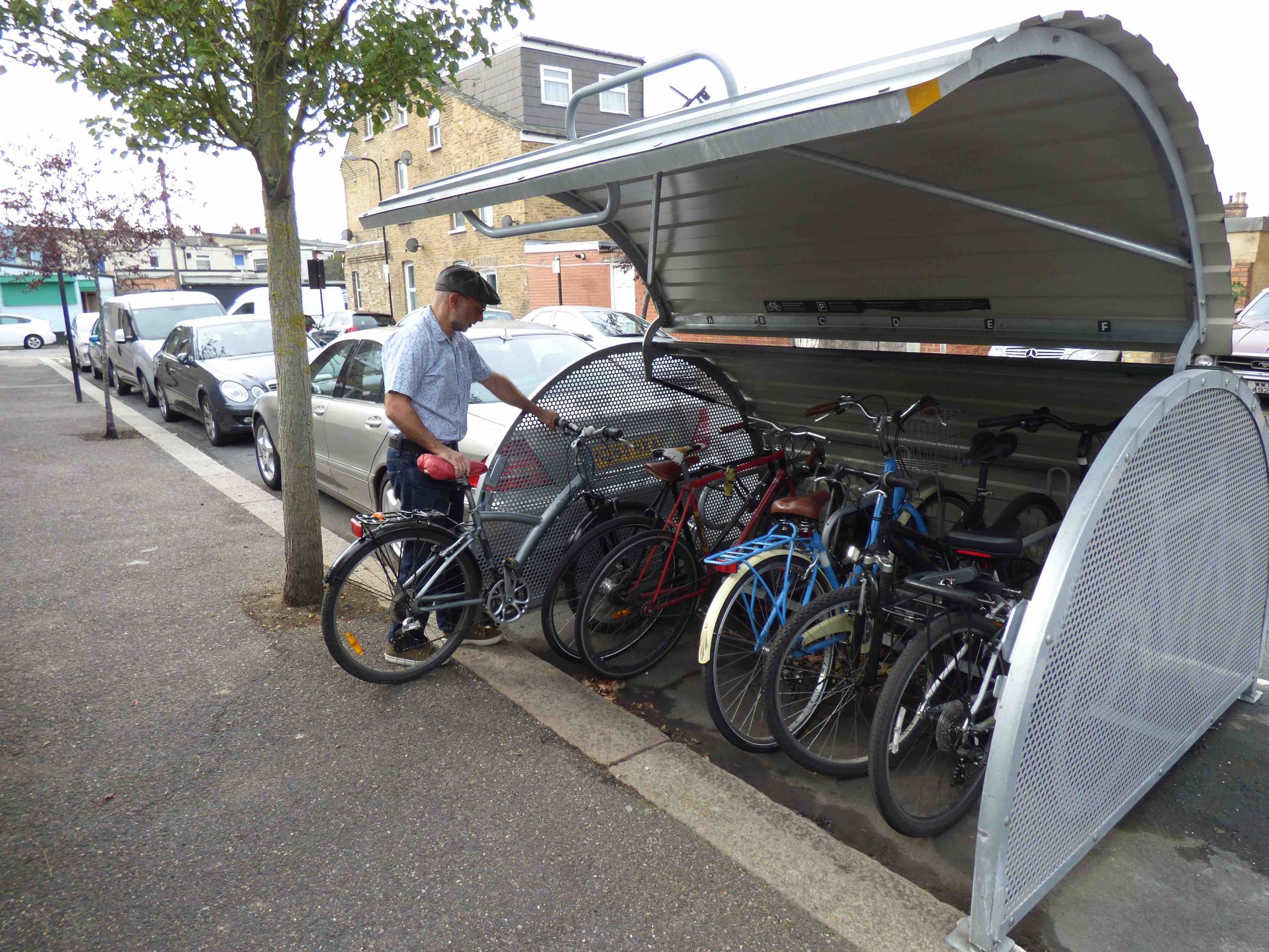 Thefts from Bikehangars in the London Borough of Waltham Forest rose sharply during lockdown, new figures from the council have revealed. Between March and June the north-east London authority received reports of 45 break-ins or attempted break-ins of Bikehangars. This is higher than the same period last year, a council spokeswoman told TransportXtra. Thieves "are primarily targeting those bikes with lower-quality, less robust locks", she said.
The council and the police have "seen evidence and received reports from residents suggesting that angle-grinders are being used in some instances", said the spokeswoman.
Gangs appear to be specifically targetting Bikehangars in Waltham Forest. The council is working with Cyclehoop and the police "to better understand any patterns or trends with the incidents that have taken place".
Asked why thefts have gone up, the spokeswoman replied, "we're not able to speculate on this".
All Bikehangars in the borough have now been fitted with a "lock shield", resulting in fewer thefts – there were nine reported break-ins and attempted break-ins between June and September, according to the council.
The number of Cyclehoop Bikehangars in Waltham Forest has steadily grown over the past six years, now standing at nearly 500.
Each Bikehangar, which can store six cycles, is 2.5 metres in length, taking up half a car parking space.
Clyde Loakes, Waltham Forest's deputy leader and cabinet member for the environment, told TransportXtra: "We're passionate about making sure that our residents can use our cycle parking options safely and without the threat of crime. We continuously monitor the situation with our partners in Cyclehoop, making sure we have the most up to date and robust security technology to make sure we deter thieves as much as we can.
"We do urge all Bikehangar users to make sure they follow safety advice, such as using two different locks including a heavy duty lock, and registering your bike to make it easier to find if it is stolen. We will continue to monitor this situation regularly and urge residents who experience cycle theft to report it to the police."
Loakes said that demand for Bikehangar spaces in Waltham Forest went up 25% during lockdown, with nearly 4,000 people now on the waiting list.
Organised gangs
Cyclehoop's managing director Anthony Lau told TransportXtra: "We are incredibly disappointed to see bicycle theft spike so dramatically at a time when this healthy and safe transport form is needed the most. Our design engineers will continue to innovate and combat theft because Bikehangars are an incredibly important piece of cycle infrastructure for the vast number of people living in homes that lack any form of cycle storage space."
Lau notes that other London boroughs with a similar number of Bikehangars to Waltham Forest, such as Lambeth, have not suffered as many break-ins and thefts.
"I can only speculate it was being carried out by organised gangs that are based in the areas as we have not seen the break-ins spread significantly elsewhere."
Since their launch in 2013, Bikehangars have been installed in several towns and cities, and there are now more than 2,300 across the UK. Lau said he has noticed changes in the behaviour of thieves since the launch of Bikehangar Version 1.0. "Thieves are equipping themselves with more sophisticated tools and taking greater risks. Since lockdown, the bicycle theft rate is reported to have doubled compared with the same time last year. Lockdown has made cycles more valuable and harder to access, with considerably less parked on the street. Instead, thieves are said to be targeting sheds, garages and homes."
Most older model Bikehangars can be upgraded "to better protect against the current context thanks to the additional security features we design".
Cyclehoop is developing the Bikehangar Version 3.0, which is set to become the first Gold Sold Secure rated cycle shed in the UK. Experts at Sold Secure, which is a testing and certification house for security products, "were impressed with the quality and sturdiness of the Bikehangar, which is a credit to our UK manufacturing and in-house assembly", said Lau.
Top tips to improve bike security
The London Borough of Waltham Forest says the following steps will help residents keep their bikes secure:
Use a heavy-duty D-lock that is ideally Sold Secure rated. Buy a lock that costs a third of the value of your bicycle.
Use two different high-quality locks. This would make it more awkward for thieves as they would have to use different types of tools to remove them. The council recommends a heavy-duty D lock and a robust chain or cable
Lock both the frame and wheels to the cycle parking
Secure your bike as close to the stand as possible. Your bike needs to be difficult to manoeuvre with no leverage points for thieves
Take any quick release parts with you e.g. quick-release saddles and wheels
Remove your lights
Register your bike. The sticker will put thieves off. It will also make it easier to find, should it get stolen.