Low Traffic Neighbourhood connects Newham and Waltham Forest
06 August 2020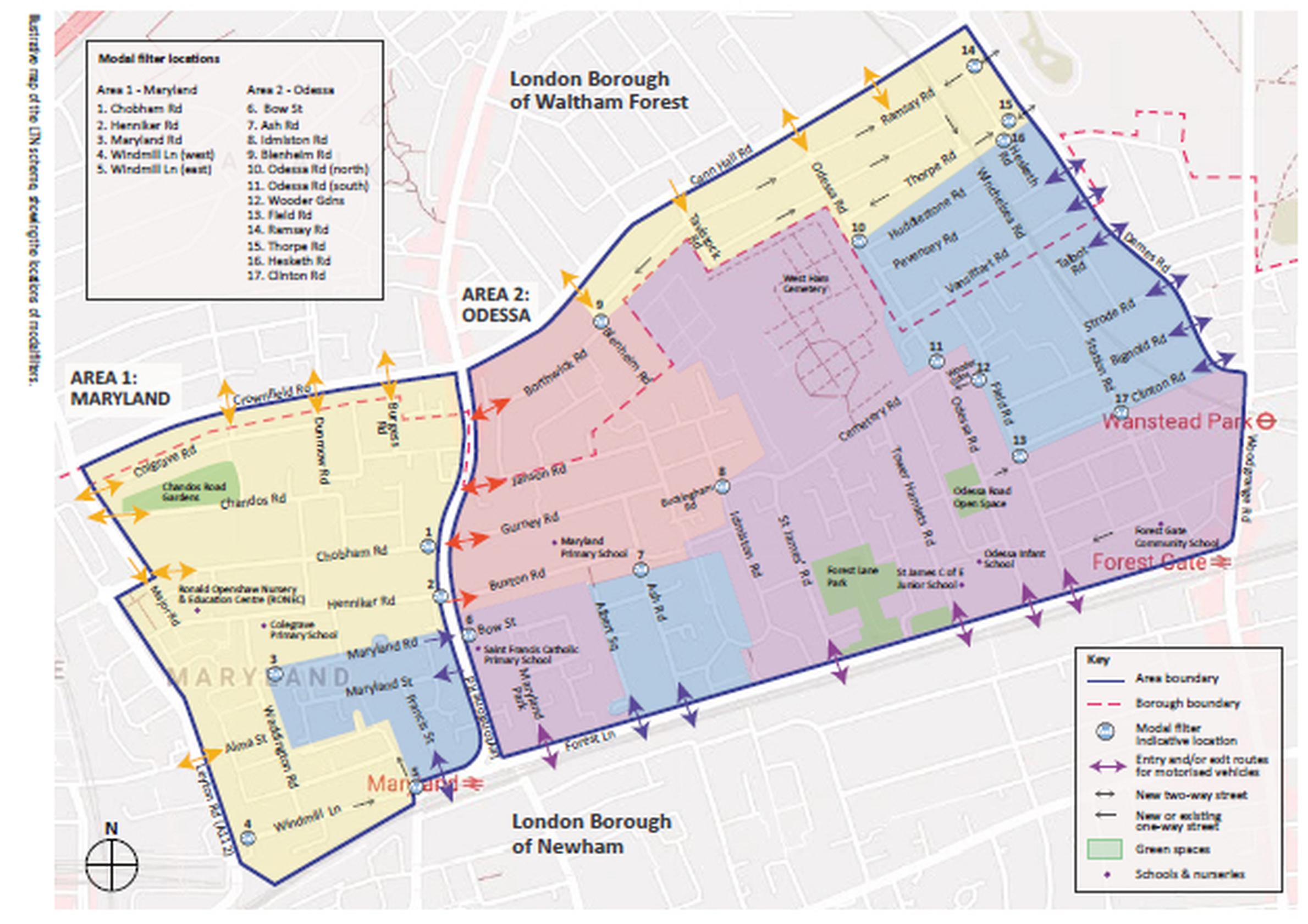 Newham and Waltham are to start work next week on the capital's first cross-borough Low Traffic Neighbourhood (LTN). This will involve 17 modal filters, with through roads closed to motorised traffic but not to cyclists.
Construction work on the experimental modal filters will start next week, with each area due to be completed within a two-week period. The filters will remain in place for six to 18 months. During this time, the councils will gather local feedback, consult stakeholders, and collect traffic data to help determine whether the scheme will be made permanent.
Installations will include:
Five modal filters in Newham, bounded by Crownfield Road, Leytonstone Road, Forest Lane and Leyton Road
12 modal filters, seven in Newham and five in Waltham Forest, bounded by Cann Hall Road, Dames Road, Woodgrange Road, Forest Lane and Leyton Road.
Waltham Forest and Newham councils had applied to TfL for Liveable Neighbourhoods funding, but the programme was suspended due to the Covid-19 pandemic. Instead, TfL is focusing on temporary schemes to support social distancing though the government's Emergency Active Travel Fund.
However, the two authorities have sourced other funding, arguing that their Liveable Neighbourhoods plans will help deliver better streets for residents, many of whom do not own a motorised vehicle.
Most modal filters will comprise large planters to restrict access for motorised vehicles while still allowing pedestrians and cyclists through. Where emergency service access is required, CCTV will be used instead of physical barriers.
Find out more about this groundbreaking project at the Low Traffic Neighbourhoods webinar
The project marks the first cross-borough LTN in London, said Clyde Loakes, Waltham Forest's deputy leader. "Collaborating with Newham Council allows us to benefit both borough's residents, many who live, work and travel between the two areas," he said. "These traffic calming measures make streets more pleasant to use, due to there being less traffic, noise and pollution.
"This work will also reduce the level of harmful emissions from motorised vehicles driving through the area, helping our residents to stay physically active and healthy, and encourage a shift to more sustainable modes of transport, which we're passionate about here in Waltham Forest."
James Asser, Newham's cabinet member for environment, said: "I am delighted we have been able to work with our neighbours and colleagues in Waltham Forest to get this scheme off the ground, especially in the light of the difficulties and complications created by the suspension of TfL funding and the Covid-19 crisis.
"As a council, Newham is committed to improving the quality of life for our residents, by creating more pleasant environments in the streets where they live, but critically we do not want to simply push the problems across our borders into neighbouring boroughs. This scheme recognises that traffic rarely recognises such borders, and this co-operative approach will ensure the benefits are felt for both sets of residents."
Clyde Loakes will be giving more details at the Low Traffic Neighbourhoods webinar.