10 years of cycle hire in London
Transport for London's bike ental scheme has opened up cycling across the capital
30 July 2020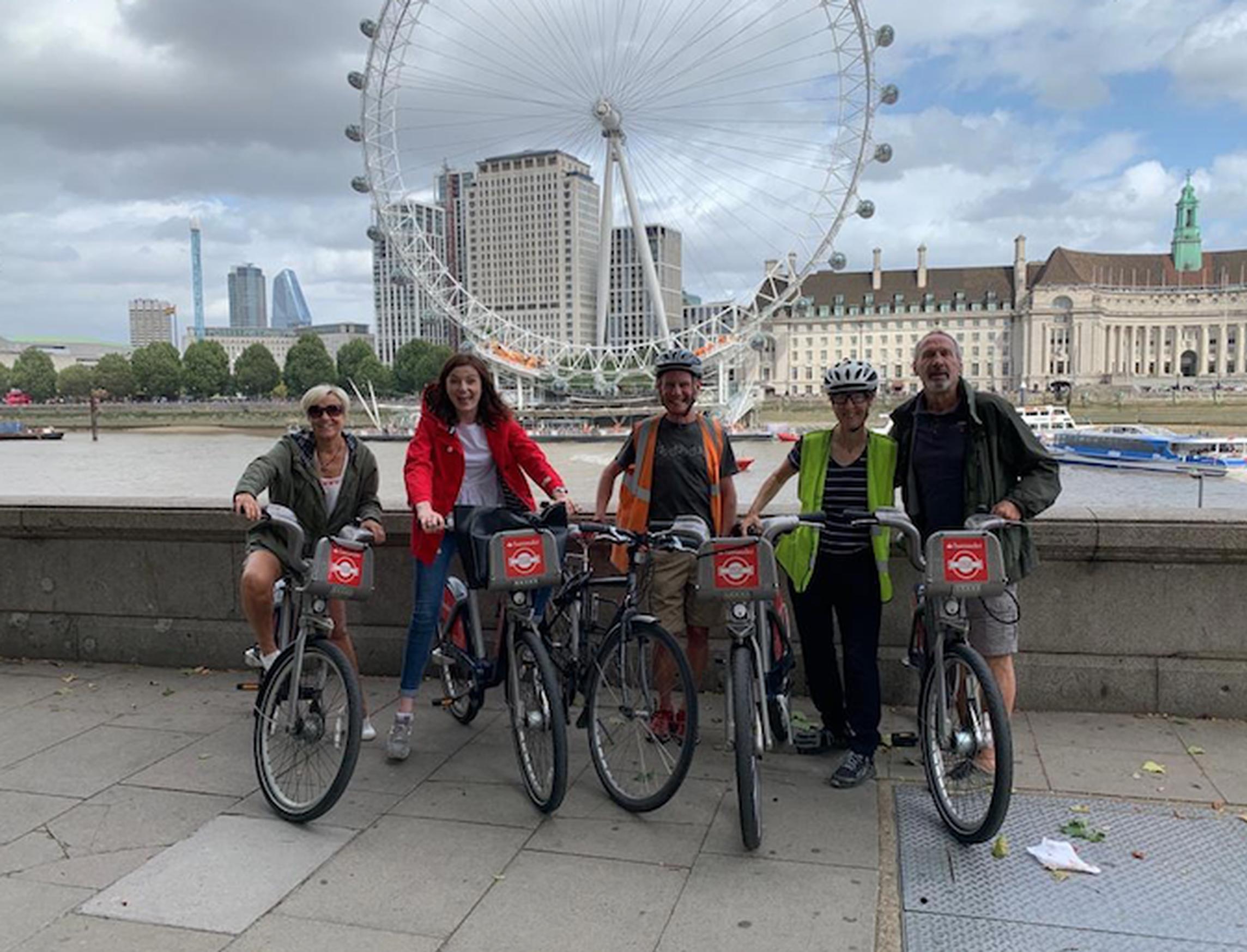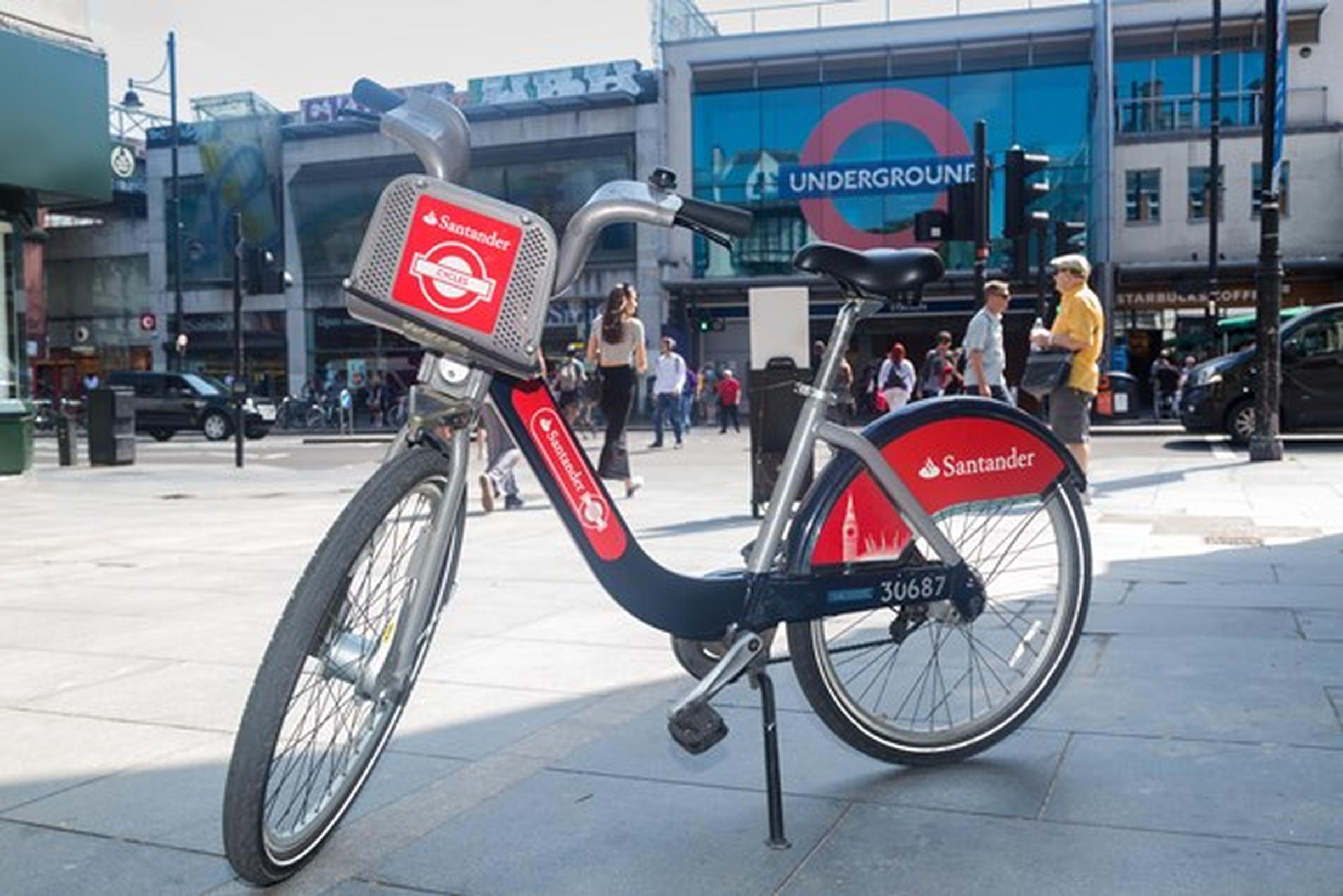 London's pioneering cycle scheme turns 10 year old today, prompting Transport for London (TfL) to celebrate a decade of bike hire in the capital.
On 30 July 2010, Transport for London (TfL) introduced cycle hire to Londoners with 350 docking stations across eight London boroughs.
Today, these numbers have more than doubled: Londoners now have access to 781 docking stations and more than 12,000 bikes, with an additional 1,700 new bikes currently being added to the fleet. The Santander Cycles scheme now covers 100 square kilometres of London, making it one of the largest cycle hire schemes in Europe
By offering flexible and inexpensive access to bikes across the city, cycle hire has made it easy for Londoners and visitors to the capital to give cycling a try. Indeed, more than half of cycle hire users in London today say they started cycling because of the scheme. More than 94 million cycle hires have been made since TfL launched its flagship scheme in 2010.
Helen Sharp, TfL's Head of Cycle Hire Business Development, said: "Ten years ago today we launched the cycle hire scheme. Today, our Santander Cycles are as familiar a sight on our streets as a black cab or a roundel, embraced by Londoners and visitors to our city alike. We're thrilled to celebrate ten years of our successful cycle hire scheme, which is helping us to achieve our vision for London becoming one of the world's best capital cities for cycling. Cycling has grown enormously over the last ten years and never more so than during this summer. There has never been a better time to cycle and we look forward to expanding our iconic Santander Cycles scheme in the months and years ahead."
The anniversary comes as TfL celebrates five years of Santander sponsorship – the Spanish bank taking over from launch sponsor Barclays ¬– though the cycles were widely referred to as "Boris Bikes", reflecting the strong association between the scheme and the Mayor of London who introduced the scheme, Boris Johnson.
10 year of bike hire in London
30 July 2010 - Cycle hire is launched in the capital and 6.2m hires are made in the first 12 months of the Barclays Cycle Hire scheme
July 2012 - Almost 47,000 hires - the most in one day since the scheme launched
December 2013 - Cycle hire extends east, west and south with the opening of 150 new docking stations, with new stations in Wandsworth, Hammersmith & Fulham, Lambeth and Kensington & Chelsea
May 2015 - Santander and TfL announce a seven-year partnership and Santander Cycles launch
May 2015 - The Santander Cycles app was launched to make it easier to find and hire bikes
January 2016 - Santander Cycles expands to the Queen Elizabeth Olympic Park with eight new docking stations
June 2016 - The scheme breaks the 50 million hire mark
2016 - All cycles are fitted with laser lights to increase visibility. The lights project a symbol of a bicycle six metres in front of the cycle, onto the ground, giving cyclists a larger footprint on the road
October 2017 - The next generation of Santander Cycles arrive in London. The new cycles offer riders improved handling, safety and comfort, with a new gel saddle, lower frame, tyres with puncture prevention, new gear hub and improved front and rear lighting
February 2018 - Santander Cycles extend to Brixton with eight new docking stations
November 2018 - The process of hiring a cycle was made easier with a quicker booking process and the introduction of contactless payments
2018 - For the first time, more than 10.5m journeys were made using Santander Cycles in a calendar year
December 2019 - New docking stations open at Blackfriars, Victoria, Queensway and Paddington rail stations
2019 - More than 1.7 million hires using the Santander Cycles app during the year
January 2020 – Santander Cycles app reaches 1m downloads
Cycling in London has more than doubled since 2000, with the cycle hire scheme being a key component in an approach that has seen the creation of a growing network of TfL-backed cycle routes. Cycling has been championed by Johnson's successor, Sadiq Khan, who has recently launched the Streetspace initiative to make cycling and walking safer during the pandemic.
In 2020, Santander Cycles has played a critical role in keeping London moving during the coronavirus pandemic. The number first time cyclists increase as people were encouraged by TfL to use alternatives to public transport, which had to be prioritised for key workers.
TfL data shows that cycling has increased significantly during the lockdown period and beyond, as Londoners turn to Santander Cycles for commuting and leisure. More than 85,000 new members have signed up to the scheme since March – a 200% increase on the same period last year – contributing to more than 2.3m hires throughout May and June. Previously, the scheme had never surpassed more than 50,000 hires on a normal workday, a record that has now been broken 13 times over the last seven weeks. Santander Cycles saw its busiest ever week with 363,000 hires between 25 to 31 May.
Throughout the pandemic, Santander Cycles has also supported key workers by offering free access codes for NHS staff. More than 60,000 free journeys have been made since the NHS offer was made available in March, with the most popular location for code redemption close to St Thomas's Hospital.
Sadiq Khan, the Mayor of London, said: "We are determined to ensure that the capital's recovery from coronavirus is healthy and sustainable – enabling more people to cycle is absolutely central to this.
"London's cycle hire initiative has been a fantastic success story and over the past decade we have seen this flagship scheme go from strength-to-strength. We are delighted that this summer there has been record-breaking demand for our Santander Cycles and we are capitalising on this by adding new docking stations, cycle hire hubs and bikes, which will make it even more convenient for Londoners to take to two wheels.
"Our world-leading Streetspace for London programme is also making it safer and easier to cycle in our city – more than 40km of new or upgraded cycle lanes have been built or are under construction, along with 16,000 square metres of extra pavement space."
TfL and Santander are keen to hear from people who hired the cycles within the first year of the scheme, have completed the most journeys or who have a unique story to share about them. People can share their experiences of the cycle hire scheme by emailing cyclehire10@tfl.gov.uk for a chance to win.
Dan Sherwood, Director of Marketing, Santander, said: "Since we started our partnership, we've worked hard to ensure Santander Cycles play an important part in keeping communities of all backgrounds connected and mobile in a healthy, sustainable and affordable way. From the installation of the green safety Beryl Laserlights, the creation of the hire app, the introduction of contactless payment systems, GPS tracking and the expansion into more boroughs, we're proud to play a part in helping people and businesses through the scheme."
To keep up with increasing demand for cycling, TfL is adding 1,700 new Santander Cycle bikes to the fleet, bringing the total on London's streets to more than 14,000, and rolling out eight new docking stations this summer. Three new docking stations are being built around Clapham Common, four will be built alongside the Cycleway 4 route, which will connect Tower Bridge Road with Rotherhithe, and one will be built at nearby Canada Water. A further six docking stations will be built by the end of the year.
TfL's cycle hire scheme is supported by Serco, which have maintained and distributed the bikes across London since the launch in 2010. Sam Jones, Serco's Contract Manager, said: "Serco is immensely proud to have been part of the journey with TfL in the first decade of London's cycle hire scheme. We had the original task of designing, building and then operating the cycle scheme when it was first introduced in 2010, worked with our partners Pashley to introduce the new bike in 2017 and are now proud to have responsibility for managing, maintaining and distributing the cycles around London. The cycles have become an iconic part of London's transport landscape, never more popular than during the coronavirus crisis, and our Serco team of bike mechanics, drivers, on-street distributers, control room operators and others look forward to continuing to support TfL in the scheme's future development."
TfL is also working with local boroughs to rapidly create space for cycling across the city, as part of the Streetspace plan. This includes building a strategic network for cycling in London, transforming town centres and reducing traffic on residential streets. Work on a number of new cycle routes is underway in Camden and Waltham Forest, with routes set to link Chalk Farm to Kings Cross and Blackhorse Road to Haringey.
Santander Cycles can be hired from £2 a day for an unlimited number of 30-minute journeys. The free app is available on the iTunes and Android App Stores, searching for Santander Cycles.
People keen to start or return to cycling in London are encouraged to try TfL's Online Cycle Skills training modules, which were launched last week. The course covers a range of helpful advice from getting on the road for the first time to cycling safely in a group. Everyone who completes all four training modules will receive a free 24-hour access period to Santander Cycles, allowing them to start their cycling journey.
A year of celebrations
Throughout 2020, TfL and Santander are awarding a free annual membership to a dedicated cycle hire user each month, naming a bike in their honour. Today, TfL has named the next four winners of the competition, covering April – July:
April: Mike Woods, from Surrey, is a long-term member of TfL's cycle hire scheme. He credits Santander Cycles for helping to boost his mental and physical health in his recovery from prostate cancer
May: Emdad Rahman, from east London, is a Dementia Friends champion who has cycled 10K with cycle hire every day since the launch of the scheme. Santander Cycles helps him to deliver aid such as food, clothes, books and essentials to local charities, hospitals and care homes
June: Liz Harwood, from south-east London, is an enthusiastic cyclist who has introduced more than 50 different people to cycle hire over the years. She cycles through London with her friends and family to take in the sights, and has been joined by friends from across the world on Santander Cycles rides
July: David Smith, from east London, works at Whipps Cross Hospital. In recent years, he has supported London through major trauma incidents including the London Bridge terror attack and Grenfell Tower disaster. When a thoughtful stranger thanked the King's College Hospital team with a delivery of doughnuts, his team fundraised to pay it forward to their colleagues at the London Fire Brigade. An avid cyclist, David turned to Santander Cycles to help him deliver dozens of doughnuts to 30 fire stations across London
The winners of the cycle hire 10 anniversary competition have received their honorary bikes, which bear their names on unique gold livery.