Earlier lockdown would have saved London bus drivers' lives, says UCL report
Male bus drivers were 3.5 times more likely to die from COVID-19 than men in other jobs
27 July 2020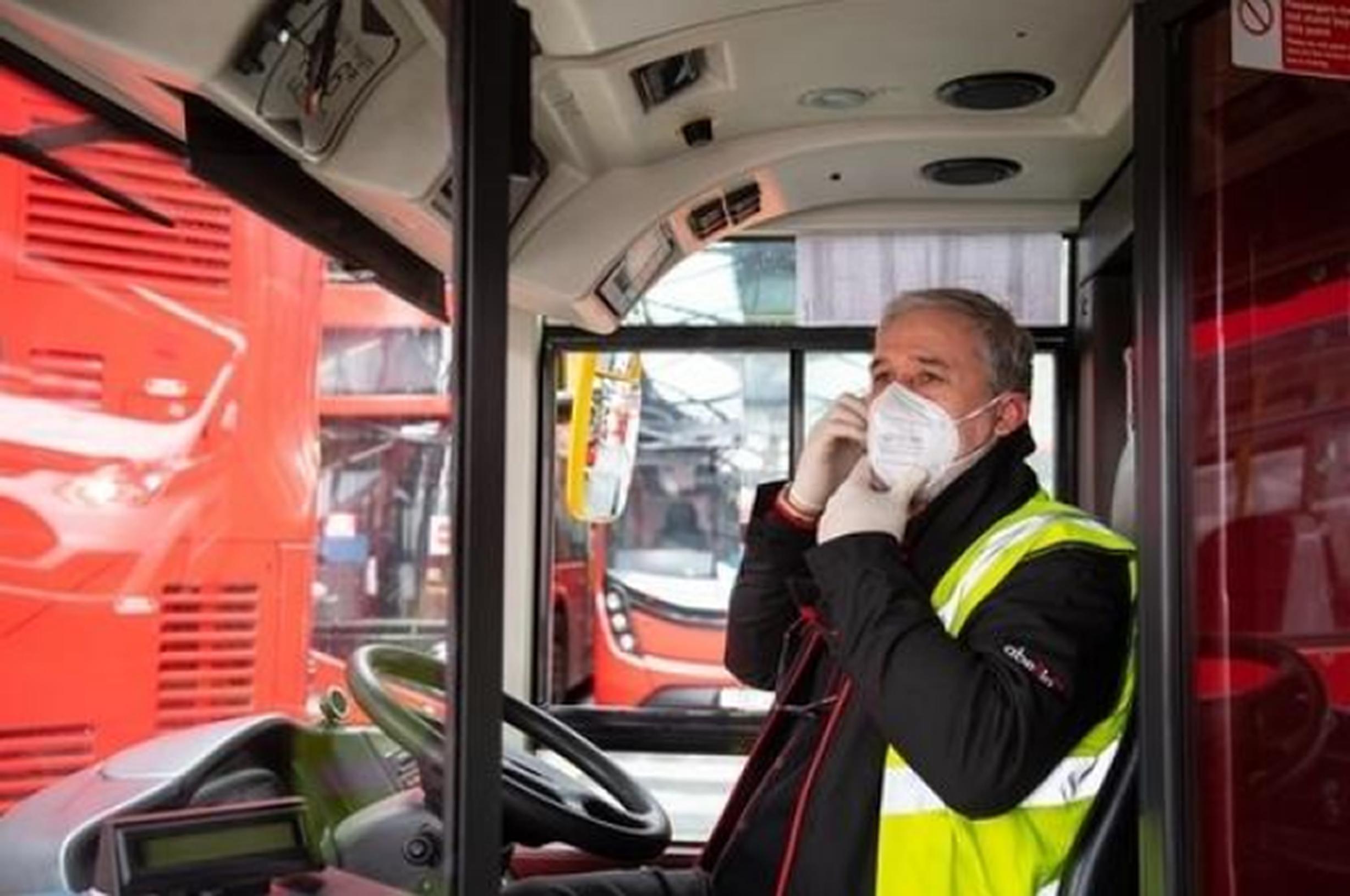 An earlier lockdown would have saved the lives of London bus drivers who died during the pandemic, according to a study commissioned by Transport for London (TfL).
Thirty-four London bus workers died with COVID-19, including 29 drivers, which was 3.5 times the rate of other roles.
TfL asked University College London's Institute of Health Equity to explore the pattern of infection with, and deaths from, coronavirus in the London bus worker population to inform recommendations on any additional occupational health measures that should be put in place to protect them.
"Driving a bus, coach or taxi is among the frontline occupations associated with increased risk of death from COVID-19. Because London was an early centre of the pandemic, it is likely that the increased risk among London bus drivers is associated with exposure," said Prof Marmot, the director of the UCL Institute of Health Equity.
"Our review explicitly suggests that lockdown was the main factor that saved bus drivers' lives. If lockdown had occurred earlier, it would likely have saved more lives. For those with high blood pressure, exposure to COVID-19 is particularly hazardous, disproportionately affecting drivers of ethnic minority backgrounds. In addition to reducing exposure to the virus, all drivers should therefore be screened for health risk, with those most vulnerable to dying from the virus receiving the most benefit."
There have been 34 deaths of London bus company staff reported as being due to coronavirus, 29 of whom were bus drivers. This study covers the deaths of 27 of those drivers in the period March to May.
The report's findings include:
Many of the London bus drivers who died from coronavirus were suffering with underlying health conditions particularly high blood pressure
Among the bus drivers who died, most stopped work in the 10 days either side of lockdown on 23 March, suggesting most of them became infected before lockdown. The report finds that after lockdown, death rates came down among drivers reinforcing evidence that lockdown was an effective measure in saving lives.
A high proportion of drivers who died had a number of personal characteristics which enhanced their risk to coronavirus, such as their ethnicity, and living in areas with above average levels of deprivation in London boroughs with the highest coronavirus death rates in April 2020.
The UCL report can be found by clicking here
Lilli Matson, TfL's Chief Safety, Health and Environment Officer, said: "We have been devastated by the tragic deaths of our colleagues during this pandemic. We commissioned this independent study so we could urgently understand what more we can do to reduce the risk of others contracting coronavirus. It's clear that frontline workers across the country have disproportionately suffered from coronavirus, which is why we worked closely with all London bus operators to introduce measures to help keep the capital's drivers safe.
"This included enhanced daily cleaning using hospital-grade disinfectant in the drivers' cabs, the parts of the bus regularly touched by customers and in staff welfare facilities, as well as providing more separation from passengers. This was done, firstly, by taking the seats nearest a driver out of use and sealing up holes in the partition between drivers and passengers, and then by introducing middle-door boarding so passengers didn't need to stand for any length of time next to drivers.
"The recommendations in this report provide a roadmap for action to further protect bus drivers. It is clear from this piece of work and others that there are certain characteristics that make people more vulnerable to coronavirus. We will work with our bus operators to ensure that they consistently carry out risk assessments and appropriate support is given to those that need it. We know that those with underlying health conditions, such as hypertension and cardiovascular disease, are at higher risk. In response we will extend wellbeing initiatives, such as the Health Bus, to reach more drivers. And we will work with the bus operators to prepare a response plan to help us make immediate, consistent interventions in the event of further outbreaks."
Previous separate work by UCL's Centre for Transport Studies and the Department of Civil, Environmental & Geomatic Engineering assessed the risk to drivers in their cabs. The analysis found that the steps that TfL has taken – by adding a film layer to screens and sealing off gaps around the screen as a whole, including around the Oyster reader – substantially reduced the risk to drivers of contracting coronavirus from customers.
From 17 March TfL started funding enhanced sick pay for bus staff that were suffering from coronavirus symptoms, or had to self-isolate for up to 14 days because someone in their household has symptoms. This was to ensure drivers didn't feel forced to attend work for financial reasons when they shouldn't. This arrangement remains in place. TfL also wrote to all of London's bus operators urging them to do the right thing by vulnerable employees and, like TfL, provide sufficient financial support so that they could minimise any exposure to coronavirus.
A tripartite forum between TfL, Unite the union and the bus operators was established before the pandemic, which helped to develop the Health Bus, an additional occupational health service to bus workers. The service provides a rapid health diagnosis in an easy to understand format that drivers can access at their work environment free of charge. The assessment measures height, weight, body mass index, body fat percentage, blood pressure, heart rate and hydration level. Lifestyle factors including sleep, smoking, relaxation, home life, work life, stress, diet, alcohol and exercise are also assessed. Following their screening, the Occupational Health Technicians provide each employee with guidance and lifestyle advice.

The RMT union represents many bus drivers. RMT Senior Assistant General Secretary Mick Lynch said: "This report is an indictment of the Government's sluggish and irresponsible initial responses to the COVID-19 pandemic. While the timing of actions by most companies was similar, the majority of actions were probably initiated after most of the drivers who died had become infected. Bus companies need to be more proactive in understanding existing health conditions of bus drivers, supporting better health and identifying those most at risk of COVID-19 mortality.
"BAME staff, especially those living in poorer areas, are more at risk of becoming severely ill and dying from COVID-19. The recommendations in PHE's recently published report 'Beyond the data: Understanding the "In particular that employers should have strategies to create healthy and supportive workplaces – within and outside the health service – that have zero tolerance for discrimination and empower BAME staff to raise concerns about occupational risk and safety."
Labour's London Assembly Transport Spokesperson, Dr Alison Moore AM, said: "It is tragic and devastating that so many London bus drivers have lost their lives working on the frontline of the pandemic. The timely publication of this report will help us to learn vital lessons that could save lives ahead of the anticipated second wave in the winter.
"It offers yet more evidence that underlying factors such as pre-existing health conditions, ethnicity and deprivation can lead to an increased exposure to the coronavirus. These social injustices must now be urgently addressed at all levels of government. We know that TfL were quick to react to the pandemic, working with unions to put enhanced safety measures in place in the first weeks of the outbreak to protect drivers and passengers. It is a positive step forward that TfL have now committed to taking further action and have signed-up to implementing the report's recommendations."